May, 2016
now browsing by month
The Kids Keep Telling Me To Share This MOC
Here it is. I planned this for a long time, and I was so cheap, which is why it took me so long. I lamented about having to pay so much for stupid turtle figures on Bricklink. I was so bothered when the sets first came out by how much you'd have to spend to get all four turtles… I do have a Shredder though, and the Master Splinter as a key chain. We have 4 of those…
I had this in my head for a long time, and when we went to Bricks By The Bay a couple of years ago, someone had paintings as tiles. They were quite expensive if you ask me, but knowing that I wanted to make this MOC, and knowing that LEGO has no painting-looking tiles (I checked, a lot) I caved and bought them. They were worth it in the end.
I was slow to put this together because of the cost of the different parts. One order alone was over $70, but I did go a little over board. You know how it is, if you're going to order one, you might as well order 4 to have a few extras.
Honestly though, the reason I haven't wanted to share is because I feel like it's a little hodge-podge, mainly the brick work. Due to the way I put it together, the corner is poorly built. Part of the problem was having access to the pieces that I needed. I think when I put this together was about the time that I first learned about Bricklink.
Overall, I'm mostly happy with this. It makes me smile, so that's a good thing. I don't even mind how much I spent on it in the end. More than anything, I look forward to having some free time to try to fix it up. The kids like to remind me that the Ninja Turtles live underground, so it's OK that it's not perfect.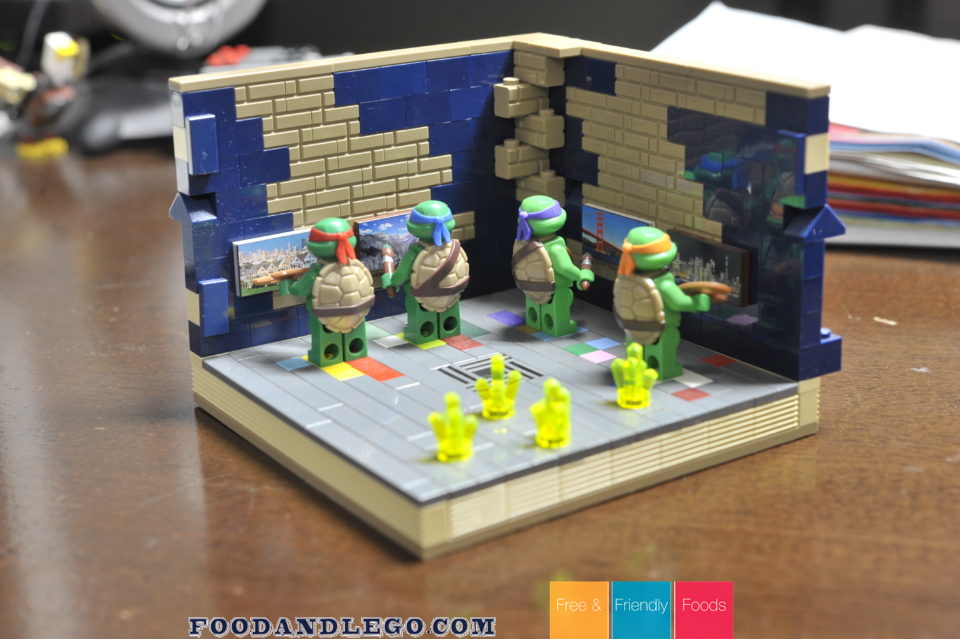 LEGO Review – 76025 DC Comics Super Heroes Green Lantern vs. Sinestro
There are so many pros, and only one con about this set:
Pros:
-The kids really enjoyed playing with the new jumper, using a non essential minifigure of course (I've read things online…)
-I LOVE the Batman in the white suit!
-I really appreciate the pre-printed logo.
Con:
-Maybe the plane is a little small?
I have to say, this is a great build. LOVE LOVE LOVE the missiles. The method to deploy them was well thought through, and just so much fun to play with. I also like the new pieces for the little gun-stud firing "thingy".
I was a little disappointed by the overall size. I did see a post online where someone purchased two of these sets to make a beefier set. For as much as I like the idea of that, I wouldn't do it because then it would defeat the purpose of having such a cool set (and characters) at such a great price point. I can say that's something I was quite surprised about this time. You get 3 figures and a decent amount of pieces for about $20. Totally worth it. Let me say that again: TOTALLY worth it.
I'm not a huge Green Lantern fan, but I really liked the way the plane came together, and the build for the lantern holder. Truth be told though, I'm still trying to figure out why Batman was there, not that I'm complaining about the white suit, because I'm not.