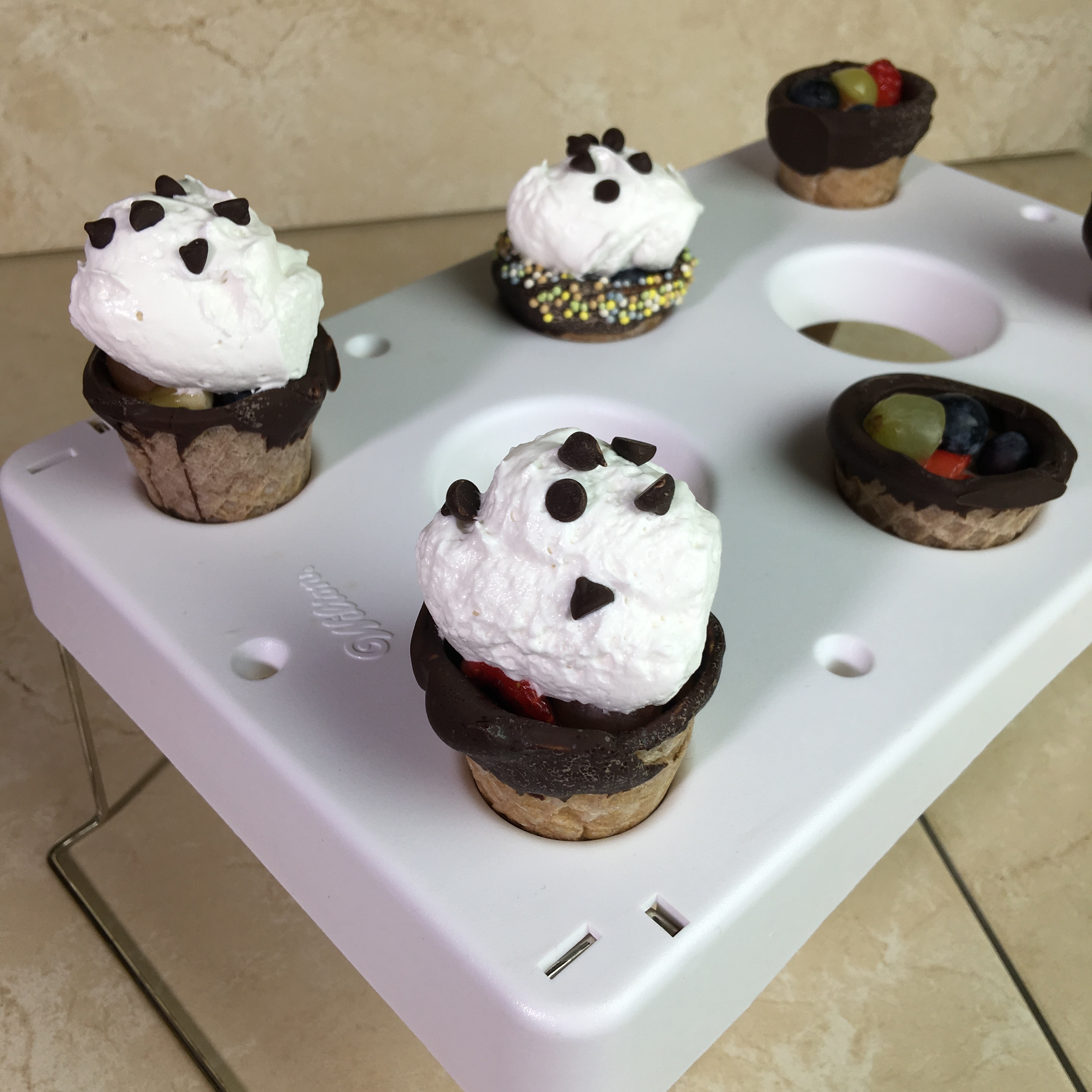 This was such a fun little treat to make! In fact, truth be told, the kids ate these for breakfast. I figured, there's a minimal amount of sugar in the cone, minimal sugar in the whip topping, and they're filled with fruit and yogurt. We have to live a little, right? If you have little ones, I think this is a great weekend breakfast, that looks a lot like ice cream.
Allergy Status: Gluten Free, Wheat Free, Dairy Free, Egg Free, Soy Free, Nut Free (we used a coconut yogurt), Peanut Free, Yeast Free, Vegan
The ingredients are SUPER flexible, based on your individual needs. For those of you with severe allergies, you'll need to source ingredients that aren't made in a shared facility with your allergens. Some of these ingredients are made in shared facilities, so please double check everything.
Ingredients & Brands We Used:
Edward and Sons Organic Gluten Free Ice Cream Cones
Enjoy Life Chocolate Chips
Edward and Sons Organic Sprinkles
So Delicious Organic Coconut Yogurt
So Delicious Coconut Whip Topping (bought in the freezer section)
Organic Fruits (Blackberries, Strawberries, Bananas, Grapes)
This does require some planning. I made the cones the night before, and they were ready for breakfast the next morning. Melt down your chocolate in a double boiler. There are other methods you can use, but that's what we do around here. Enjoy Life says that you can help prevent chocolate bloom by adding a little oil to the mix. You can see that there's a little bloom in our chocolate. I opted not to add the oil since it was for a simple breakfast, rather than a gorgeous cake.
Roll your cones in the melted chocolate. I also used a spoon to drip some chocolate inside the cone too. While the chocolate is still liquid, dip the cone into sprinkles. Place your cones on a tray lines with parchment. The parchment is important, as it makes removing the cones very easy.
To fill the cones, you'll need to get creative. You can stand the cone in a cup, or have a child hold it for you. I decided to be funny clever and use a Wilton decorator bag holder as a cone stand. I giggle even now thinking about it. Add yogurt to the bottom of the cone, then add your fruits of choice. You'll need to cut large pieces of fruit so it fits nicely, and so you have space for a variety of fruits.
Top with whip topping. To do this, I used an ice cream scooper. It was just the right size. You can also use cookie dough scoopers. Optionally, add a few chocolate chips to the top, and enjoy.