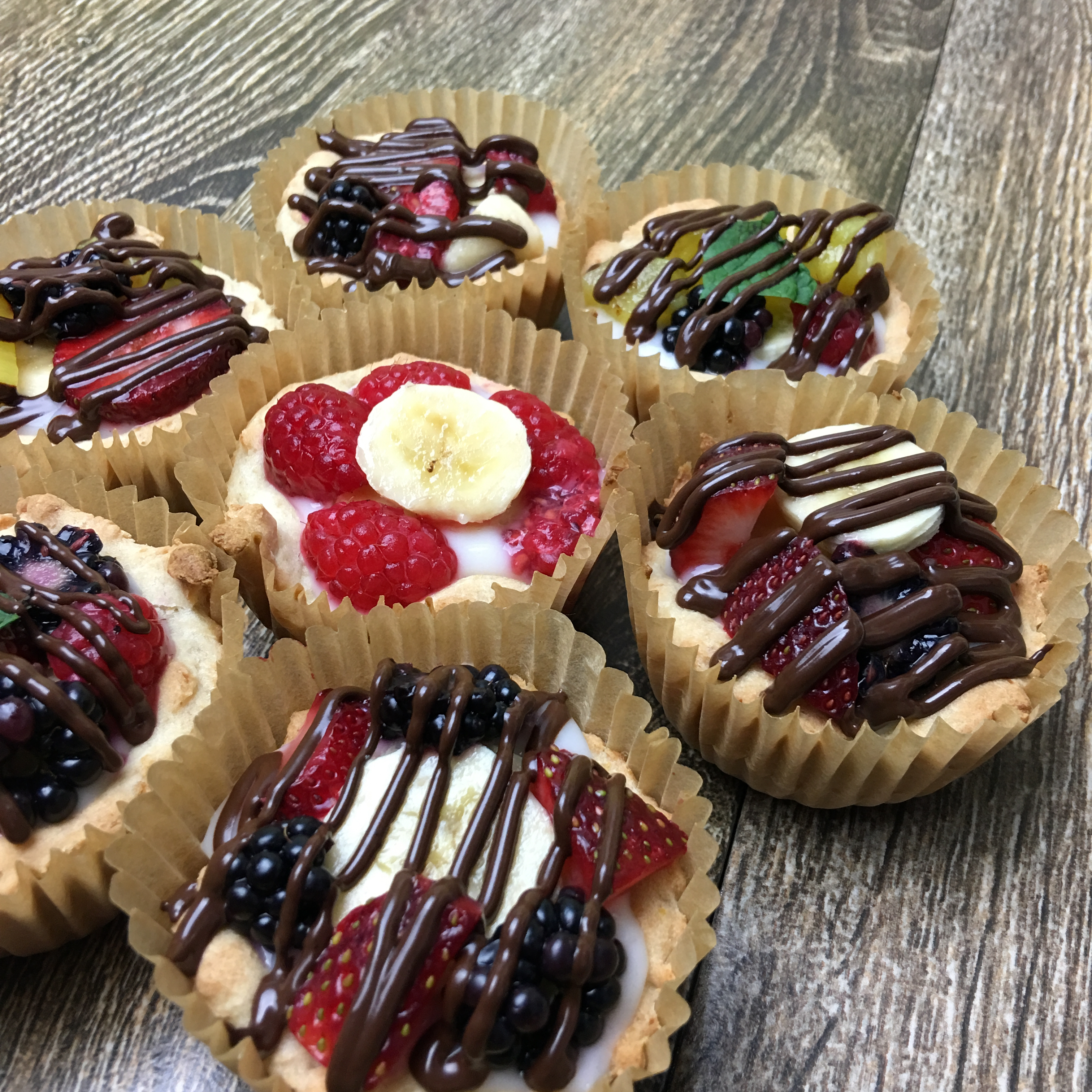 Allergy Free Organic Fruit Pizza Cups
I have been trying to sell our Allergy Kid on the idea of fruit pizza for MONTHS. I saw some cool ideas online, and thought the kids would jump at the idea. Turns out, they were thinking traditional cheese pizza topped with fruit and chocolate. Yeah…. that's gross. Hehe. Once they saw all of the ingredients out, it started to click in their minds just what I was up to. They were all more than happy to help me put them together, and to be my hands since I can't touch the dough.
Once the pictures had been taken, they devoured all of the cups. In fact, they LOVED these. I wasn't sure if Kid Three and Kid Four would like them since they used non-dairy yogurt, but they said that was the best part. After a success like this, I'm sure we'll be trying more variations of this, and you can expect to see a fruit pizza in our Allergy Friendly Pizza Cookbook.
Allergy Status: Gluten Free, Wheat Free, Dairy Free, Egg Free, Soy Free, Nut Free (we used a coconut yogurt), Peanut Free, Vegan, Diabetic Friendly
Ingredients:
1 Wholly Wholesome Gluten Free Pizza Dough
Organic Blackberries
Organic Raspberries
Organic Pineapple
Organic strawberries
1 Organic Banana
Dairy Free Vanilla or Plain Yogurt (we used So Delicious Vanilla Coconut Yogurt)
Enjoy Life Chocolate Chips, melted
Preheat your oven to 425, line a regular muffin pan, and get ready to have some fun. Divide your dough into 12 parts. It's easy to cut in half, then cut each half, then cut each piece into thirds. Flatten each dough piece, then place it in the liner. We tried our best to get the dough to go up the edges like a proper cup, but you'll see in the pictures we got about 3/4 of the way. I did think that after baking we'd be able to shape them a little more, but they were very set when they came out of the oven. I wasn't too worried about this though. Bake the cups at 425 for 18 minutes.
While the cups are baking, wash and prep your fruit. We sliced one banana, and cut the other fruits into small pieces. This was done so we could have a variety of fruit filling in each cup. You'll also want to melt down our chocolate while the cups are in the oven. Once the cups are out, allow them to cool for five minutes before filling. Add a heaping spoon of yogurt, then place different combinations of fruit in each cup. Finish off the cups by drizzling chocolate on top. For fun, we also tried adding a mint leaf, but the kids said the mint was a no-go. Enjoy!