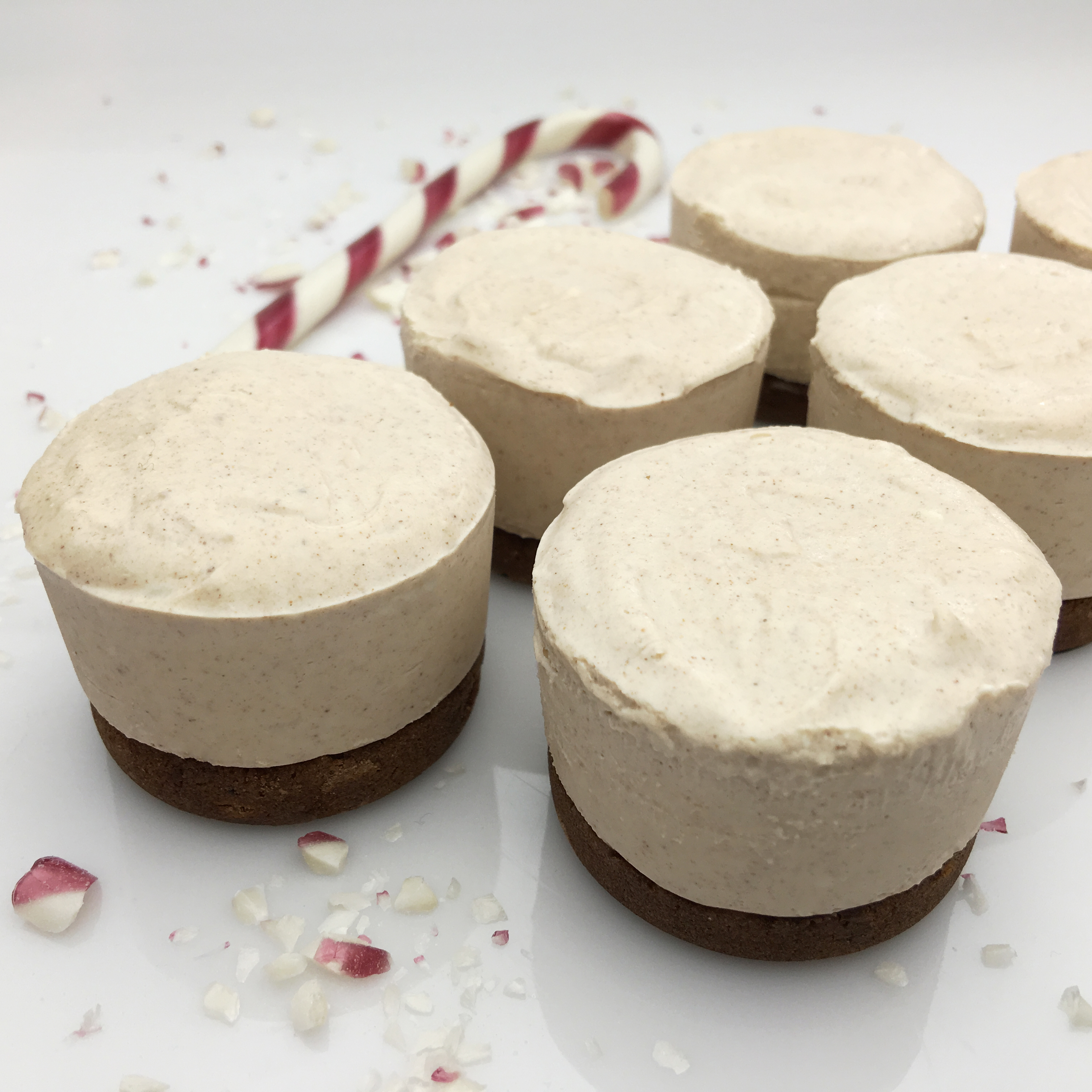 Egg Nog? Yes! Cheesecake? Absolutely! One of my favorite things to do is combine desserts because why on earth should we have to choose.
Before you jump in, if this is your first rodeo, be sure to read through our No-Bake Cheesecake Basics post. In that post, I go over all you need to know about the different brands of cream cheese, as well as ratios, tips, tricks, and more. You can also see all 13 flavors of our No-Bake Cheesecake Series here.
Allergy Status: Gluten/Wheat Free, Dairy Free, Egg Free, Nut Free, Peanut Free, Yeast Free, Nightshade Free, Sesame Free, Vegan, Soy Free Compatible, Legume Free Compatible
*Filling is Cane/Refined Sugar Free
Soy & Legume Free: Use a different cream cheese option (see the basic post for details)
Ingredients:
8 ounces Dairy Free Cream Cheese (Tofutti)
1/8 tsp Organic Ground Ginger
2 dashes Organic Ground Nutmeg
1.5 tsp Organic Ground Cinnamon
pinch Sea Salt
1 tsp Organic Vanilla Extract
3 TBSP Unsweetened milk of Choice (we used Good Karma Flax Milk)**
5 TBSP Organic Maple Sugar
**If you want more egg nog flavor, use egg nog instead of milk. I opted for unsweetened milk because I try to make sure that our Low/No Sugar Kid is included. There's a LOT of sugar in egg nog (organic, conventional, and dairy free options) with the exception of Malk Organic Holiday Nog (contains pecans).
Directions:
First, press your cookie of choice into the bottom of the pan. Snickerdoodle, Chocolate Chip, and Chocolate Brownie are all good choices. For this cheesecake, I opted for the Chocolate Brownie Enjoy Life Cookie. Next, combine all of the ingredients together in a bowl and mix until smooth. I made these in a bowl with an electric hand mixer. You can also opt to use a stand mixer. I don't recommend mixing by hand because in the end you want a super smooth mix without lumps.
Next, use a disposable decorator/piping bag to add your filling to the cheesecake pan. I've shared all the best tips about this in the Cheesecake Basics post. Finally, put your pan in the freezer and wait for them to set, or enjoy them right away.
No garnish on this one, but as you can see, organic candy canes pair very well with this treat.