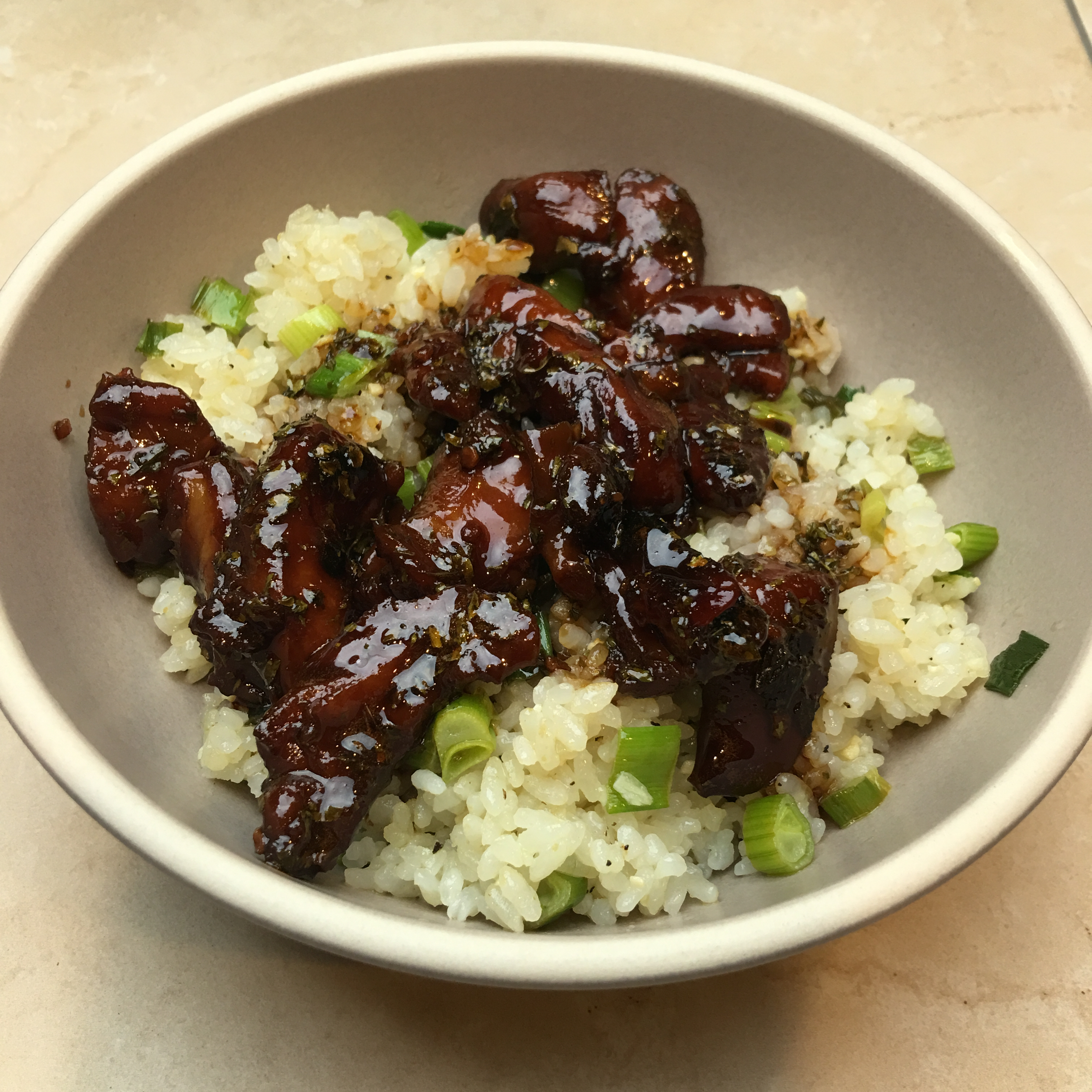 Allergy Friendly, Organic Marinaded Chicken & Rice
Do you ever marinade your meats? I usually don't, but have been wanting to try it more and more. I tried it with fish many years ago, but learned the hard way about using lemon, and doing it for too long. You can alter the texture of the meat… Ahhh, blissful youth. This time around, I decided to go with something I've heard about here and there, so I figured I wouldn't mess anything up. It was indeed a great starting point. Interestingly, what I loved the most was the glossy, reflective image in the end. It looked like something out of a magazine, in the most delicious way possible.
Allergy Status: Gluten Free, Wheat Free, Dairy Free, Egg Free, Nut Free, Peanut Free, Yeast Free, Cane/Refined Sugar Free, Diabetic Friendly
Marinade Ingredients:
10 ounces Organic Chicken Thigh oz chicken thigh
6 TBSP Raw Organic Honey
6 ounces San-J Organic Gluten & Wheat Free Soy Sauce oz soy sauce
1pm start fridge
out @ 8pm
Rice Ingredients:
16 ounces Cooked White Rice (we use Lundberg Organic Sushi Rice)
1 bunch Organic Green Onion
2 tsp Organic Garlic, minced or finely chopped
1 tsp Organic Ground Ginger
dashes Organic Black Pepper
1/2 tsp Sea Salt
Additional (for cooking chicken):
1 tsp Organic Garlic, minced or finely chopped
2 tsp Organic Dried Parsley
First, prep your chicken. I trimmed the fat, the cut them into short strips. Add them to a freezer baggie, along with your other marinade ingredients. Seal the bag, and mix/squeeze the ingredients together with your hands. I did this to make sure the honey was well-distributed, since the variety we used was not runny. Place in your fridge for at least an hour. We left ours in for seven hours. I made it after breakfast, and pulled it out at dinner time.
Cook your rice (hopefully in your rice cooker so you can have it done in advance). Heat a large non-stick pan on medium heat, and add a little butter or oil. Add your green onions and sauté. After several minutes, add the garlic, and mix. Finally, add the rice, ginger, pepper, and salt. Make sure everything is well mixed before removing from the heat.
Once the rice is removed, reheat the pan on high heat, and add your chicken. You'll add in all of the contents of the bag. Add the garlic and parsley, and cook the chicken for approximately 10 minutes, or until it's done. Serve over your rice and enjoy.