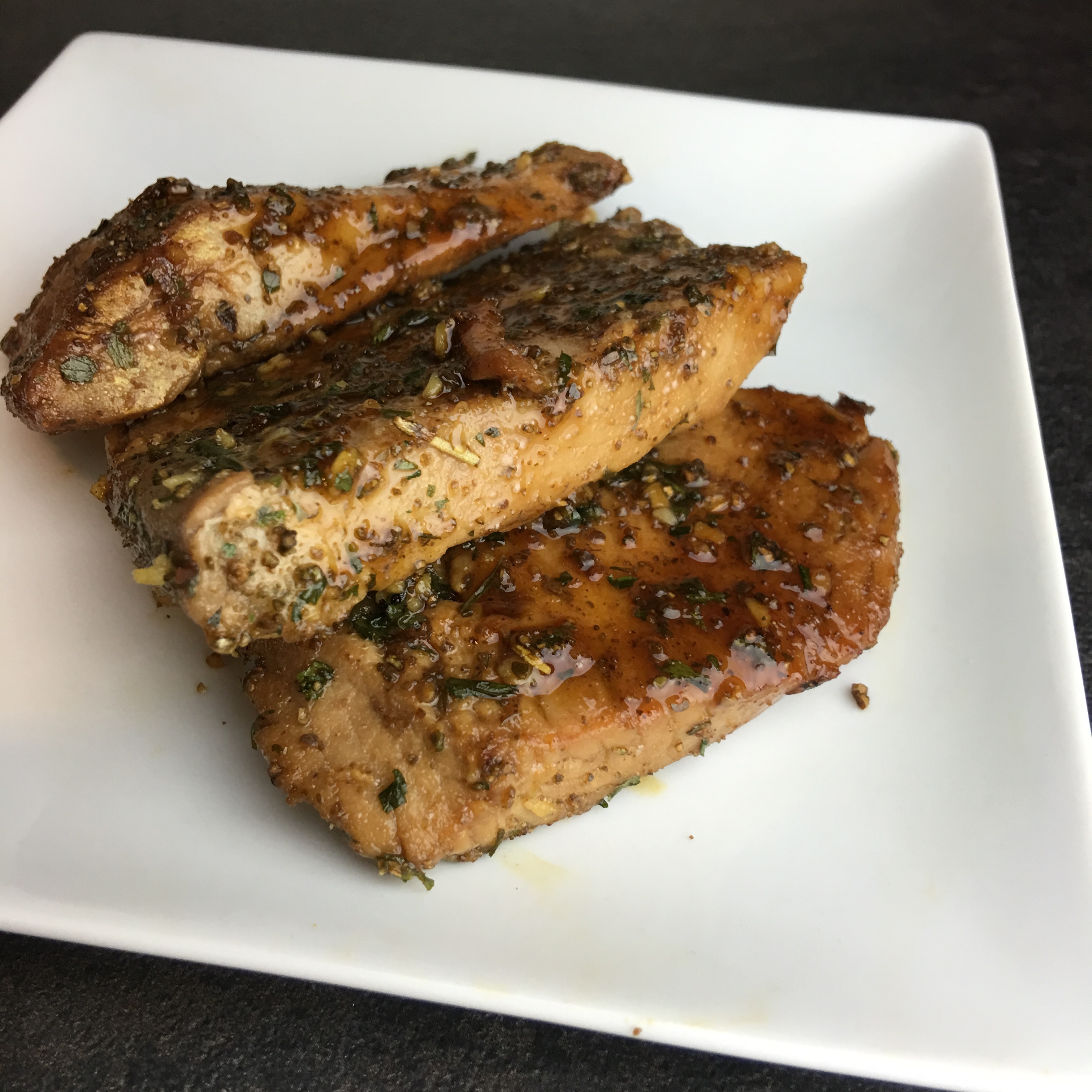 Allergy Friendly, Paleo, Maple Garlic Ahi
I've found myself over-experimenting with maple as of late. However, it's been a real win-win-win for everyone. The kids are happy, readers get new recipes, and I get to use maple. It's one of my favorite sweeteners for a very good reason: it's one I can tolerate without getting sick, and I've seemed to find a brand I can use, sort of. Too much sugar of any kind is never good for me. Maple is also vegan and diabetic friendly, so there's even more wins. OK, back to the ahi.
Costco sells wild ahi fresh where we live, however, it is a little pricey. We pay on average $25 for the ahi, and it will make one dinner. Now, divided over several people, it's not so bad, but by comparison, canned tuna is less expensive. Needless to say, it's something that I make the kids every couple of months. At Costco, I usually purchase two packs of ahi, make one fresh, and pre-slice the second and freeze it.
I've been making ahi for the kids for years, and I knew it was time to do something different, and this was a MEGA Hit! Kid Four isn't a huge fish fan, and usually only eats a couple of pieces. The others sacrifice themselves and offer to eat the extras for me. I know, how brave, noble, and thoughtful of them, hehe. However, this version, Kid Four was more than happy to eat several pieces, and even asked for seconds.
Allergy Status: Gluten Free, Wheat Free, Dairy Free, Egg Free, Soy Free, Nut Free, Peanut Free, Yeast Free, Refined/Cane Sugar Free, Paleo, GAPs, Diabetic Friendly, Low Histamine, Corn Free Compatible, SCD Compatible, AIP Compatible
For Corn Free & Low Histamine: Source safe ingredients, and use a homemade seasoning blend. Look up the brands that we've used so you can replicate a homemade safe version for yourself. For example, the AP Season has tomato in it.
For SCD: Use a safe sweetener, as maple is not allowed on SCD, and use a homemade season blend.
For AIP: Omit Braggs, as some items in the blend are non-AIP. Instead, make your own multi use blend and use that.
Ingredients:
1.5 pound Fresh Wild Ahi (tuna)
4 TBSP Organic Maple Syrup
1 tsp Organic Dried Parsley
1.5 tsp Garlic, minced or finely chopped
1.5 tsp Braggs Sea Kelp Sprinkle
1/2 tsp Simply Organic All Purpose Seasoning
1/2 tsp Sea Salt
This dish is easy to prepare, and cooks rather fast. Start by slicing your ahi. I choose to slice thin. You could slice a lot thicker, and either change your cook-time, or have raw fish in the middle (which I'm sure some people prefer). TIP: When slicing, try to do so along the natural lines of the ahi; it will slice much easier this way. Combine the maple, or sweetener of choice, with the other seasonings and mix well with a fork. Next, you can either dip slices of ahi one at a time, or if your mixing bowl is large enough, add several pieces at once, and mix them around to get them coated on both sides.
Heat a large non-stick pan on medium-high heat, and add your coated ahi. Add as many that will fit in the pan without overcrowding. After 2 – 3 minutes, flip each piece over and continue to cook. The kids like theirs with a bit of a crispy outside. You should tailor your cook time to the thickness of your slice, and how crispy you'd like the pieces. Enjoy!