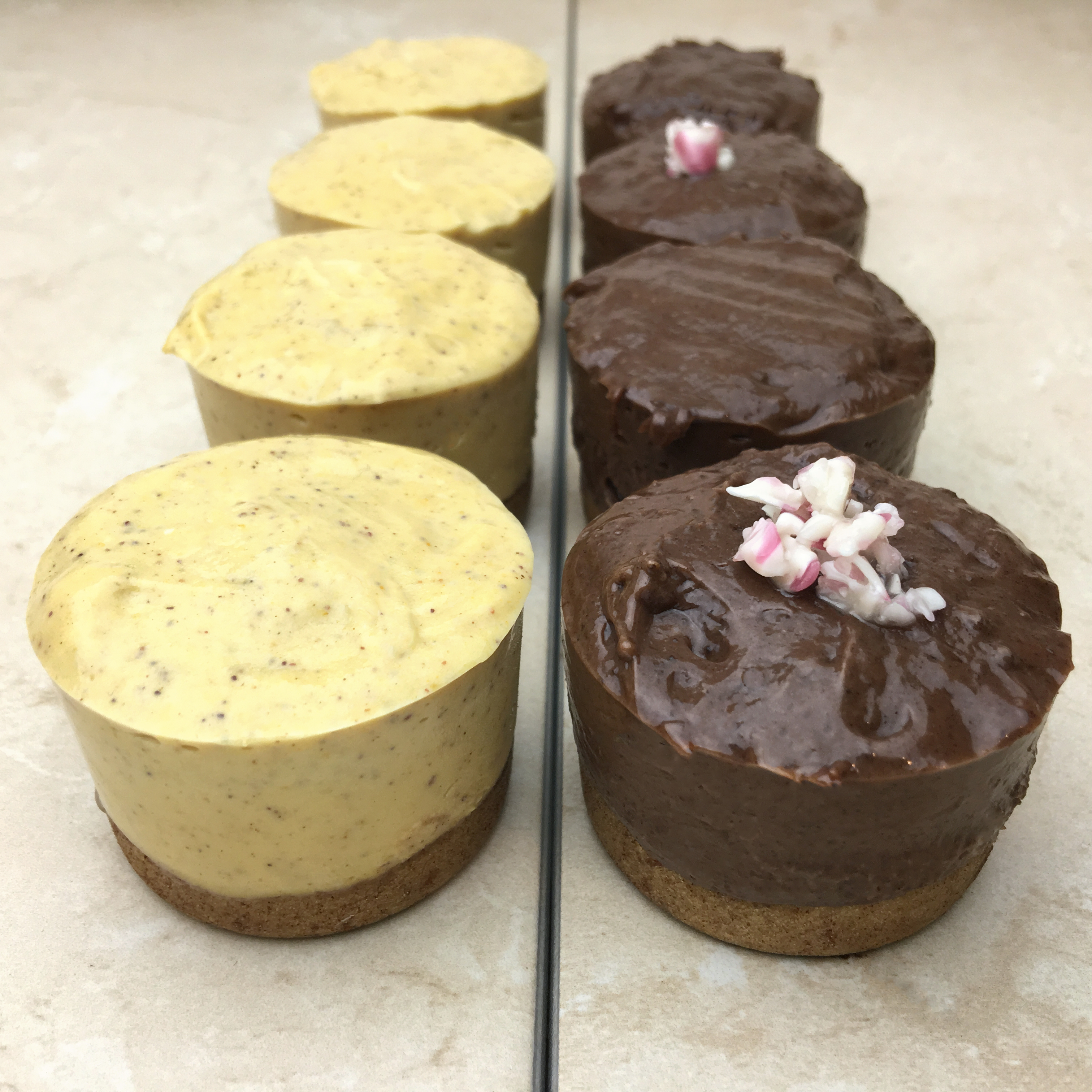 Ready for a double recipe post? As I shared in the No-Bake Cheesecake Basics post, when I make these cheesecakes, I will generally make two flavors at a time. We also decided this time to take some cool photos of these flavors together. Gotta shake things up sometimes, right?
Before you jump in, if this is your first rodeo, be sure to read through our No-Bake Cheesecake Basics post. In that post, I go over all you need to know about the different brands of cream cheese, as well as ratios, tips, tricks, and more. You can also see all 13 flavors of our No-Bake Cheesecake Series here.
Allergy Status: Gluten/Wheat Free, Dairy Free, Egg Free, Soy Free, Peanut Free, Yeast Free, Legume Free, Nightshade Free, Sesame Free, Vegan, Nut Free Compatible
Nut Free: Use a different cream cheese option (see the basic post for details)
Pumpkin Cheesecake Ingredients:
8 ounces Dairy Free Cream Cheese (Kite Hill)
8 tsp Organic Pumpkin Puree
5 TBSP Organic Maple Sugar
1 tsp Organic Vanilla Extract
pinch Pink Salt
dash Organic Ground Nutmeg
3/4 tsp Organic Ground Cinnamon
Chocolate Cheesecake Ingredients:
8 ounces Dairy Free Cream Cheese (Kite Hill)
1/4 cup Raw Organic Cacao
5 – 10 TBSP Organic Cane Sugar**
1/2 TBSP Organic Vanilla Extract
pinch Pink Salt
2 – 3 TBSP Unsweetened Milk of Choice
**Why the big range in sugar? We tried making this two ways. The first used 10 TBSP of sugar, where the second used 5. The kids noted that the latter was less sweet, but the chocolate came through as a richer flavor. While they liked both, you will have to go with what works for you and your audience.
Directions:
First, press your cookie of choice into the bottom of the pan. For both flavors, Snickerdoodle, Chocolate Chip, and Chocolate Brownie are all good choices. We used Snickerdoodle for both. Next, combine your ingredients in a bowl and mix together. I made these in a bowl with an electric hand mixer. You can also opt to use a stand mixer. I don't recommend mixing by hand because in the end you want a super smooth mix without lumps.
Next, use a disposable decorator/piping bag to add your filling to the cheesecake pan. I've shared all the best tips about this in the Cheesecake Basics post. You'll see the stark difference in that the pumpkin cheesecakes were piped, and the chocolate ones were not. Finally, put your pan in the freezer and wait for them to set, or enjoy them right away.
For garnish on the chocolate cheesecake, I used organic crushed candy cane.