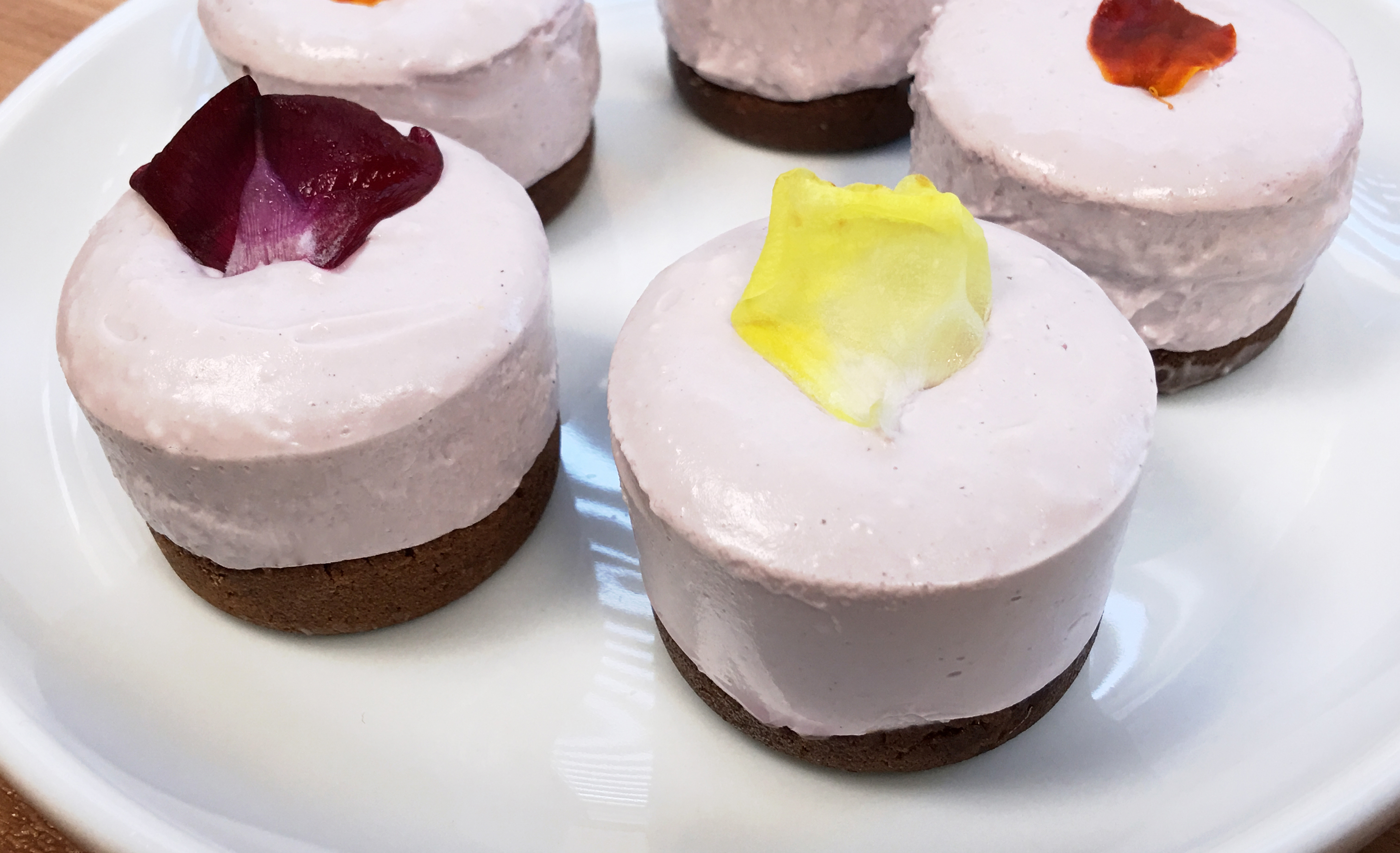 This is the cheesecake that taught me quite a lesson. The cream cheese to liquid ratio is a delicate balance that you can't disrupt. However, what if you simply use less liquid? In theory young jedi that should work. However, in practice, you end up with something that as the kids say, "tastes like you're just eating cream cheese". So you see, you need liquid, so in this recipe, you'll see that extra cream cheese had to be used to save the filling from the dreaded droop. Droop will happen in the fridge if there's too much liquid and the cheesecake is unable to stand on its own. Don't let this stop you from experimenting though. I personally have enjoyed every lesson learned in the journey of cheesecake making.
If you've been reading through all of the cheesecake posts, you may wonder why on earth I made so many. Simple, to give everyone with food allergies and special diets something to choose from. In this case, our Allergy Kid absolutely loves all things rose.
Before you jump in, if this is your first rodeo, be sure to read through our No-Bake Cheesecake Basics post. In that post, I go over all you need to know about the different brands of cream cheese, as well as ratios, tips, tricks, and more. You can also see all 13 flavors of our No-Bake Cheesecake Series here.
Allergy Status: Gluten/Wheat Free, Dairy Free, Egg Free, Nut Free, Peanut Free, Yeast Free, Nightshade Free, Sesame Free, Vegan, Soy Free Compatible, Legume Free Compatible
Soy & Legume Free: Use a different cream cheese option (see the basic post for details)
Ingredients:
12 ounces Dairy Free Cream Cheese (Tofutti)
6 TBSP Organic Cane Sugar
3 TBSP Unsweetened Milk of Choice (We used Good Karma Flax)
1/4 tsp Sea Salt
2 tsp Organic Vanilla Extract
2 tsp Rose Water
Optional: Color to tint it purple. We use the India Tree Natural Colors
Directions:
First, press your cookie of choice into the bottom of the pan. I felt that Chocolate Brownie was the best cookie choice for this cheesecake, however, you could also try Chocolate Chip. Next, combine all of the ingredients together in a bowl and mix until smooth. I made these in a bowl with an electric hand mixer. You can also opt to use a stand mixer. I don't recommend mixing by hand because in the end you want a super smooth mix without lumps.
Next, use a disposable decorator/piping bag to add your filling to the cheesecake pan. I've shared all the best tips about this in the Cheesecake Basics post. Finally, put your pan in the freezer and wait for them to set, or enjoy them right away.
For garnish I used Organic Edible Flowers, which is what we use in our Bakery.