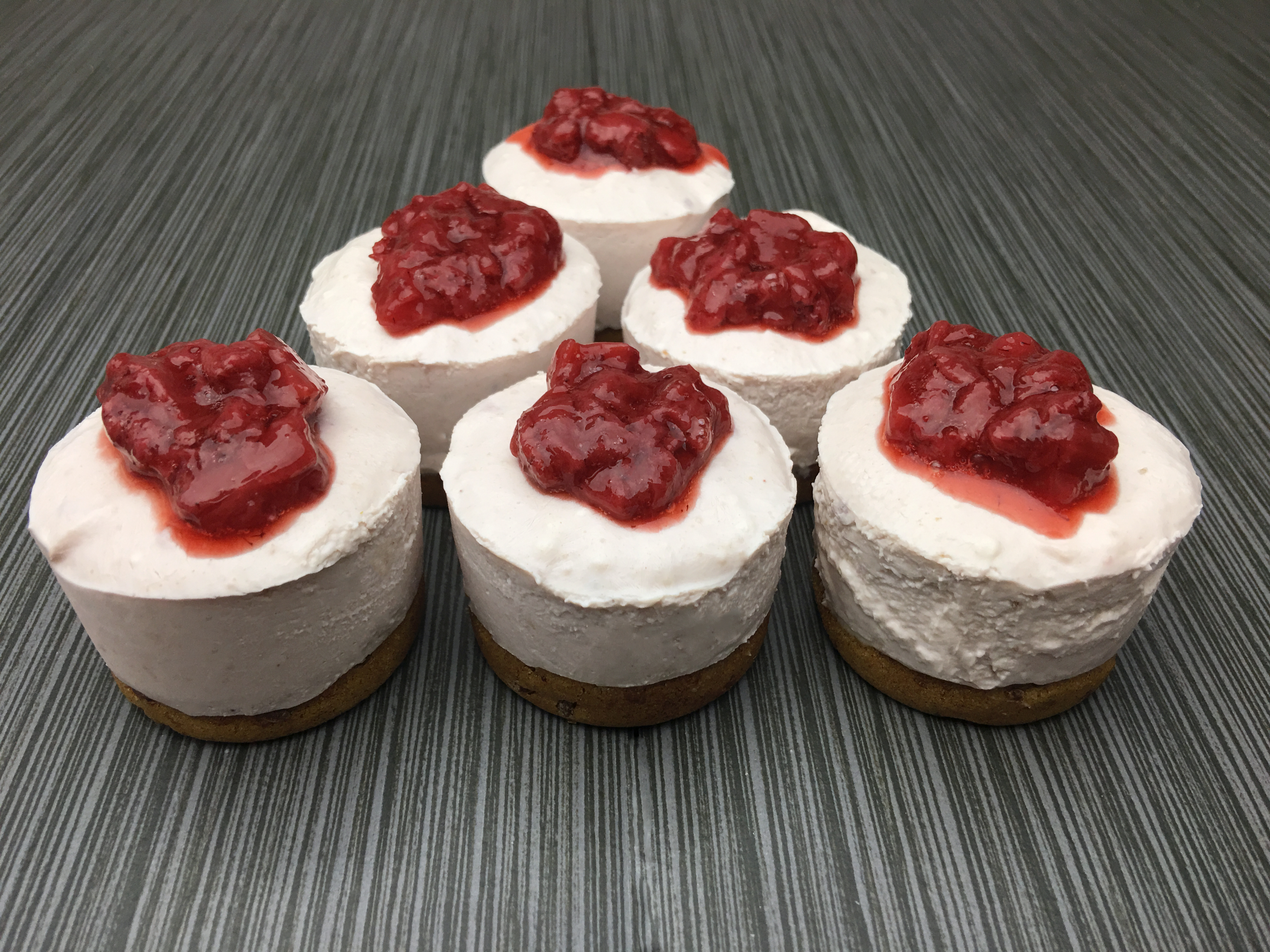 This was our very first take on No-Bake Cheesecakes.
Before you jump in, if this is your first rodeo, be sure to read through our No-Bake Cheesecake Basics post. In that post, I go over all you need to know about the different brands of cream cheese, as well as ratios, tips, tricks, and more. You can also see all 13 flavors of our No-Bake Cheesecake Series here.
Remember, these No-Bake Cheesecakes are simple to make, come together fast, and have so many different variations you can create based on your personal taste, and of course, imagination. On to the recipe!
Allergy Status: Gluten/Wheat Free, Dairy Free, Egg Free, Peanut Free, Yeast Free, Legume Free, Nightshade Free, Sesame Free, Vegan, Soy Free Compatible, Nut Free Compatible
Soy Free: Use a different cream cheese option (see the basic post for details)
Nut Free: Use a safe yogurt (So Delicious Contains Coconut)
Ingredients:
1 So Delicious Strawberry Yogurt (5.3 ounces)**
2 TBSP Organic Date Sugar
8 ounces Dairy Free Cream Cheese (Tofutti)
Directions:
First, press your cookie of choice into the bottom of the pan. Snickerdoodle, Chocolate Chip, and Chocolate Brownie are all good choices. Next, combine the cream cheese, date sugar, and yogurt together. I made these in a bowl with an electric hand mixer. You can also opt to use a stand mixer. I don't recommend mixing by hand because in the end you want a super smooth mix without lumps.
Next, use a disposable decorator/piping bag to add your filling to the cheesecake pan. I've shared all the best tips about this in the Cheesecake Basics post. Finally, put your pan in the freezer and wait for them to set, or enjoy them right away.
For garnish, I used organic strawberry filling from our Bakery. Strawberry preserves or strawberry jam would work well for this too. You could also top with chocolate dipped strawberries. Super yum!
**Ingredients for Reference: Organic Coconut Milk (Filtered Water, Organic Coconut Cream), Organic Cane Sugar, Strawberries, Rice Starch, Less Than 2% of: Calcium Citrate, Pectin, Natural Flavor, Live and Active Cultures, Locust Bean Gum, Vegetable Juice (For Color), Citric Acid, Vitamin D2, Vitamin B12.
Feel free to use a different yogurt that's safe for you, or make your own strawberry yogurt for use in this recipe.