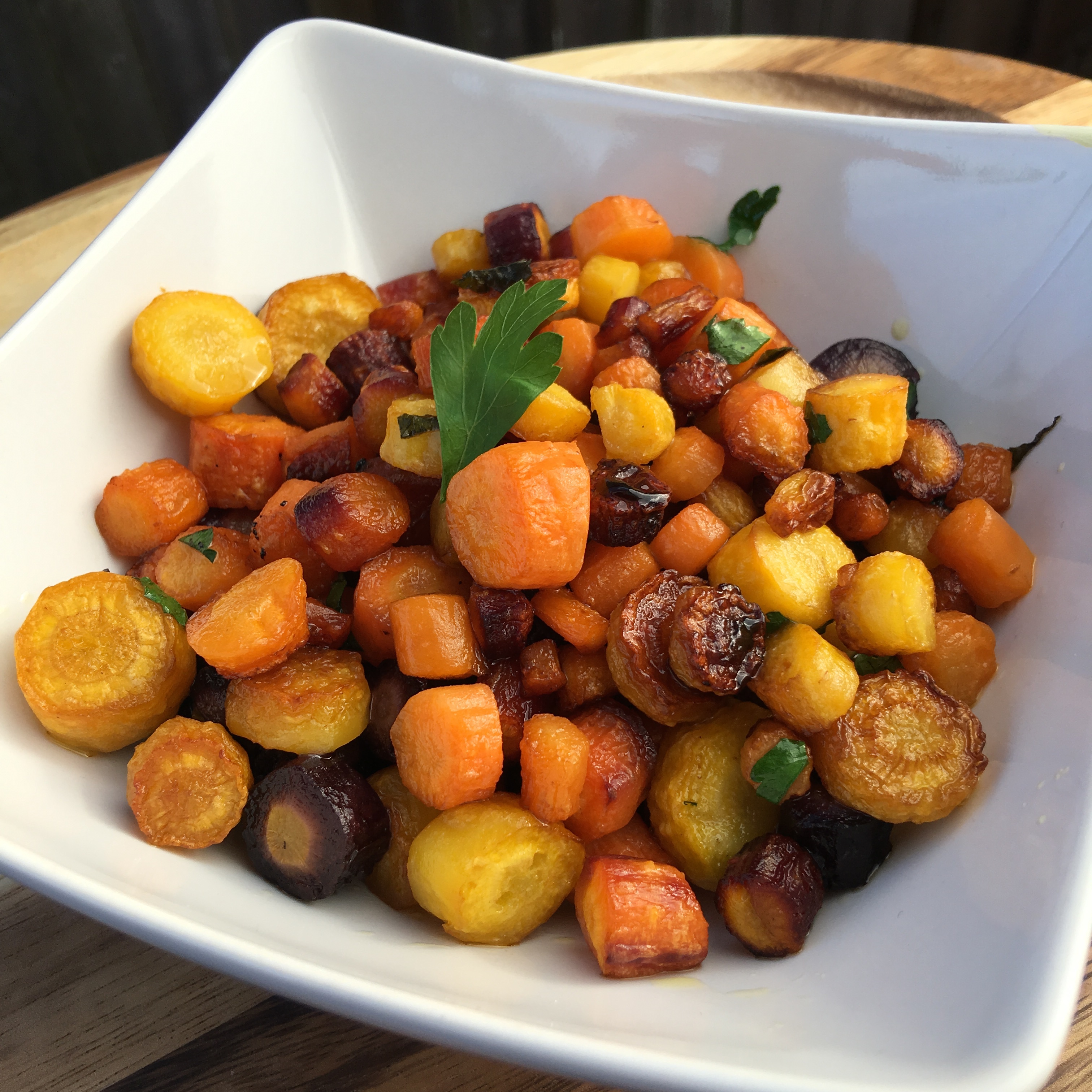 Have you seen our Monday Night Live Streams? If not, I think you may be missing out on something pretty radical. Each Monday on Instagram (@TheAllergyChef) we stream live. We cook and bake live, and answer any questions you may have. We talk about recipes, substitutions, and all things food allergies. There's also lots of humor mixed in. Be sure to check our Instagram account for the latest details each Monday. This delicious dish was made a few weeks ago, and our good friends have had nothing but rave reviews for it.
Allergy Status: Gluten Free, Wheat Free, Grain Free, Dairy Free, Egg Free, Soy Free, Nut Free, Peanut Free, Yeast Free, Corn Free, Onion & Garlic Free, Cane/Refined Sugar Free, Low Histamine, Vegan, Paleo, GAPs, AIP, Diabetic, SCD Compatible
For SCD: Use Organic Date Sugar
For Corn Free: Source Safe Ingredients
Ingredients:
1 bunch Organic Carrots, sliced a bit on the thicker side, rainbow carrots if available
2 TBSP Organic Extra Virgin Olive Oil
1 tsp Organic Balsamic Vinegar
2 TBSP Organic Maple Sugar
1/2 tsp Sea Salt
Toss all of your ingredients together in a mixing bowl, then transfer to a baking tray. Bake at 400 for 25 minutes to start. Your baking time will vary depending on the thickness of your slices. The carrots are done when they're easy to pierce with a fork. Easy and delicious!
Our Corn Free Cookbook (also Gluten Free and Top 8 Allergy Free) Is packed with recipes and resources to help you thrive when living with a corn allergy, and/or multiple food allergies. Kathlena, The Allergy Chef, is a severe corn allergic, giving us the unique ability to write a book that's accurate. No corn derivatives, no xanthan gum, and all the details you need to enjoy life as a corn allergic.