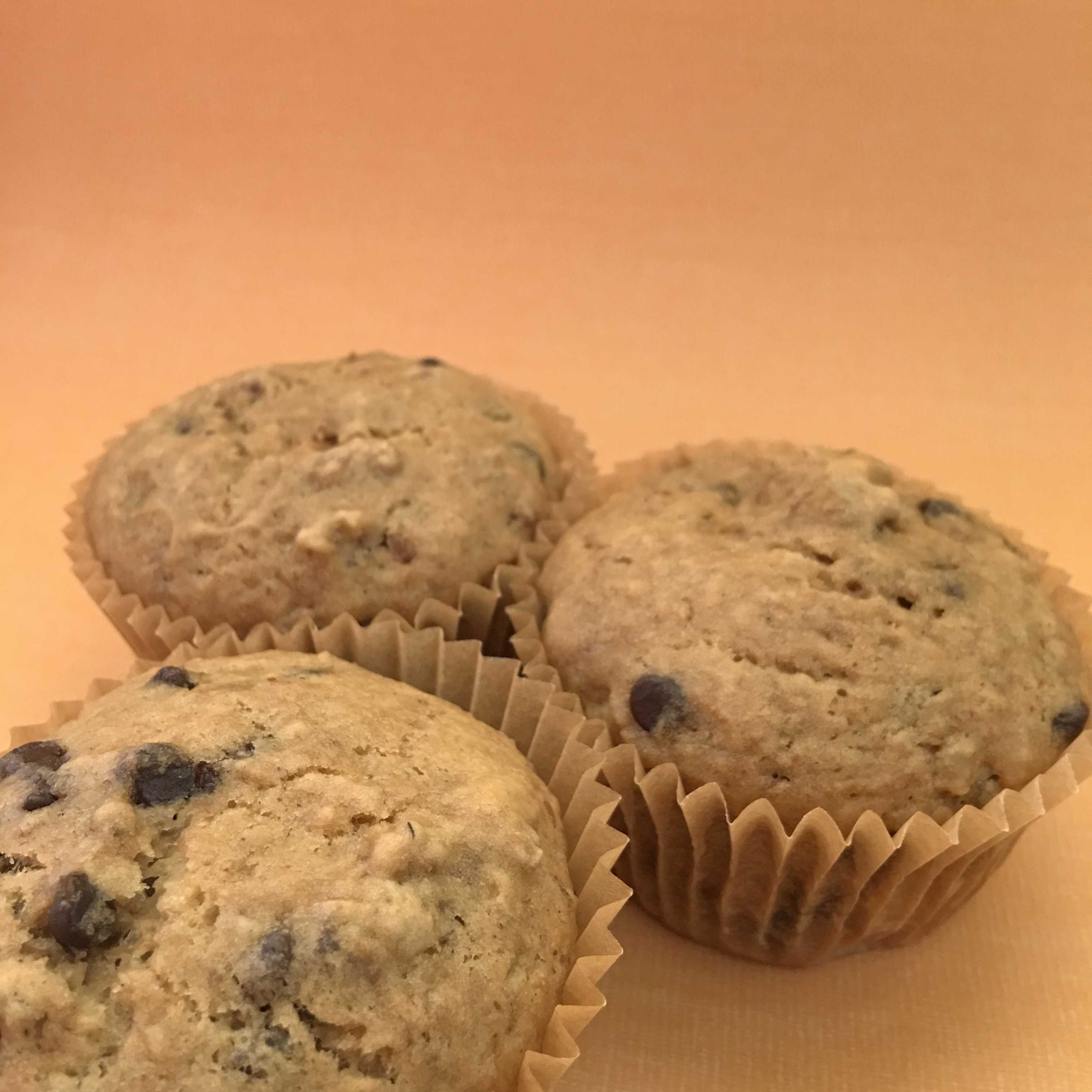 It was late one night, and I didn't have a plan for breakfast. I know, that's totally out of character for me. It's just that things have been so busy around here lately. So rather than get sleep, I decided to prepare a quick muffin batter. Back when we were getting ready for the Maker Faire, I wanted to have a banana muffin to sell at the event, but I wasn't able to nail down time to create anything. Now that I needed to have a breakfast for the kids, this was my golden opportunity.
A little note. I baked a test muffin and had The Papa try it, yes, in the middle of the night. The baking time was 18 minutes, but it was a little dry, and 15 – 17 minutes may have done the trick. I put the batter in the fridge, and went to bed. However, the baking time changed once the batter was being cooked from cold. I share this with you so you'll know why there's variation, and you'll know how to plan your baking.
Allergy Status: Wheat/Gluten Free, Dairy Free, Egg Free, Soy Free, Peanut Free, Yeast Free, Sesame Free, Legume Free, Diabetic Friendly, Vegan, Cane/Refined Sugar Free Compatible
For Cane/Refined Sugar Free: Use Pascha Dark Chocolate Chips instead of Enjoy Life.
Ingredients:
4 organic Bananas, squished
1 cup Organic Walnuts & Pecans, crushed into small pieces
3/4 cup Enjoy Life Chocolate Chips ( for Cane Sugar Free)
2/3 cup Sorghum Flour
2/3 cup Potato Starch
2/3 – 1 cup Organic Maple Sugar
1/3 cup Arrowroot
1/3 cup Millet Flour
4 ounces Organic Unsweetened Milk of Choice
3 tsp Follow Your Heart Vegan Egg Replacer (or 1 egg)
1 TBSP Baking Powder
2 tsp Sea Salt
1/2 tsp Baking Soda
1/8 tsp Guar Gum
Directions:
Star by squishing your bananas with a fork, then transfer to a mixing bowl with a wire attachment. Add in all of your other ingredients, one at a time, folding the chocolate chips in last. When your batter smooth, fold in the chocolate chips, then portion into a muffin tin that's lined.
For large muffins, bake at 350 for 15 – 18 minutes. If you bake them from cold (fridged over night), it can take up to 22 minutes, and they won't rise as much.
Flour Note: For those who don't have a gluten/wheat issue, skip the guar gum, and use 2 cups of flour. Alternatively, if you would rather use a different mix, such as Bob's GF All Purpose Flour, or Cup-4-Cup, etc, use 2 cups of your favorite blend.
Time for a couple of pictures. Forgive me, but it was late when i created the batter, and i completely forgot to take pictures of the process 🙁