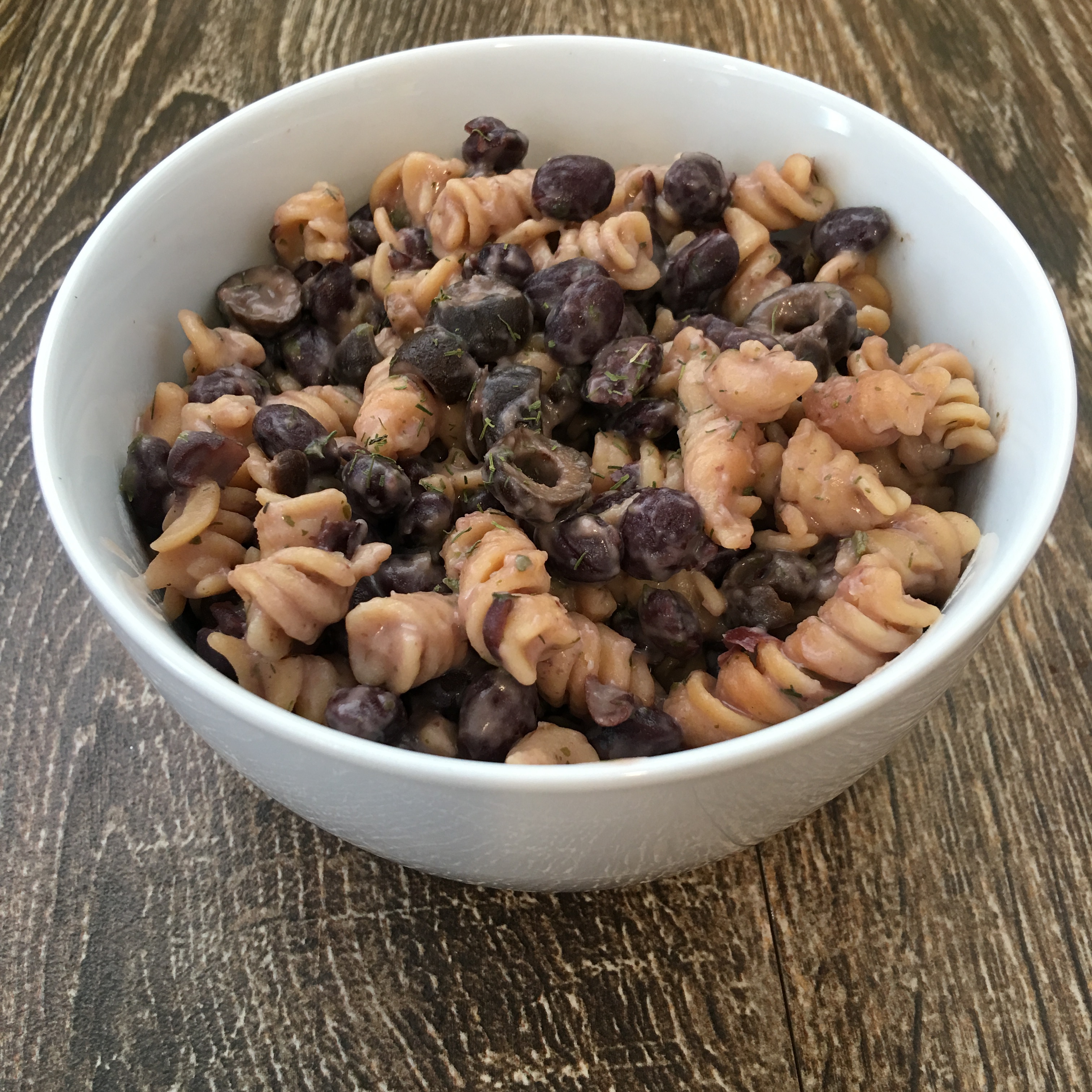 Welcome to Wonderful Wednesday. Well, I hope it's going well for you because that alliteration felt so good. As we continue Pasta (Sauce) Week, it's important to remember there are some people who can't have tomatoes and/or nightshades, in addition to many other things. This recipe is for you 🙂
The original concept of this dish was a cold pasta salad and as usual, it morphed into something unique to us. The great news is that Kid Two and Kid Three really enjoyed the dish. The Papa, who doesn't like beans, and who really doesn't like the GF noodles said that "it was really good for what it is". Yes dear friends, that was a compliment. We learned that this is tasty eaten both warm and cold, but I think Kid Three enjoyed it more when it was warm, and it has to do with these particular noodles. Once most gluten free noodles are cold, they're not nearly the same. Friendly remember, these Non-Traditional Pasta recipes are designed to be guides, and to get your creativity flowing, as many of you have quite limiting dietary options.
Allergy Status: Wheat/Gluten Free, Dairy Free, Egg Free, Soy Free, Nut Free, Peanut Free, Yeast Free, Cane/Refined Sugar Free*, Sesame Free, Nightshade Free, Diabetic Friendly, Vegan Compatible, Onion & Garlic Free
For Vegan: Use maple syrup instead of honey, or Bee Free Honee.
*The allergy friendly mayo we use has a small amount of added cane sugar. You will need an alternative brand, or use homemade aquafaba mayo.
Ingredients:
385 grams Tolerant Organic Red Lentil Pasta  (given the shape of the noodle, weight is the best way to measure)
29 ounce can Eden Organic Black Beans (1 large can, or 2 regular sized cans)
4.5 ounces Black Olives, sliced (ours were canned)
6 TBSP Sir Kensington's Vegan Mayo
3 TBSP Raw Organic Honey
2 – 3 tsp Sea Salt, to taste
2 tsp Organic Lemon Juice
1 tsp Dried Organic Parsley
3/4 tsp Organic Dill
Directions:
First, cook your pasta, drain, and set it aside. It's OK if you don't use Tolerant GF noodles, and opt for something else. The amount is what's important. However, I would advise against spaghetti, as long noodles won't complement the beans very well. Next, drain half the liquid from your beans, then add them to a medium pot, and cook on medium-low heat (275). As the beans cook, add in everything except for the mayo, lemon, and dill. Cook the beans for 15 minutes, stirring to prevent burning. With the beans still hot when they're done, add in the noodles, mayo, lemon, and dill. Mix everything together very well, and enjoy.