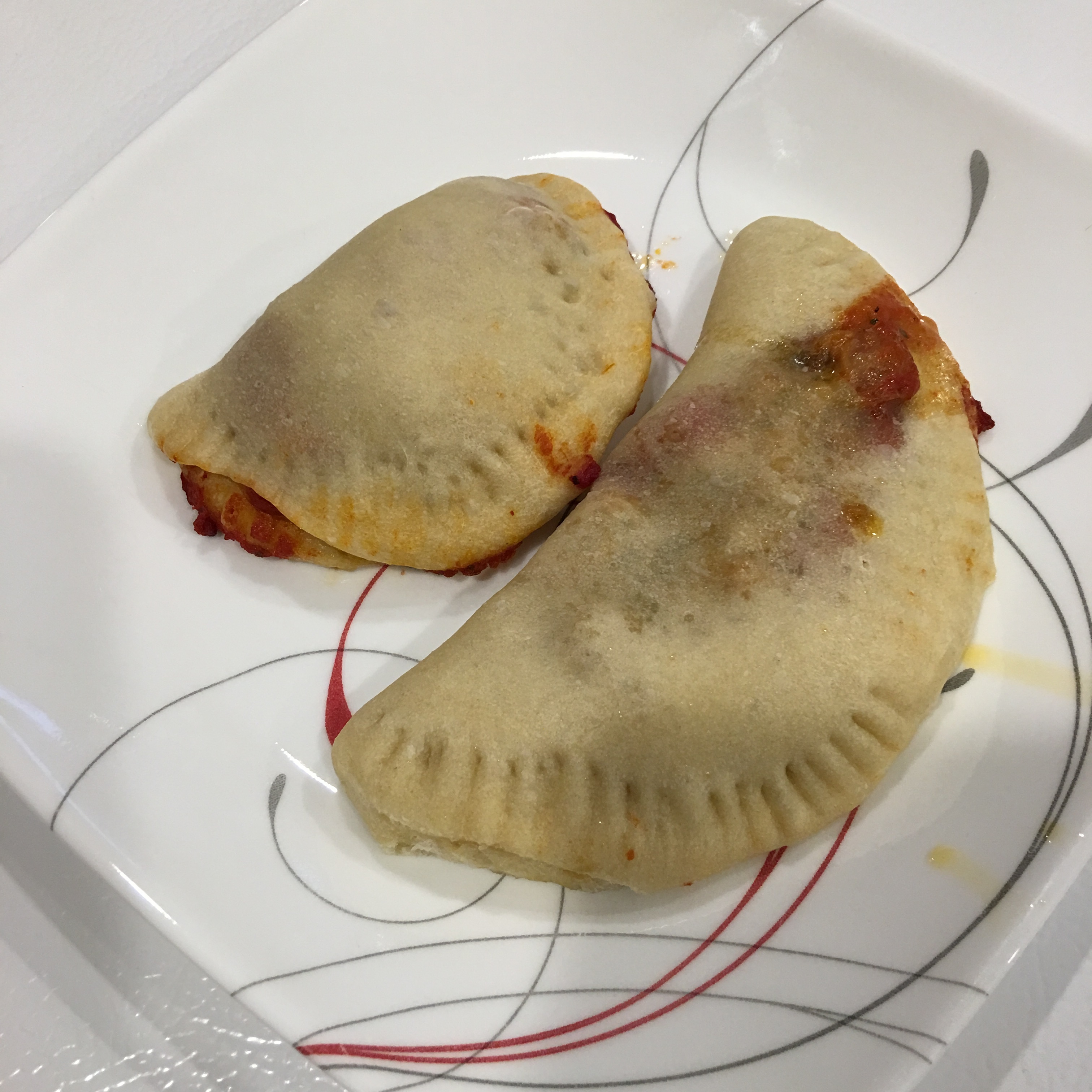 Kid Three was so intrigued, and really wanted to know what a calzone was. Like with many other things, I told him to look it up. Yes, I'm one of those parents. He was SO happy to help with dinner once he knew what it was. The best part for me was when each of his siblings asked what a calzone was, he was quick to tell them to look it up 🙂 He also likes to say that these are short for "calorie zone".
Just a fair warning, the final product is not even close to perfect in looks. As you know, I can't touch, or eat most of the food I create, so the kids did all of the touching for me. This means the kids made these calzones with their own little hands, with lots of love.
Allergy Status: Wheat/Gluten Free, Dairy Free, Egg Free, Soy Free, Nut Free, Peanut Free, Sesame Free, Legume Free, Diabetic Friendly, GAPs Compatible, Vegan Compatible, Yeast Free Compatible, Corn Free Compatible, Cane/Refined Sugar Free Compatible, Nightshade Free Compatible
For Nightshade Free: Use a cream sauce instead of red sauce, and homemade seasoning without paprika (all seasons salt contains paprika).
For Corn Free: Source safe ingredients, and make pizza dough at home. Make a ton of extra for freezing.
For GAPs, Yeast Free, & Cane/Refined Sugar Free: Make a fresh pizza dough at home with safe-for-you ingredients.
For Vegan: Use a meat substitute of choice, or only fill with cheese, and vegetables (such as peppers, extra onion, mushroom, and tomato chunks)
Here's what you'll need to make your delicious calzones:
For the Meat Filling:
6 TBSP Organic White Onion, diced
1 TBSP Organic Extra Virgin Olive Oil
1/3 pound Organic Ground Turkey
1/3 – 1/2 cup Daiya Yellow Shredded Cheese (or other cheddar style cheese)
1/4 tsp Sea Salt
1/4 tsp All Seasons Salt
Directions:
Start by heating a medium non-stick pan on medium-high heat (375). Add the olive oil and the onion. Allow it to cook for a few minutes. You're not going to caramelize these. Add in the turkey, and break into large bite size chunks. You can opt to make the pieces smaller. When the turkey is 75% cooked, add the seasonings and cheese, and continue to mix until the turkey has cooked all the way through. Remove from heat and set aside.
For Those Who Can Have Dairy:
9 TBSP Organic White Onion, diced
2 TBSP Organic Extra Virgin Olive Oil
2/3 pound Organic Ground Turkey
1/2 tsp Simply Organic All Seasons Salt
1/4 tsp Sea Salt
1 tsp Organic Dried Parsley
pinch Organic Crushed Red Pepper
1 cup Organic Mozzarella Cheese, shredded (you can use more if desired)
1/2 cup Organic Sharp Cheddar Cheese, shredded
Follow the same cooking instructions as above. If you live in a house with someone with food allergies, remember, non-sticks remember. Be sure to use a dedicated pan. All of the dairy eaters raved about the mix, and wanted to skip calzones and eat it hot out of the pan.
For The Assembly:
1 pizza dough (we use Wholly Wholesome for GF DF EF)
Red sauce of choice (I try to always keep a homemade pizza sauce on hand in the fridge for moments just like these)
Line a large baking tray with parchment paper for working on, and baking. Break your dough apart into several small portions, and flatten each one as much as you can into something that resembles a circle. Place a bit of red sauce on half of your circle, and top with filling. Fold over the empty half of the circle, and pinch closed with a fork. Once all of your portions have been morphed into calzones, bake in the oven at 425 for 12 minutes.
Time for pictures: