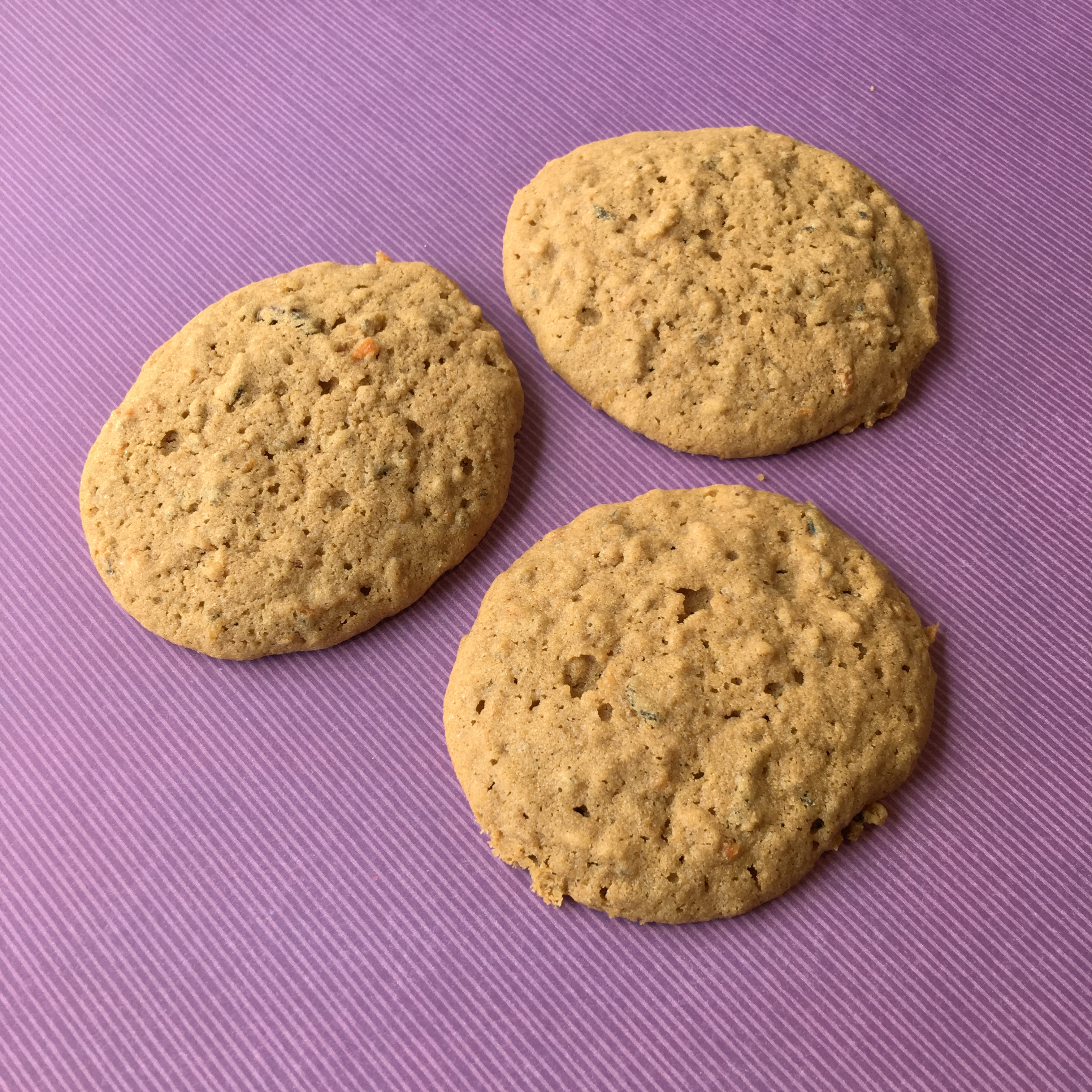 Carrot Cake Cookie & Crumbles
When I was messing around with carrot cake, the thought came to me: cookies! What if I could take the essence of carrot cake and morph it into a cookie? I mean, who doesn't like cookies, right? My first thought was that I wanted to have something similar to a ginger snap, a little on the harder side of life. Instead, I ended up with something that's a lot like Citrus Cloud Cookies (in our Sweets and Treats volume one book). Then, something really cool happened. They fell apart. As they aged, the more delicate they became, and that's when I knew this was the coolest crumble ever. It's a new thing I'm going to be telling everyone about. This is great on top of ice cream, or as a garnish on the Carrot Cake Cupcakes. See, not too bad, right? But seriously, if you make these, be gentle and kind to them, and eat them fresh, unless you plan on using them as a crumble.
Allergy Status: Gluten Free, Dairy Free, Egg Free, Soy Free, Yeast Free, Vegan, Nut Free Compatible.
For Nut Free: Use a safe non-dairy milk alternative.
For those of you that would like to be brave and make these, you'll need:
2 sticks Dairy Free Butter, room temp.
1 cup Organic White Sugar
1/3 cup Organic Dark Brown Sugar, packed
1 tsp Sea Salt
1.5 tsp Organic Ground Cinnamon
1/8 tsp Organic Ground Nutmeg
2 tsp Baking Powder
1 tsp Baking Soda
5.5 ounces Shredded Organic Carrot (about 1.5 cup, not packed)
1/3 cup Organic Raisins
2 1/4 cup Sorghum Flour
1/4 cup Arrowroot
1/4 cup Potato Starch
2 tsp Organic Vanilla Extract
Egg Substitute: 4 ounces Organic Unsweetened Almond Milk + 1 TBSP Organic Chia Seeds + 2 TBSP Potato Starch
A note about flour: if you have a go-to gluten free flour blend (or wheat based) that you like, use that instead. Since we have to have things a certain way in our house, I've simply gotten use to having to make combos, and you may not need to.
Start by making your egg substitute in a measuring cup. Gently mix everything together with a fork, and set aside. Next, cream your butter and sugars together in a stand mixer with a paddle attachment. Scrap down the edges, and cream again. Now, add in all of your other ingredients, except for the sorghum, arrowroot, and potato starch. When all of these ingredients are nicely combined, add in the sorghum, potato, and arrowroot. You can add them all at the same time, then pulse your mixer as to not make a huge mess. Once able, turn the mixer up to a higher speed and allow a dough to form.
I used a medium cookie dough scooper to portion these out, and I did not press them down. They spread nice and evenly on their own. Line a baking tray with parchment paper, portion out as desired, and bake at 325 for 16 minutes. Allow the cookies to cool on the tray for 15 minutes before moving.