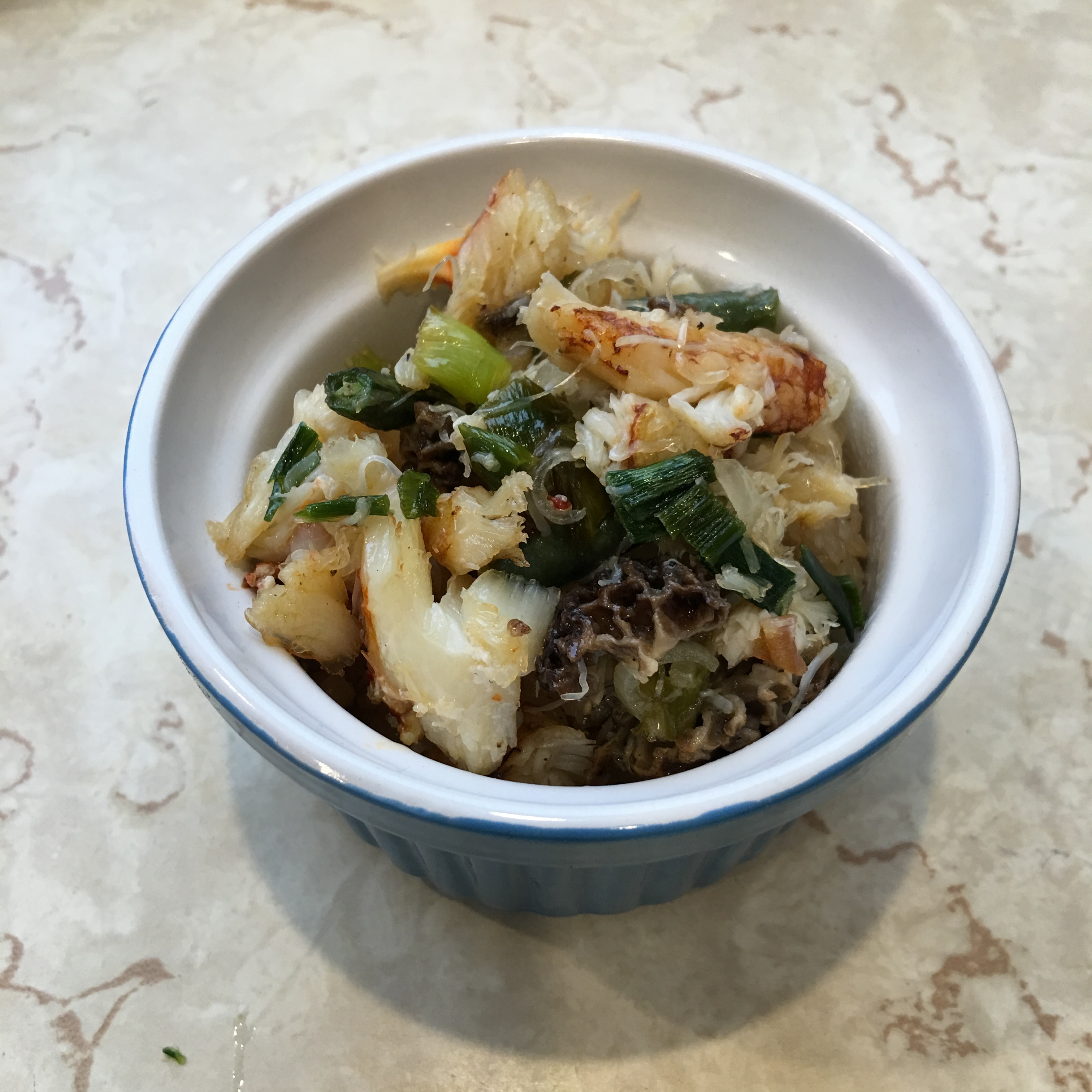 Crab Dish
Remember when I fell in love with ramps? Well this is one of the few things I jazzed up using those wonderful little bulbs. I'm totally looking forward to the next season. Idea: ramp and leek onion soup. Oh and something with butternut squash. Yes, this is exactly how things come to me. Thank you for being part of the process 🙂
Back to the dish at hand. Being the foodie that I am, the idea of crab just makes me smile. It's so fancy. I think I make the kids something with it twice a year. Kid Two likes crab the most, FYI.
Allergy Status: Gluten Free, Dairy Free, Egg Free, Soy Free, Nut Free, Paleo, GAPs, AIP Compatible
For Strict/entry AIP: Omit the black pepper. Omit green beans and replace with vegetable of choice
Ingredients:
3 oz Ramp Bulbs, chopped
1 bunch Organic Green Onion, chopped
3 Organic Morel Mushrooms, washed and cut (look out for small pebbles)
15 Organic Purple Green Beans wax, cut into bite sized pieces
1/2 lb Fresh Crab Meat
1/2 tsp Pink Salt
Pinch Organic Black Pepper
Optional: Organic Extra Virgin Olive Oil or Dairy Free Butter
Heat a non-stick pan on medium-high heat (375) and add the ramps and green onions. Allow them to cook and get yummy for 4 to 5 minutes. Turn the heat to medium (275) and add the mushrooms. Allow these items to cook for several more minutes together. This is where I would suggest the optional oil/fat of your choosing. Once you add your crab and seasonings, cook the mix for an additional 10 – 12 minutes. Viola! That's it.
Never heard of purple green beans? Neither had I! It was something I saw one day on Good Eggs and had to try. The huge downside is that they lose their color as they cook, so I tried to keep them on top of other items in the pan to help avoid exposing them to too much heat. The drawback to that is having more crunch than I really wanted for the dish.
I opted to leave out fat/oil because I wanted the natural flavors to shine through. Serve over item of choice such as rice, cauliflower rice, or yucan crackers.