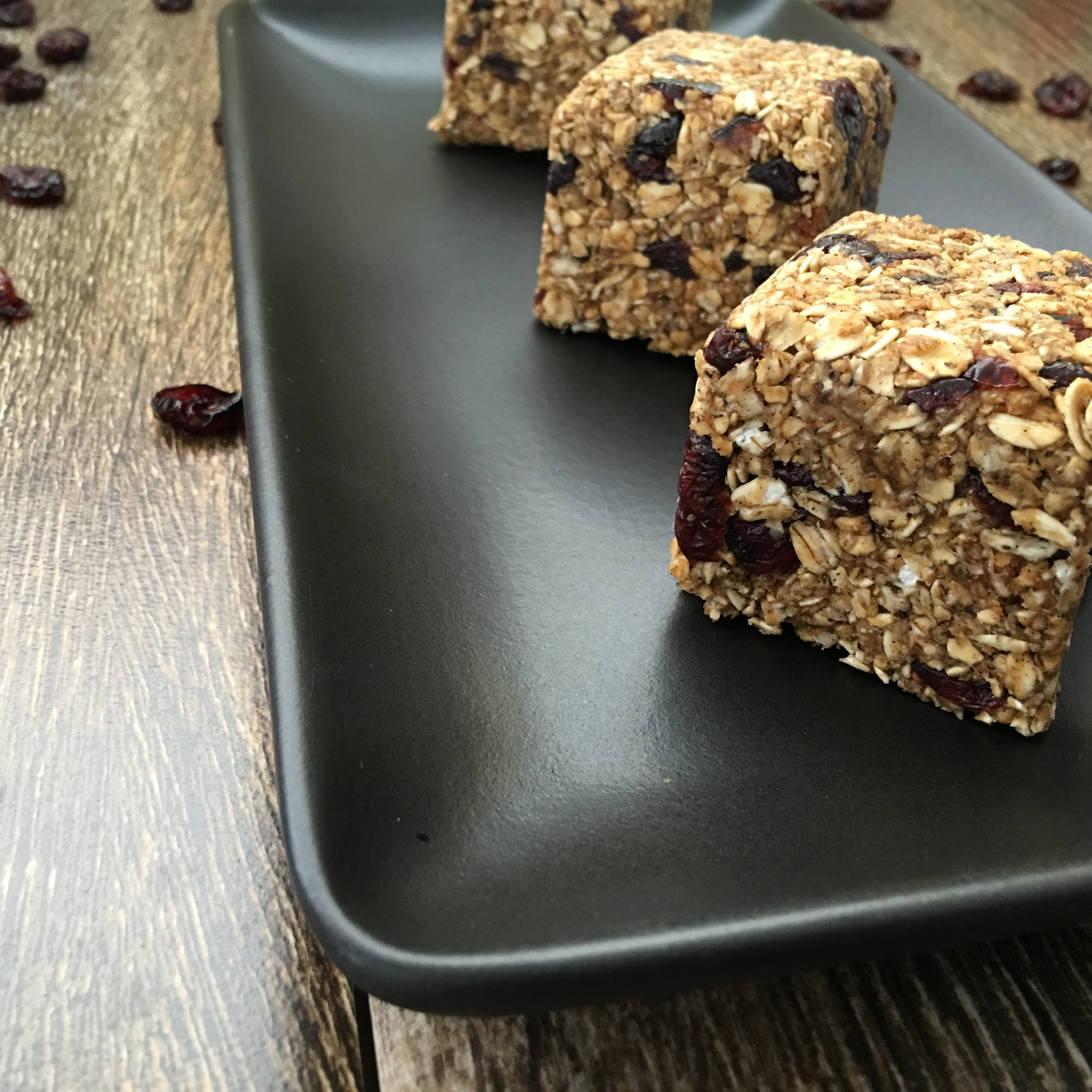 Cranberry Oat Cubes
A good friend of ours makes his own granola. I've wanted to for so long, but I'm afraid of messing it up. You know what finally pushed me over the edge? Money. I've been getting really tired lately of paying such high prices for certain foods, one of them being granola. A bag of Udi's Simple Granola will set you back 5 bucks! I can buy 4 times the amount of GF oats from B.R.M. and bake them myself. Well, that's what made me do this, and I'm glad I finally did because it really is easy. We can all be free of  high prices!!! (You should be cheering and dancing right now)
Allergy Status: Gluten Free, Wheat Free, Dairy Free, Egg Free, Soy Free, Nut Free, Peanut Free, Yeast Free, Cane/Refined Sugar Free, Vegan
Base Ingredients:
5 cups Gluten Free Oats (the GF is really important for those that are allergic and/or Celiac)
6 TBSP Raw Organic Honey
1 tsp Sea Salt
2 tsp Raw Organic Ground Vanilla
325 20m+8
Mix-ins:
1.5 cup Organic Dried Cranberries (ours were sweetened)
2 medium Organic Bananas
1 tsp Raw Organic Ground Vanilla
3 TBSP Raw Organic Honey
Line a large baking tray with parchment paper, and preheat your oven to 325. Mix all of your base ingredients together in a large bowl, then spread them out on your parchment-lined tray. Bake the base at 325 for 30 minutes.
While the base is baking slice your bananas. You can halve or quarter them. Once your base is done, and has cooled, transfer the mix back into your large bowl, and add the mix-in ingredients. Mix very well to ensure everything is incorporated. Stuff your completed mix into silicone molds of your choice. Freeze for 30 minutes or more to allow it to set.
I would hesitate using something small and cute, like LEGO men, as it may be difficult to release (and hold its shape). We used a jumbo ice cumber maker from Tovolo. Interestingly, I had Kid Two helping me with this, and he decided to put in a lot of elbow grease. The cubes were SO stuffed. All we could do was laugh.