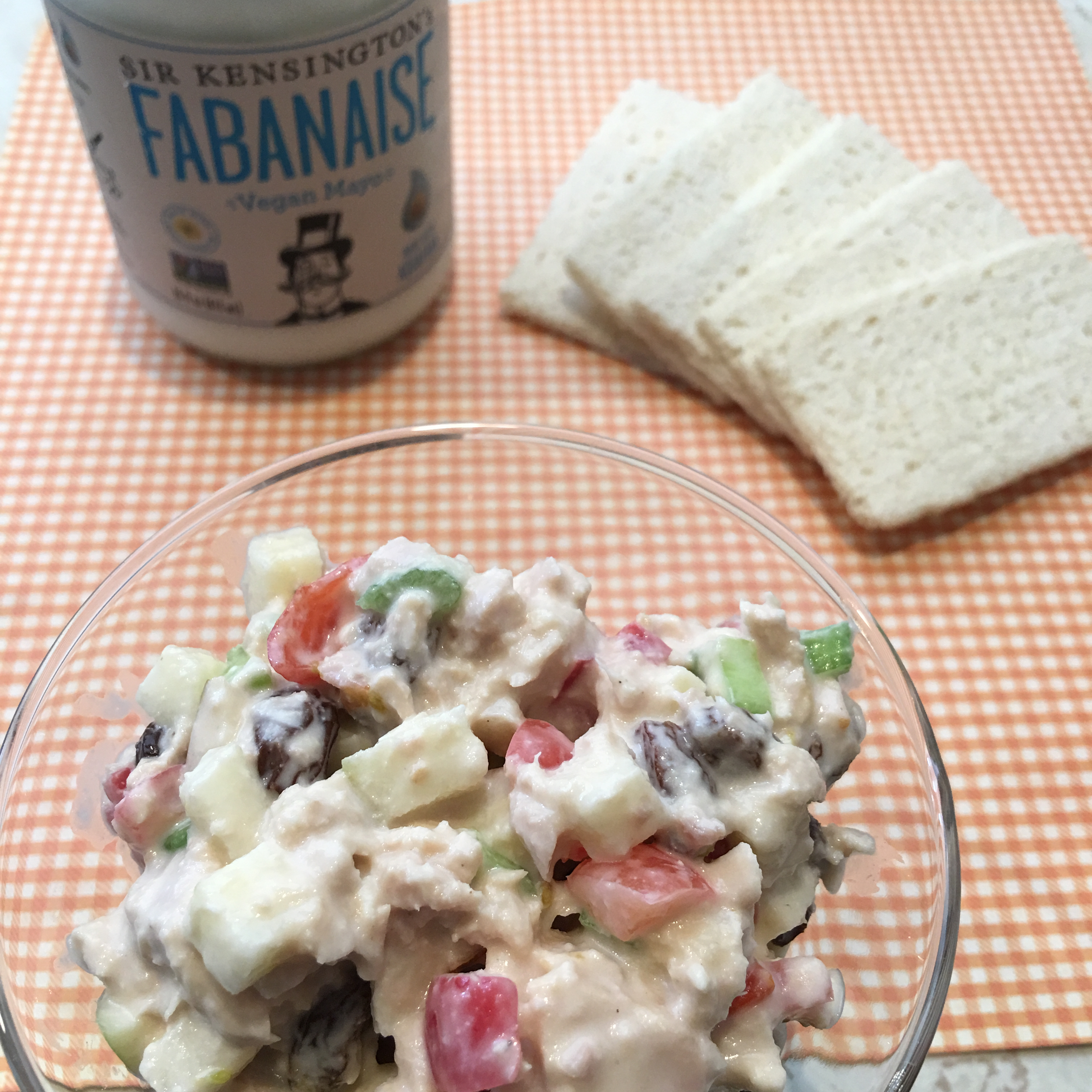 Did I tell you we sent Kid Two to summer camp? Well, we did, and it worked out so well. He had a blast, met new people, and even met someone who likes to do card tricks like him. He was thrilled. What has that got to do with Festive Tuna Salad? Well, it's one of the meals I sent with him, and he really enjoyed it.
For quite some time now, I've been using Organicville ranch dressing and coleslaw dressings together to make the idea of mayo in his tuna salads, and he's been OK with that. I was aware of some vegan options, but they were all soy based, and you know how I feel about American soy. So I'm walking through the store a couple of weeks ago (read: perusing Good Eggs from the comfort of home), after my aquafaba discovery, and THIS AMAZING EGG FREE VEGAN MAYO product catches my eye. It says it's made with aquafaba on the front. I read the label, and no soy! And Kid Two can have it!!! So of course I had to buy some. The Papa was the first to sample the creation, and he said it tasted like the real deal, so much that he couldn't really tell the difference. Kid Two. OH the joy and that child's face! Once again, regretting not taking a picture in that moment.
Allergy Status: Wheat/Gluten Free, Dairy Free, Egg Free, Soy Free, Nut Free, Peanut Free, Yeast Free, Cane/Refined Sugar Free*, Sesame Free, Nightshade Free, Diabetic Friendly, Paleo Compatible, GAPs Compatible, Vegan Compatible
For Vegan: Use a vegan, fish free tuna, such as this. However, if you're avoiding soy, you may not be able to find a safe product.
For Paleo & GAPs: Use a safe mayo such as one of these.
*Cane Sugar Free Note: The Mayo contains a small amount of cane sugar. You will need to use an alternative mayo.
Option One
This is the first version that I made for the trip. The Papa loved it, and ate some for lunch. It's a scaled up version, and a little different.
3 cans Wild Planet Tuna (we used the with salt cans)
2 Organic Fuji Apples, cubed
12 TBSP Sir Kensington's Vegan Aquafaba Mayo
1 TBSP Organic Sugar
1/2 cup Organic Raisins
1.5 tsp Sea Salt
Option 2
This is version that I want to take on a picnic! (pictured below)
1 can Wild Planet Tuna, with salt
8 Organic Cherry Tomatoes, cut into small pieces
6 TBSP Sir Kensington's Vegan Aquafaba Mayo
2 small stalks Organic Celery, cut into small pieces
1/3 Organic Red Apple (Fuji if possible), cubed
2 TBSP Organic Raisins
1/4 tsp Sea Salt
Directions:
The instructions are nice and simple. Place all of your ingredients into a bowl and mix until a nice tuna salad forms. All of the work on this one is in the prep.