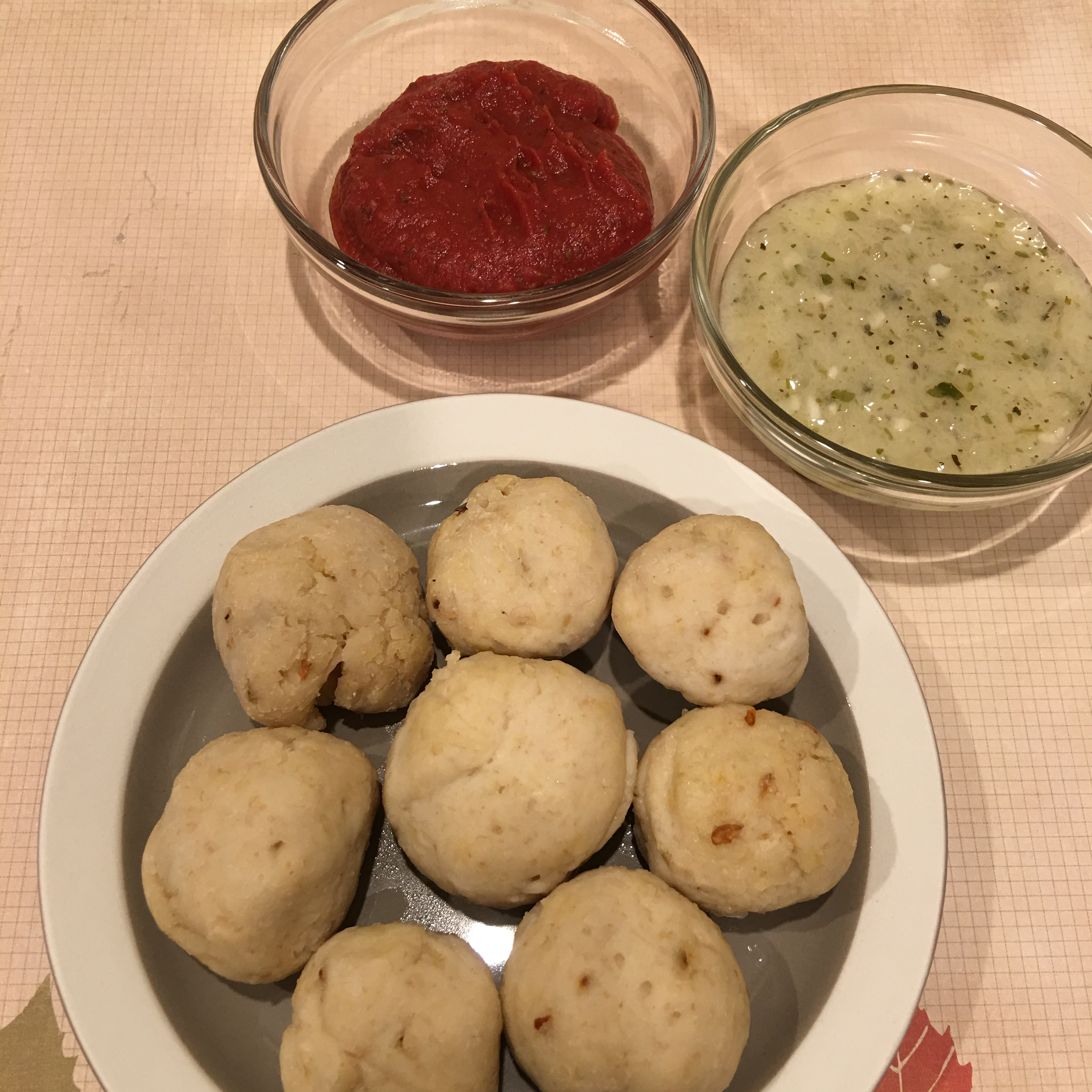 I saw a little idea online, and knew that Kid Two HAD to try these. Interestingly, Follow Your Heart recently introduced a dairy free parmesan cheese which is way cool. Don't get me wrong, we still love the Parma! brand that we've been using for quite some time and it has worked so well for us. In fact, it's how I make everyone the chicken bites that are featured in our Everyday Meals cookbook. Kid Two said that these were really great, and the wheat/dairy eaters enjoyed their version as well. Since this is so yummy, lets jump into the recipe. I don't want to keep you waiting any longer.
Allergy Status: Wheat/Gluten Free, Dairy Free, Egg Free, Soy Free, Nut Free, Peanut Free, Sesame Free, Vegan, Cane/Refined Sugar Free Compatible
Ingredient Notes:
FYH Parm contains potato, yeast, and chickpea
Parma! Vegan Parm contains nuts and yeast
Bragg Herbs & Spices contain pepper and tomato
Wholly Wholesome Pizza Dough contains a small amount of cane sugar
For Cane/Refined Sugar Free: Make fresh pizza dough at home, or use a brand that's safe for you.
For the Dough:
1 Wholly Wholesome Pizza Dough, thawed
1 container Follow Your Heart vegan Parmesan Cheese
2 tsp Organic Onion Granules
1 TBSP Parma! Vegan Seasoning (omit for nut free)
1/2 tsp Sea Salt
1/2 tsp Organic Garlic Granules
1/2 tsp Organic Crushed Red Peppers (use more if you'd like, but Kid Two is very sensitive to spicy foods)
Directions:
In a mixing bowl, combine all of the ingredients using your hands. I had my hands in baggies as to not get corn all over myself. Once everything is well combined, scoop out portions. We used an ice cream scooper, and then cut each scoop in half. Roll your scoops into nice little balls, and place them on a large tray that's lined with parchment paper. Bake at 425 for 12 – 15 minutes. We baked ours for 12 minutes because Kid Two liked that they were a bit doughy in the middle. If you bake them for longer, you may need to flip them over so they bottoms don't brown too much. At 12 minutes, the bottoms were nicely browned.

For the Garlic Dip:
8 TBSP Dairy Free Butter
1 cup Organic Unsweetened Milk of Choice
2.5 – 4 TBSP Potato Starch (desired thickness)
1 tsp Organic Minced Garlic
1/2 Organic Dried Basil
1/2 tsp Organic Dried Parsley
1/4 tsp Sea Salt
Dash of Organic Black Pepper
Directions:
Heat a sauce pan on medium heat (250 degrees). Start with the butter and milk. Once the butter has melted, add in the other ingredients. Start to whisk quickly, and add in the potato starch 1 TBSP at a time. Here's the thing about that though. If you use 1, 1.5 TBSP, it comes out really nice, but thin. However, if you allow it to cool and don't use it right away, it will thicken up a little more. If you use too much starch, you will end up with a goopy-gelatinous-delicious mess.
For the Red Sauce Dip:
7 ounces Organic Tomato Paste
10 ounces Organic Tomato Sauce
2 tsp Organic Bragg Herbs & Spices
1 tsp Organic Onion Granules
1/2 tsp Sea Salt
1/2 tsp Organic Dried Basil
Directions:
Heat a sauce pan on low-medium heat (175 degrees) and combine all of the ingredients with a whisk. Once it's nice and warm, it's ready to serve.