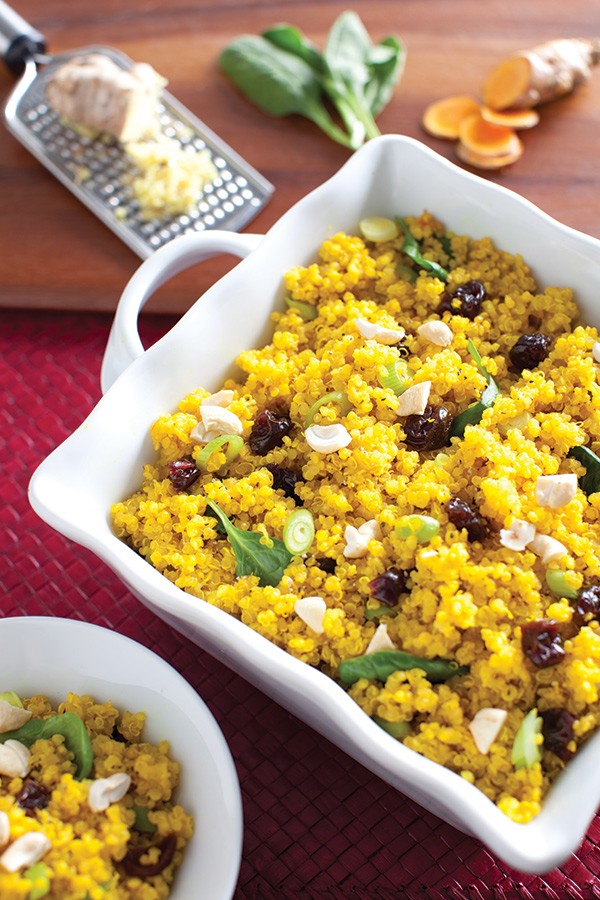 Today we have Jennifer Brewer (recipe) and Jennifer Olson (photo) from DeliciousLiving.com sharing a tasty allergy friendly recipe.
Allergy Status: Gluten Free, Dairy Free, Egg Free, Soy Free, Peanut Free, Yeast Free, Corn Free, Cane/Refined Sugar Free, Legume Free, Sesame Free, Nightshade Free, Diabetic Friendly, Nut Free Compatible, Low Histamine Compatible
For Corn Free: Source safe ingredients. Tropical Traditions has been a safe source for coconut products. Spicely Organics has safe seasonings.
For Nut Free: Use an oil alternative, and omit the cashews. Use a pumpkin or watermelon seed for added crunch.
For Low Histamine: Omit cashews.
A pilaf to please everyone—it's a little sweet, a little tart and a little savory. Spinach provides beta-carotene and vitamin C; ginger, turmeric and cherries all contain anti-inflammatory compounds. For good fats, add 3 tablespoons hempseed to the quinoa after cooking.
Serves 4
Ingredients:
1 tablespoon coconut oil
1 1-inch piece fresh ginger (peeled and grated)
1 teaspoon ground turmeric
1/4 teaspoon ground cumin
1/4 teaspoon ground coriander
1 cup golden quinoa (well washed and drained)
1 1/2 cups water
1/4 cup dried tart cherries (chopped)
1 cup chopped spinach leaves
1/2 cup thinly sliced green onions
1/4 cup fresh lime juice
1/2 cup cashews (lightly toasted and chopped)
Directions:
In a medium pot, stir coconut oil, ginger, turmeric, cumin, and coriander over medium-high heat until fragrant.
Add quinoa and stir to coat. Add water, bring to a boil, and then reduce heat. Cover and simmer for 15 minutes, or until all water is absorbed. Remove from heat; leave covered 5 minutes.
Stir in cherries, spinach, green onions, and lime juice. Season to taste with salt and pepper, sprinkle with cashews, and serve.
PER SERVING: 342 cal, 15g fat (5g mono, 3g poly, 6g sat), 0mg chol, 10g protein, 37g carb, 5g fiber, 17mg sodium