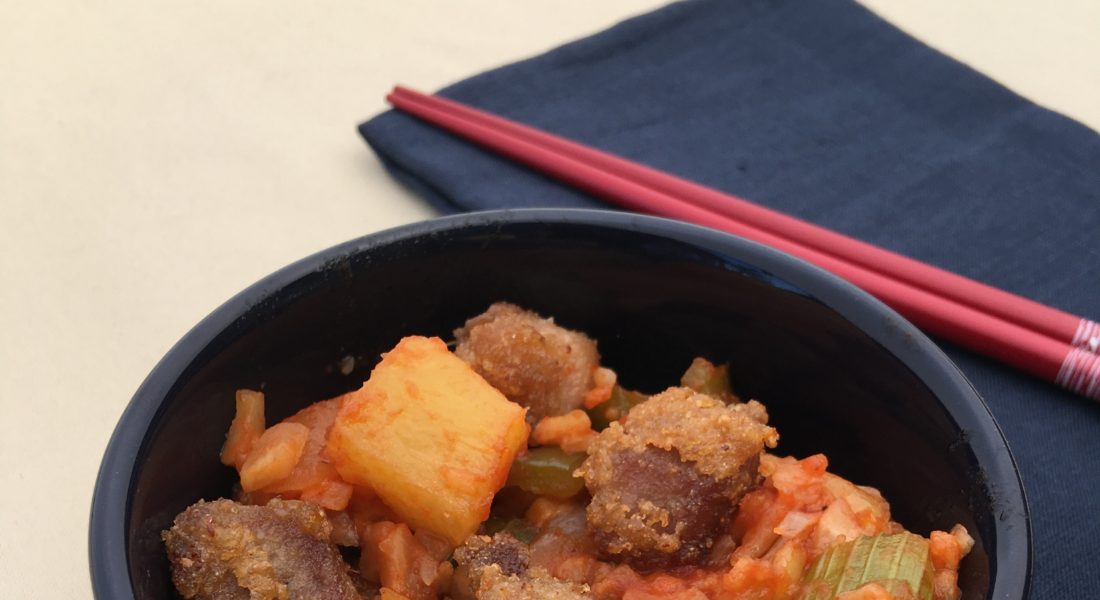 Grain Free, Allergy Friendly, Sweet & Sour Pork
I have been having SO much fun experimenting with the Cascadian Farms frozen cauliflower rice product. I think it's been out for a while, but only newly available in our area. Whole Foods also has a similar product, however, it's made in a shared facility, and isn't safe for Kid Two. This new product though, it's very interesting! When we make cauliflower rice at home, there's a much more organic texture about it. The frozen package seems to have somewhat uniform square pieces of cauliflower.
I was working on a different project when this idea came to me – an allergy friendly sweet and sour pork. First, I thought I would about it in the tradition way, then I reminded myself of how much I love to go about things totally different. I have yet to see a clean, grain free, version of sweet and sour pork, and set out to make that a reality. When I made it, I was afraid I had gone a bit too far and no one would like it… They ate it all in one go. I think it's safe to say this is a delicious recipe 🙂
Allergy Status: Gluten/Wheat Free, Grain Free, Dairy Free, Egg Free, Soy Free, Nut Free, Peanut Free, Yeast Free, Cane/Refined Sugar Free, Corn Free, Paleo, GAPs Compatible, Diabetic, SCD Compatible
For Corn Free: Source safe ingredients, especially the bell pepper, and pineapple.
For SCD: Use organic date sugar instead of organic maple sugar, and use an appropriate flour such as coconut.
For GAPs: Use the proper flour and omit the cassava and tiger nut.
Rice Ingredients:
2 medium Organic Green Bell Pepper, cut into large 1 inch pieces
3 large Stalks Organic Celery, cut into large pieces
1/3 Pineapple, cut into cubes
2 TBSP Organic Extra Virgin Olive Oil
Heat a large non-stick pan on medium heat. Add your oil, and once heated, add the bell pepper, celery, and pineapple. Allow the mix to cook, stirring occasionally to prevent burning. Cook for 12 to 15 minutes. Transfer to a bowl and set aside.
1 medium Organic Yellow Onion, cut into large pieces
2 bunches Organic Green Onion, cut into small pieces
1 bag Cascadian Farm Organic Frozen Cauliflower Rice
Put a little oil into your pan, and add the yellow and green onion. Cook the onion on medium high heat and stir to prevent burning. After 5 minutes, add your frozen cauliflower. Continue to cook for another five minutes, then turn the heat to low. Continue to cook, and add your bell pepper and pineapple mix back into the pan. Add in the seasonings below and mix well until everything is incorporated. Continue to cook on low for another ten minutes.
1.5 tsp Sea Salt
3 TBSP Organic Maple Sugar
10 ounces Organic Tomato Sauce
Pork Ingredients:
2.5 – 3 pounds Boneless Pork Shoulder, trimmed and cubed
5 TBSP Cassava Flour
3 TBSP Organic Tiger Nut Flour
6 TBSP Organic Maple Sugar
zest of 1 large Organic Orange
Start by trimming the fat from your pork, then cut it into bite sized cubes. Next, place the pork, flours and sugar into a mixing bowl, and mix until everything is evenly distributed. Zest your orange over the mix, then mix again to evenly distribute.
Heat your oil on medium high heat in a pot, and fry for 8 to 10 minutes. When removing the pork from the oil, place on paper towels to soak up the excess oil. Given the size of our pot, I did this in three batches, reusing the same oil each time.
When plating, I opted not to mix the pork into the rice ingredients. I did this purely for visual aesthetics. Feel free to mix in your pork before serving.