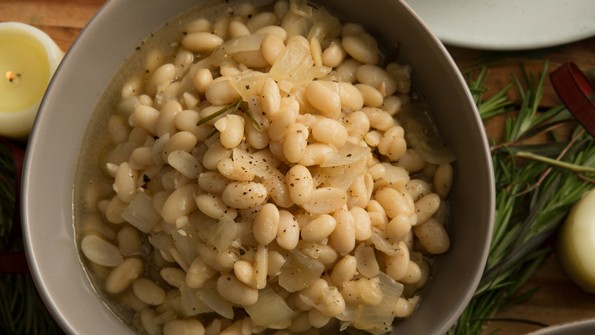 A warm welcome to Jamie Gates and Jennifer Olson (photo credit). Today Jamie is sharing her Braised Cannellini Bean recipe, which is simply stunning.
Allergy Status: Gluten/Wheat Free, Dairy Free, Egg Free, Soy Free, Nut Free, Peanut Free, Yeast Free, Cane/Refined Sugar Free, Vegan, Diabetic Friendly, Corn Free Compatible
For Corn Free: Make your own veggie broth from safe vegetable (or safe vegetable scraps), and be sure to source ingredients from brands that are safe for you. This one can totally be done 🙂
Fun Fact About Beans: Dried beans, lentils and other pulses are super soil helpers. Unlike most plants, which pull nitrogen from the soil as a food source, beans work with soil microbes to pull nitrogen from the air, which both enriches the soil and reduces the need for fertilizer.
Ingredients:
1 pound dry cannellini beans
10 cups water
2 teaspoons coarse salt, divided
2 cups vegetable broth
1 medium yellow onion, chopped
6 cloves garlic, smashed
2 large sprigs fresh rosemary
2 tablespoons olive oil
¾ teaspoon black pepper
Directions:
In a large pot, place beans; cover with 10 cups cold water. Sprinkle with 1 teaspoon salt. Bring beans to a boil, and boil for 1 minute. Cover, turn off heat and remove from burner. Let sit for 1 hour.

Drain cooking liquid. Return beans to the pot, and add 4 cups water and 2 cups broth to just cover the beans. Add onion, garlic, rosemary sprigs, oil, pepper and remaining 1 teaspoon salt. Bring to a boil, cover and reduce heat to low. Simmer for 60 minutes, stirring occasionally. Remove lid, and cook another 60 minutes. Check liquid levels, and add more as needed.

Remove 1 cup beans, and mash with a potato masher. Return mashed beans to pot, and simmer for 5–10 minutes, until thickened slightly. Adjust salt and pepper to taste. Serve beans with a drizzle of olive oil and a pinch of chopped fresh rosemary.
PER SERVING (½ cup): 185 cal, 3g fat (2g mono, 0g poly, 0g sat), 0mg chol, 383mg sodium, 30g carb, (7g fiber, 2g sugars), 11g protein