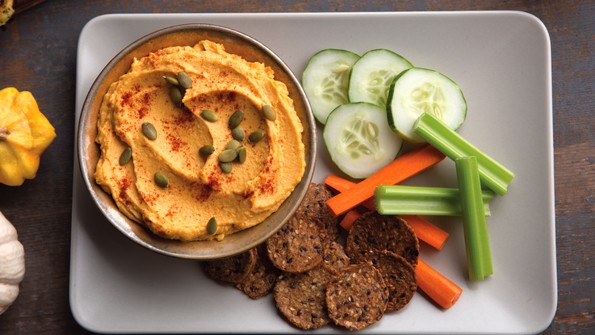 I am a huge fan of butternut squash, and this is the peak time of year to pick some up and make something tasty. Today we have a guest post from Carsen Snyder and Jennifer Olson (photo credit) sharing a delicious dip recipe with you.
Allergy Status: Gluten/Wheat Free, Egg Free, Soy Free, Nut Free, Yeast Free, Cane/Refined Sugar Free, Legume Free, Diabetic Friendly, Vegan Compatible, Dairy Free Compatible
For Vegan and Dairy Free: Use a safe yogurt
Ingredients:
1 large butternut squash (about 4 pounds), halved and seeded (or pumpkin)
1 tablespoon olive oil or avocado oil
1¼ teaspoons salt, divided
2 large cloves garlic (minced)
⅓ cup tahini
1 cup whole-milk plain yogurt
1 tablespoon apple cider vinegar
1 teaspoon paprika
1 teaspoon allspice
2 tablespoons raw pepitas, for garnish
Directions:
Preheat oven to 400°. Cut squash in half lengthwise, and scoop out seeds. Drizzle olive oil and ¼ teaspoon salt over cut side of squash halves. Place squash, cut side down, on a parchment-lined baking sheet. Cover squash loosely with aluminum foil, and bake for 1 hour. Once cooked, remove foil and let squash cool slightly.

Scoop flesh from cooked squash halves into a food processor. Add garlic, tahini, yogurt, vinegar, paprika, allspice and remaining 1 teaspoon salt; blend until creamy. Pause to push sides down if necessary. Scoop dip into a serving bowl, and chill for 1 hour or overnight.

Before serving, garnish dip with a dash of paprika and pepitas. Serve with dippers, such as veggies and crackers.
PER SERVING (¼ cup dip): 52 cal, 2g fat (1g mono, 1g poly, 0g sat), 1mg chol, 140mg sodium, 10g carb (2g fiber, 2g sugars), 1g protein