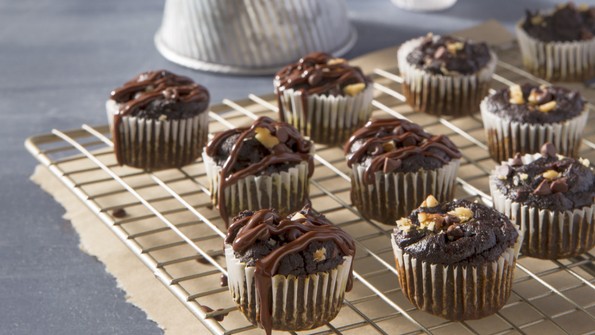 Can you say drool worthy? I know I sure can. These GFASPBites are simply stunning. Grain free has been getting a lot of attraction lately, and it's recipes like these that I love seeing. While going grain free usually means focusing on eating more vegetables and other clean foods, sometimes a treat is exactly what you need. Our guest bloggers, Jessica Beacom, RDN, and Stacie Hassing, RDN (TheRealFoodRDs.com), are sharing just that with you today.
Allergy Status: Gluten/Wheat Free, Dairy Free, Soy Free, Peanut Free, Yeast Free, Cane/Refined Sugar Free, Diabetic Friendly, Sesame Free, Legume Free, Nightshade Free, Vegetarian
Ingredients:
½ cup sweet potato purée (1 small sweet potato) or pumpkin purée
1 small avocado
2 eggs
⅓ cup honey
2 tablespoons coconut oil, melted
3 tablespoons coconut flour
⅓ cup cocoa powder
1½ teaspoons baking soda
¼ teaspoon sea salt
½ cup mini chocolate chips, divided
¼ cup walnuts, chopped (optional)
For The Chocolate Glaze
4 ounces bittersweet dark chocolate (at least 60 percent cacao)
1 tablespoon honey
1 tablespoon vegetable oil
Directions:
Preheat oven to 350°. Line a mini-muffin tin with paper liners or grease with oil.

In a blender or food processor, combine all ingredients except for chocolate chips and walnuts. Blend just until smooth. Fold in chocolate chips and optional walnuts. Fill each mini-muffin liner with batter.

Bake 20 minutes. Remove from oven, and let cool for about 5 minutes. Transfer muffins to a wire rack to finish cooling.

While cake bites are cooking, in a glass bowl, melt chocolate and honey in 30-second increments in the microwave; whisk. Whisk in oil until smooth and shiny. Place wire cooling rack with cake bites over a foil-lined baking sheet or parchment. Drizzle glaze over top or dip cake bites into the glaze. Repeat until all cake bites have a glaze topping. If desired, top with walnuts.
PER SERVING (1 cake bite): 105 cal, 6g fat (2g mono, 1g poly, 3g sat), 14mg chol, 93mg sodium, 12g carb (2g fiber, 9g sugars), 1g protein