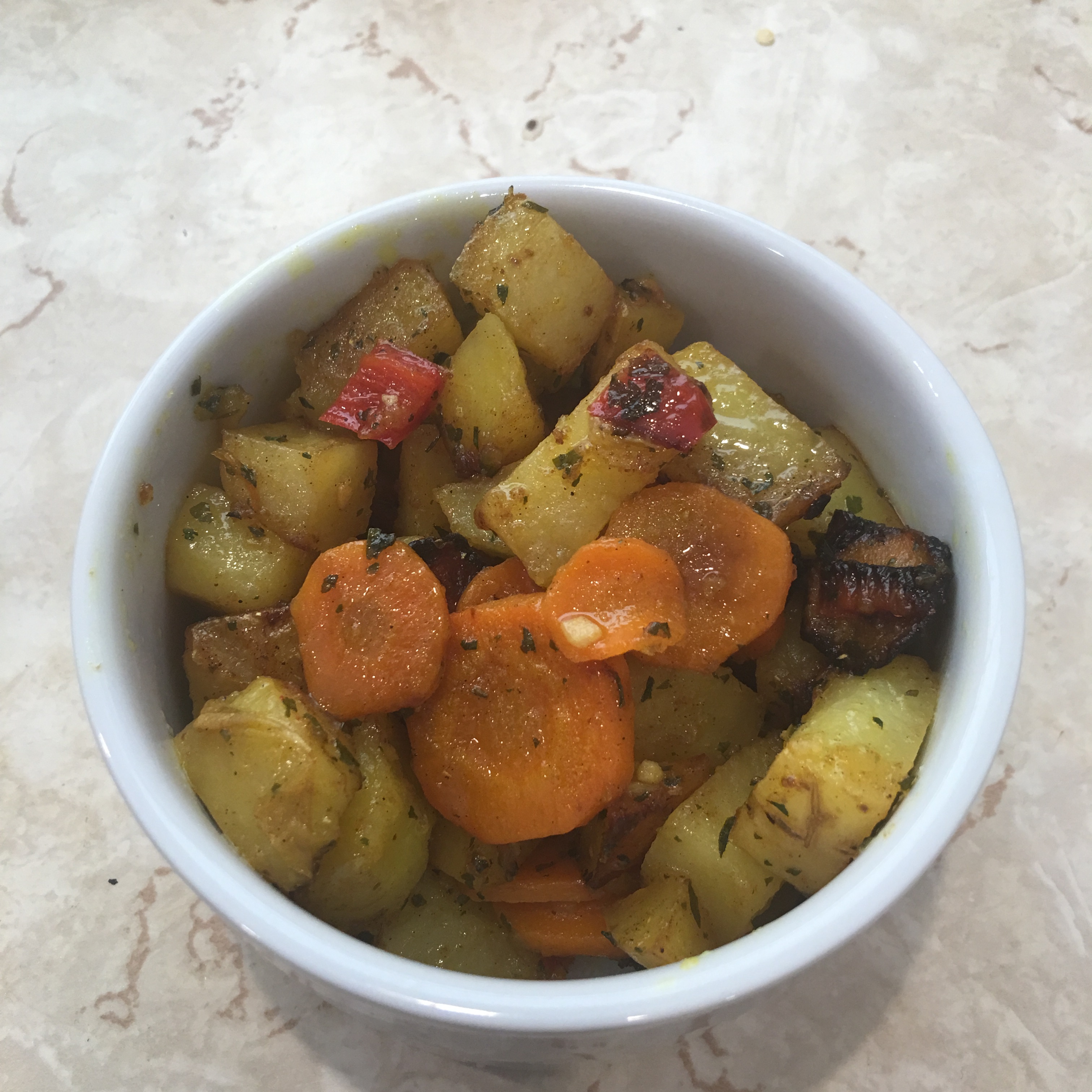 The inspiration for this dish came from several places. First, we had some potatoes that needed attention. I hate wasting food, so they needed to be used asap. We also have this new rule in the house: if I can't take a picture of it (for a book or a blog) then I'm not cooking and you have make something yourself. No one was around to do the cooking, so I had to get inventive.
Lately I've been wanting to do more with traditional Indian spices. I've dabbled a little, but have been wanting the kids to experience new flavors. In the past, I've done many variations of "pan/baked potatoes" and wanted to do them again, but with more colour and well, just different. I had recently purchased Indian spices and had the kids try them (with frosting), and decided to go on an adventure. Kid Two and Kid Three went with me, and seriously wanted to eat them all. They had to wait for The Papa and Kid Four to come home, and for some strange reason, couldn't stop asking when they'd get here so dinner could be served.
Allergy Status: Wheat/Gluten Free, Dairy Free, Egg Free, Soy Free, Nut Free, Peanut Free, Yeast Free, Corn Free, Cane/Refined Sugar Free, Sesame Free, Legume Free, Diabetic Friendly, Vegan, Paleo Compatible
For Paleo: Use peeled Japanese Sweet Potato instead of Gold Potatoes.
Ingredients:
6 Organic Gold Potatoes, cubed, skin on
4 Organic Carrots, sliced
1 Organic Red Bell Pepper
5 TBSP Organic Extra Virgin Olive Oil
1 tsp Organic Minced Garlic (fresh or from a jar)
2 tsp Sea Salt
1/2 tsp Organic Cardamon
2 tsp Organic Dried Parsley
1/2 tsp Organic Coriander
1/2 tsp Organic Ground Mustard
dash Organic Ground Ginger
1/4 tsp Organic Turmeric
2 TBSP Organic Maple Sugar
4 TBSP Dairy Free Butter (Optional, can use more olive oil if it all cooks off and the mix starts to appear dry). If you're soy and dairy free, make sure you're using a soy free version such as Earth Balance Soy Free Sticks.
Directions:
Heat a large non-stick pan on high heat (425). Add in the olive oil, and once heated, add the potatoes, carrots, and bell pepper. Allow the vegetables to cook and brown, stirring occasionally.
While the vegetables are cooking, pre-heat your oven to 400 degrees, and line a large baking tray with parchment paper.
After 7 minutes of cooking, add in the seasonings and maple sugar. If the oil that you started with has cooked off, or little remains, add another 5 Tablespoons of oil, or 4 Tablespoons of butter. Continue to cook and stir. The whole pan process takes approximately 15 minutes. When the vegetables have browned substantially, transfer the mix to the parchment papered tray, and bake at 400 for 10 minutes.
Here are the lovely pictures (I'm waving my hands like the ladies on The Price Is Right):