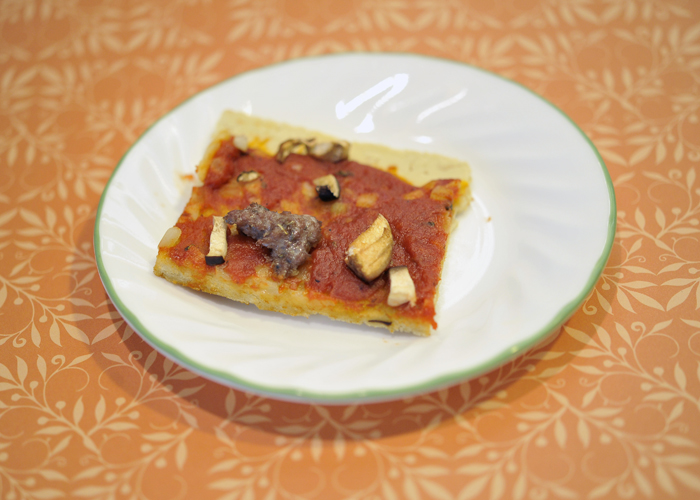 Lamb, Garlic, and Onion Pizza with Homemade Crust
I've been experimenting with pizza a lot lately that can be made corn free. This time, I wanted to try to make a pizza crust all on my own. It wasn't the best on the planet when you compare it to what's commercially available, however, I felt it was a very solid attempt considering its free from status. Feel free to jazz it up a bit, or even experiment with yeast to add rise. For the crust, I found this basic crust recipe at http://easypizzacrusts.com/nypc.html I did make slight modifications…
You will need:
For the crust
2 cups All purpose flour
1/2 teaspoon Baking soda
1/2 teaspoon Cream of tarter
1/4 teaspoon sea salt
2/3 cup water
2 Tablespoons Organic oil
Combine the dry ingredients in a mixing bowl, and incorporate the liquid ingredients. I personally use a pastry cutter to get things moving along, then I use my hand to knead the dough until it's all combined and a nice dough.
Line a 13 x 9 jelly roll pan with parchment paper (makes life easier later)
Press the dough into the pan. After struggling with the dough with my hands, I used a small fondant roller to get the dough spread nicely and evenly.
For the Lamb Sausage Mix
1/3 pound of grass fed ground lamb
12 twists sea salt
1 teaspoon Organic Bragg herbs & spice
pinch of Organic garlic powder
pinch of sea salt
Mix all of these items together in a bowl with a fork, or your hand.
For the Rest of the Pizza
1 1/2 ladle of red sauce (here's what I use)
1 large Organic mushroom, cut into small bits
Garlic onion mix (see the recipe here)
1/3 pound of lamb sausage mix (see above)
Spread the onion garlic paste over the dough. Add as much, or little, as you'd like. Next, add the red sauce. Next, break off bits of the lamb mix and put them all over the pizza. Last, sprinkle your mushroom chunks all over the pizza.
Bake the pizza in the oven for 17 – 20 minutes. You can play with the crust and add seasonings (I plan on doing that next time). You can also pre-bake the crust for a few minutes for a less soggy middle. The crust wasn't too bad in all honesty.
This makes 12 – 15 square servings. It refrigerates well, and reheats well. I found the crust to be a little delicate on day 3.