So last week, The Papa cleaned the garage. YAY! What does that have to do with pizza you ask? He bought some pizza (that I can't eat), and it smelled amazing. I was super jealous. However, we're all grown-ups here, so I decided to make my own. Using Chebe as the crust, I made lamb, garlic, and mushroom pizza.
OK, so if you're a fan of Chebe, this is for you. Personally, I don't like the Brazilian style "gooey-ness" however, not going to lie, when push comes to shove, I'm totally there. Sometimes, I like to make the crust all by itself, and dip it in honey and pepper. While it may sound a bit different, I've found it to be delicious.
Allergy Status: Gluten/Wheat Free, Dairy Free, Egg Free, Soy Free, Peanut Free, Nut Free, Yeast Free, Corn Free, Legume Free, Sesame Free, Cane/Refined Sugar Free
Need help with food allergies and special diets?
Check out our RAISE Membership Platform. There you'll gain access to The Allergy Chef, Allergy Seminars, Corn Free Courses, Recipes Galore, Expert Interviews, and MUCH more.

Ingredients For the Crust:
1 Box Chebe Pizza Crust (be sure to double check the package as things may change in the future)
Follow the instructions, and use your favorite egg substitute if you can't have eggs.
Combine the dry ingredients in a mixing bowl, and incorporate the liquid ingredients. I personally use a pastry cutter to get things moving along, then I use my hand to knead the dough until it's all combined and a nice dough.
Ingredients For the Lamb Sausage Mix:
1/3 pound of ground lamb
12 twists salt from a sea salt grinder
1 teaspoon Organic Braggs herbs & spice
pinch of organic garlic powder
Mix all of these items together in a bowl with a fork, or your hand.
Our Corn Free Cookbook (also Gluten Free and Top 8 Allergy Free) Is packed with recipes and resources to help you thrive when living with a corn allergy, and/or multiple food allergies. Kathlena, The Allergy Chef, is a severe corn allergic, giving us the unique ability to write a book that's accurate. No corn derivatives, no xanthan gum, and all the details you need to enjoy life as a corn allergic.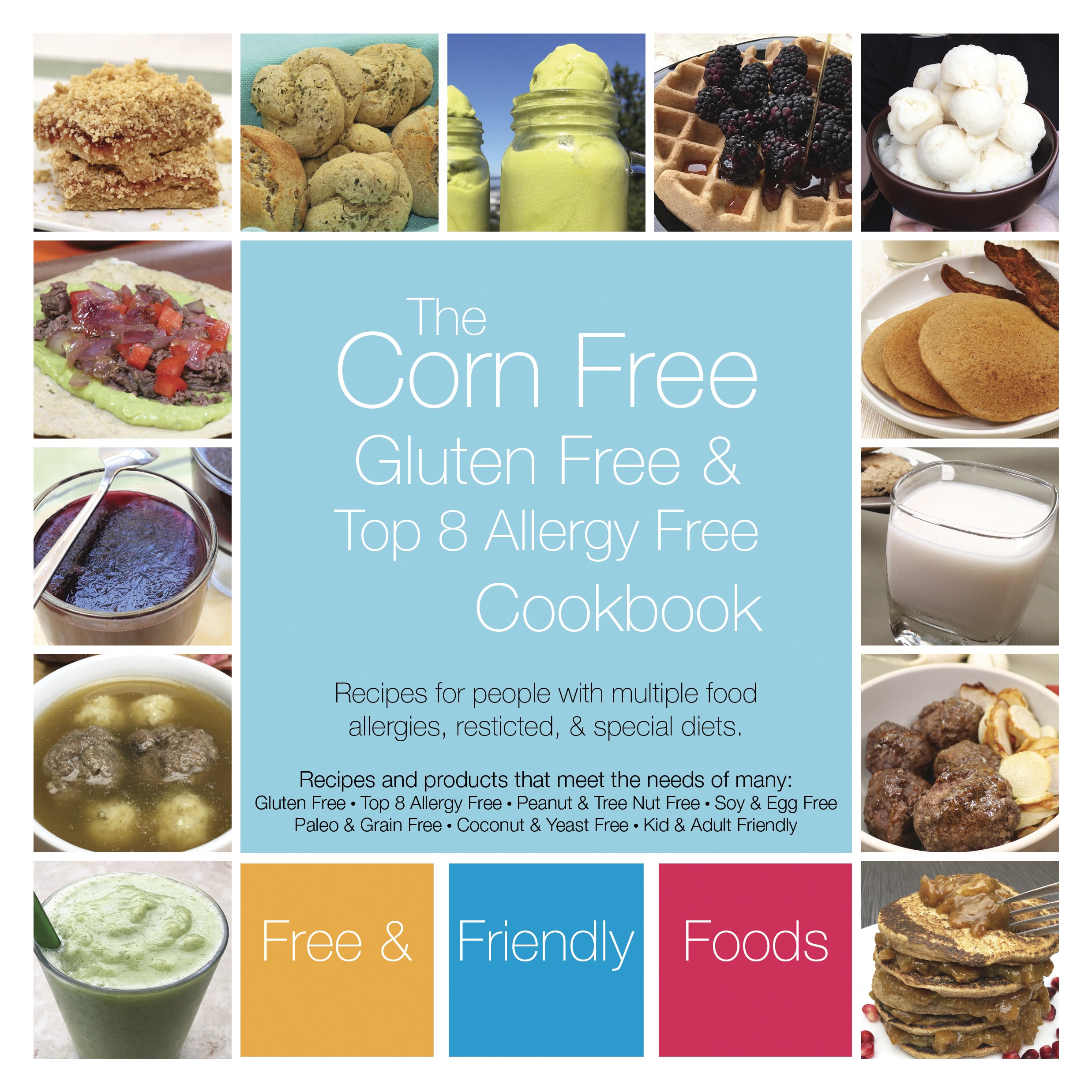 Pizza Assembly:
1 1/2 ladle of red sauce (use your favorite recipe, or just some tomato sauce with seasonings)
1 large organic mushroom, cut into small bits
Garlic onion mix (chopped onion and garlic sauteed in olive oil)
1/3 pound of lamb sausage mix (see above)
Spread the onion garlic paste over the dough. Add as much, or little, as you'd like. Next, add the red sauce. Next, break off bits of the lamb mix and put them all over the pizza. Last, sprinkle your mushroom chunks all over the pizza.
Bake the pizza in the oven for 17 – 20 minutes. You can also pre-bake the crust for a few minutes for a less soggy middle. The crust wasn't too bad in all honesty.
This makes 9 square servings. Enjoy!