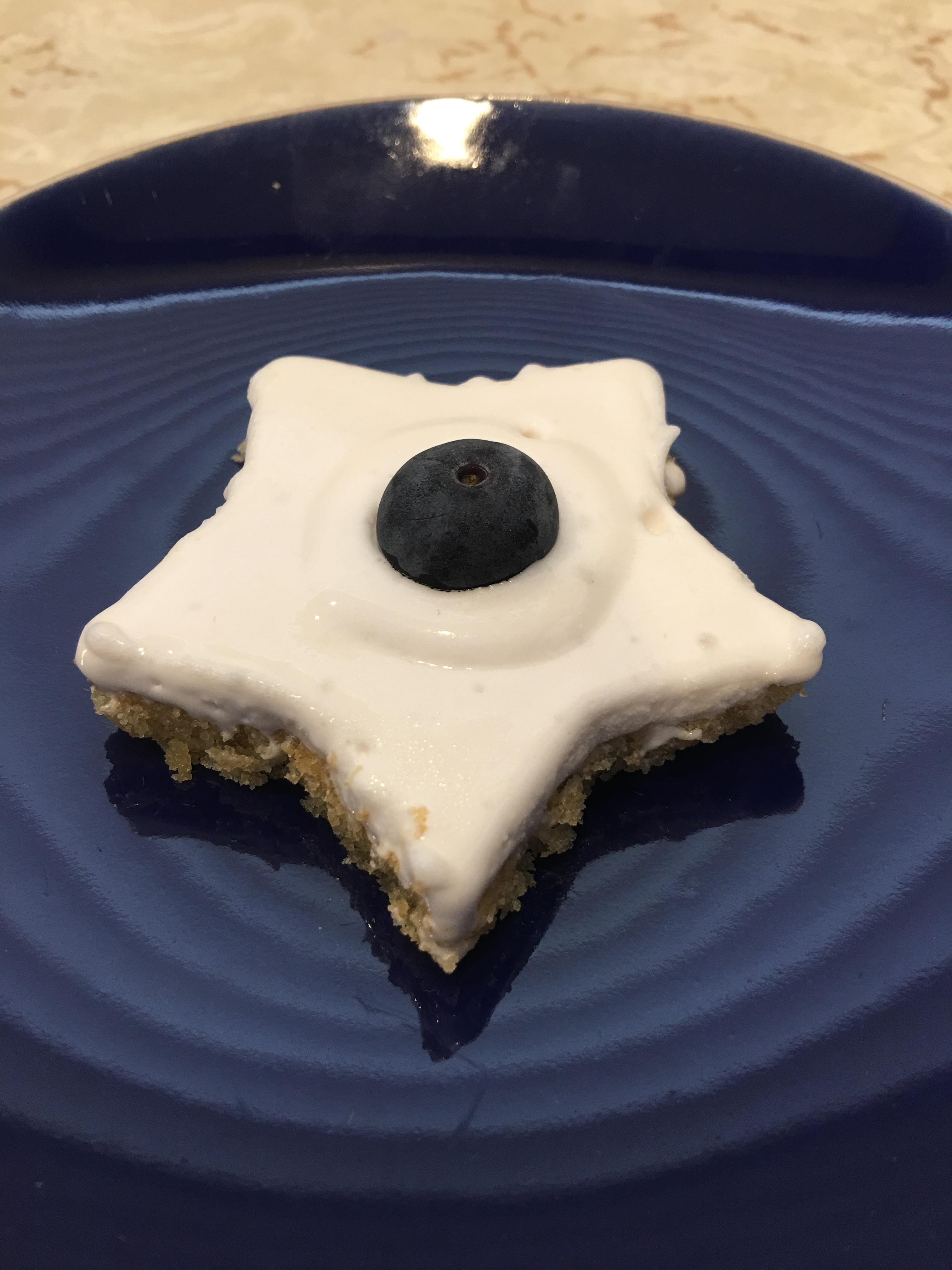 Lemon Stars Cake
When I made the Paleo Stars, I knew there would be some people who would simply want cake, including The Papa, Kid Two, and Kid Four. I saw this idea in the Costco Connection Magazine. Their idea was based around buying a sheet cake at Costco… not in this house. So, I had to get to making something. This recipe that I came up with is a modification of a white cake I've been secretly working on. Just between us, it turns out I've invented the perfect corn free cornbread. How funny/sad is that? I keep trying to tell The Papa that it's white cake, and he's like, nope, this is the best cornbread I've ever tasted.
Kid Two was a huge help putting these stars together, so hats off to him!
Allergy Status: Gluten Free, Dairy Free, Egg Free, Vegan Friendly, Nut Free Compatible, Soy Free Compatible
For Nut Free: use a safe milk substitute.
For Soy Free: use a safe whip topping substitute. If you can't find one in the stores, but can have nuts, soak cashews for a few hours, drain them, then put them in your bender with water and sweetener of choice.
Before I dive into the recipe, I want to tell you a story. Gather round children (can you hear my old lady granny voice?) I didn't have the regular So Delicious Whip Topping in the house. I was kicking myself in the backside because I had just been at a store that had it the day before, I looked at it, and thought, nah, I don't need any. That same night, I decided we would be making these. So the next morning, I sent The Papa to the store for blueberries. Then I remembered that I needed raspberries (for the flag cake, that I'll be posting) and Whip Topping. I was going to drive all the way to the City to get some, then I thought there may be a place a bit closer. I went to the store that's about 1.5 miles away from our house. Maybe 3 miles. I'm not sure. Anywho, I look, and there's every version of Cool Whip that I didn't even know existed. Next to that, up high, where you can totally mis it was the SO Delicious Whip Topping, but the LIGHT one. I've only ever bought it once, when it first came out so Kid Two could compare the flavors. Remember Watermelon Cake? Well it used the regular whip topping, no problems at all. This cake however had nothing but melting issues with the light version of the cake. In the end, they're still good, but just know that if you have access to the regular Whip Topping, I'm pretty sure it will hold up much better.
1/4 cup Arrowroot
1/4 cup Potato Starch
1/2 cup Sorghum Flour
1/4 cup White Rice Flour
3 tsp Baking Powder
1/2 tsp Baking Soda
1/2 tsp Sea Salt
1 cup Organic Sugar
1/8 tsp Guar Gum
4 tsp Organic Vanilla Extract
1/2 cup Organic Extra Virgin Olive Oil
1/2 cup + 2 tsp Organic Raw Unfiltered Apple Cider Vinegar
3 ounces Organic Unsweetened Almond Milk
5 tsp Follow Your Heart Egg replacement Powder (this is soy free. how cool!)
1 TBSP Organic Lemon Juice with Pulp
2 tsp Organic Lemon Flavor
So Delicious Whip Topping, or topping of choice
Organic Blueberries for topping
Bake at 350 for 18 minutes as mini cupcakes, 24 minutes as a sheet cake (large baking tray)
Before you start, make sure you have your whip topping of choice thawed if necessary. Combine the almond milk (or safe substitute) with the ACV and set aside. This is a play on buttermilk. Next, combine all of the dry ingredients in your stand mixer and mix together with the wire attachment. Add in the liquid ingredients, and mix again. Make sure you scrape down the edges and remix to ensure it's all well incorporated.
The batter comes together very quickly. Line a large baking tray, or jelly roll pan, with parchment paper, and pour on the batter. I chose to cut the parchment to fit the tray rather than fold the edges to ensure the cake would be 100% flat in the end.
Spread the batter to all of the edges. You could go 1.5 or 2x for thicker stars, but in the end, I liked the size of our cake. The stars become more like dessert bites. When you pull the cake out, allow it to cool completely before adding the whip topping.
Leave your cake on the parchment, on the tray, and top. If you have melting issues like we did, place the tray in the freezer for 20 minutes, then use your cookie cutter to cut out the stars. We had to keep putting the tray in the freezer to pull this off. Top with blueberries and enjoy. Be sure to serve these on a plate with forks if you have melting problems. Here are the pictures: