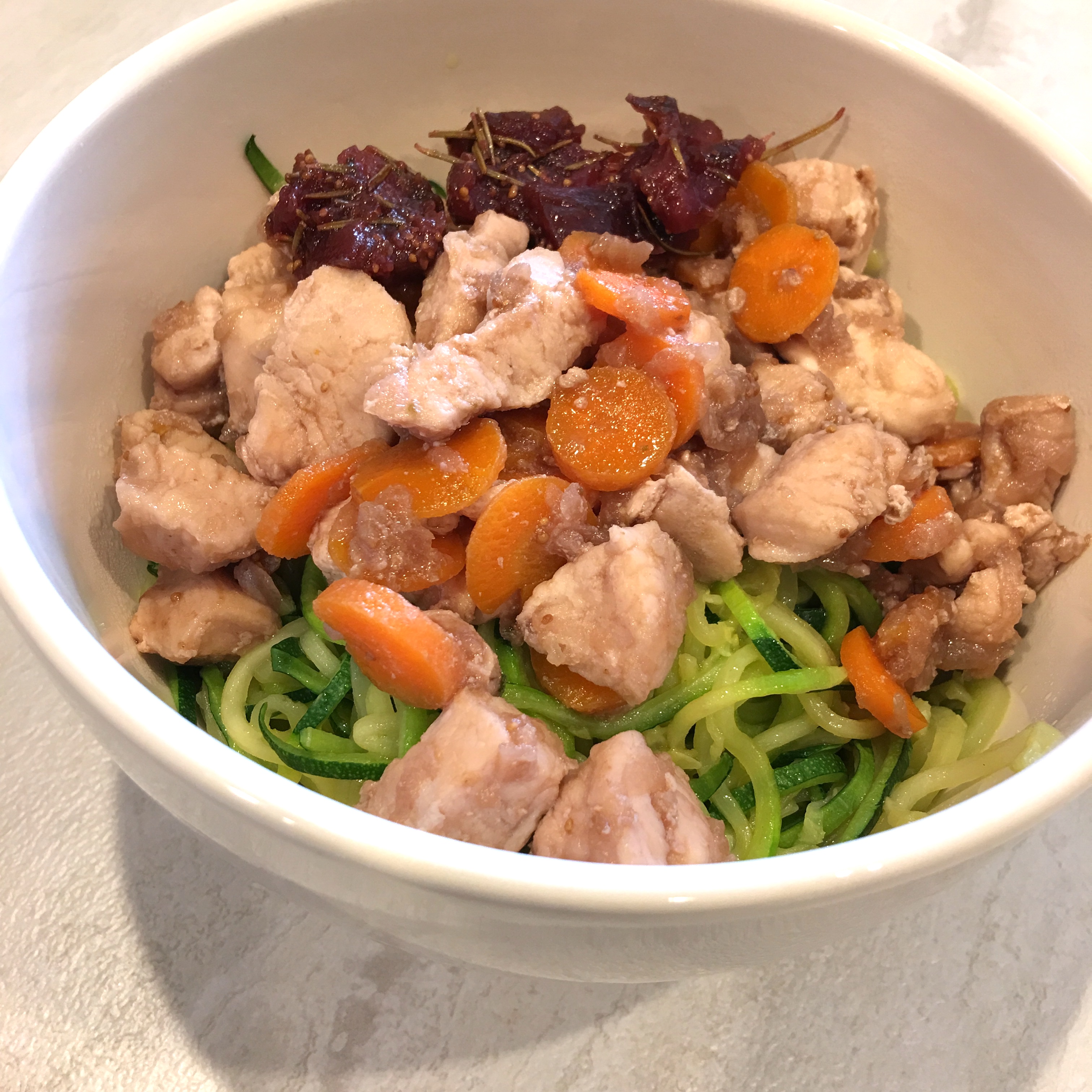 Maple Balsamic Fig Chicken & Zoodles
It's been such a roller coaster ride connecting with so many people online. It's strange at times because we've been on this journey for so long, and turns out, my hate for the internet kinda shot me in the foot. Funny coming from a we designer and IT person. Needless to say, I've tried to make a personal connection with each new person because honestly, all we want to do is help others go through this. There's simply no reason to suffer etc. if someone else can lend a helping hand. The cool thing is that it's giving me unique opportunities to create new things that I may have never even considered because, well, children. Those of you with kids know what's up. Balsamic for children? I say yes! Well, now that I have a great reason to 🙂
Today's creation came about after a conversation on Instagram with @eatingwellwithrochelle. She reviews products, and sometimes recipes. So, I wanted to create something, and she likes savory. It got me to thinking about all the fancy food I wish I could eat, and like Manna from Heaven, the idea fell out of the sky. So here it is. Hope someone out there can really enjoy this for me. The Papa says it's nice, in a foodie sort of way.
Allergy Status: Gluten Free, Dairy Free, Egg Free, Soy Free, Nut Free, Peanut Free, Yeast Free, Paleo, GAPs, AIP
Balsamic Sauce
4 Organic Black Figs (5.5 oz), cut into small pieces
6 TBSP Organic Red Wine Vinegar
1 TBSP Organic Balsamic Vinegar
2 TBSP Organic Maple Sugar
2 pinches Sea Salt
2 tsp Organic Rosemary
1/2 cup Water
After you've prepared your figs, place them in a small sauce pot, and add all of the other ingredients, except for the water. Bring the pot to a low boil on medium-high heat (375). After 4 minutes, turn the heat down to medium-low (175), and add the water. Allow the mix to simmer, uncovered, for up to 40 minutes. Yes, I was in it for the long haul. Be sure to mix the sauce from time to time. I also opted to manually break down (squish) the figs while stirring.
Once you're happy with the sauce, strain it. You can save the fig bits for other use, such as an ice cream topping. Oh!!! Why didn't I think of that earlier? But really, do something fun with them. Our yield was about 3.5 ounces of sauce.
Zoodles
2 Organic Zucchini
Use a spiralizer to create the zoodles. I opted to sauté them on medium-high heat (375) for 8 minutes, then lightly salt them.
Chicken
3.5 – 4 ounces Organic Carrots, thinly sliced
3 ounces Organic White Onion, diced
2 Organic Chicken Breast (about 19 ounces)
1.5 tsp Sea Salt
On medium high heat (400), add your onion, carrots, and chicken. Mix everything together well. After 3 minutes, add your salt and fig sauce. Continue to cook until your chicken has cooked all the way through. Alternatively, you could turn the heat down a bit for a longer cook with a hint of simmer to allow the sauce to soak in a bit more.
Time for pictures!