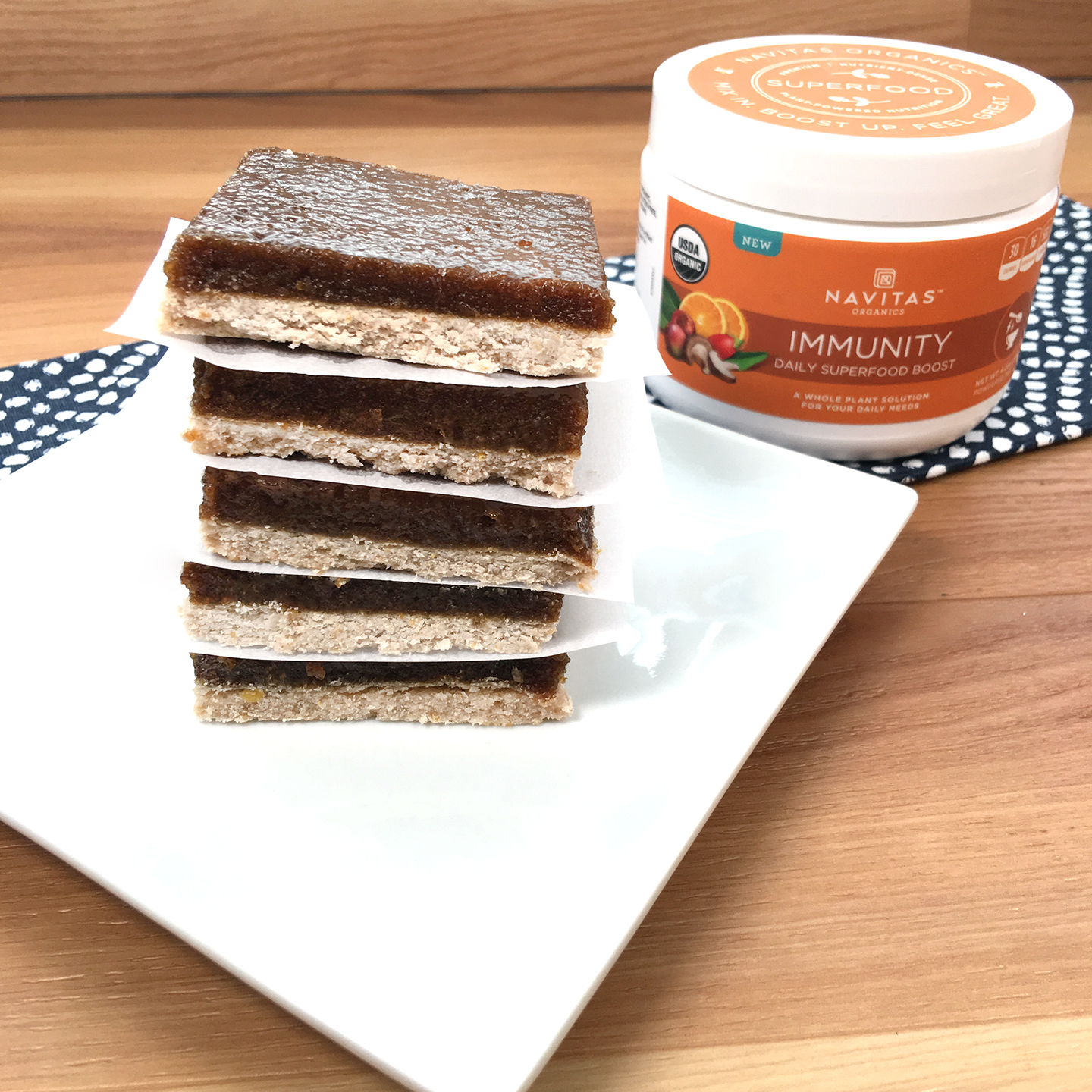 We've partnered up with Navitas to bring you a few new recipes featuring their new Superfood Boosts, which are amazing. What's even better is these boosts are organic, gluten free, and vegan, meaning they're safe for many to enjoy. Today's recipe features the Immunity Boost which is full of healthy fruits, vegetables, antioxidants, and enzymes.
Now, if you've been a long time reader of the blog, you know that I look at things totally different from those around me. Show me a product (and tell me what it should be used for) and I'll imagine many other ways to use it. In fact, when I first met the Navitas rep and he showed me the Boosts, I said, "This would make a great cookie." He was totally caught off guard as he had never thought to use it that way.
I share that to say this: don't let food allergies and special diets stop you from creating awesome food. In fact, use your "weakness" as a strength. In the case of these Boosts, I wanted to make them the strength of a dessert 🙂
Allergy Status: Wheat/Gluten Free, Dairy Free, Egg Free, Soy Free, Peanut Free, Yeast Free, Cane/Refined Sugar Free, Sesame Free, Legume Free, Low Histamine, Diabetic Friendly, Paleo, Vegan, Nut Free Compatible, AIP Compatible, Corn Free Compatible
For Nut Free: Omit the coconut sugar and replace with additional maple sugar.
For AIP: Omit the flax seeds. You will need to add 1 extra Tablespoon of cassava to your filling. Also know that the removal of the flax creates a more crumbly bar (that still tastes delicious).
For Corn Free: You will need to assess if the Navitas powder is safe for you. All of the other ingredients are available from safe sources.
Crust Ingredients:
200g Cassava Flour
zest of 1 large Lemon
6 TBSP Shortening
3 TBSP Organic Maple Syrup
1/2 tsp Sea Salt
2 tsp Flax + 3 TBSP Water
Kid Three helped me put all of this together, and had you left the two of us in a room with just the crust, we would have easily eaten it ALL. The crust is the bomb dot com.
Directions:
To make the crust, add all of the ingredients to a food processor and pulse until a dough ball forms. Line either a jelly roll pan or glass baking dish with parchment paper. Press rout crust into the dish, going up the sides a bit. Bake for 8 minutes at 325.
Filling Ingredients:
80 – 100g Organic Maple Sugar
80 – 100g Organic Coconut Sugar
3 TBSP Cassava Flour
3 TBSP Arrowroot
1/4 tsp Sea Salt
3 TBSP Shortening
1 tsp Organic Vanilla Extract
4 TBSP Flax Seed
10 ounces Water
4 scoops Navitas Immunity Boost Powder
A note about the sweetener range: I made this recipe specifically for those with a sweet tooth. However, you can reduce the amount of sweetener to lower the over all grams per square.
Directions:
To make the filling, add the sugar, water, cassava, and arrowroot to a pot and bring to a boil, whisking the whole time. Once the mix boils (and the sugars have dissolved), reduce the heat to low and add in the other ingredients. Continue to whisk as it thickens for several minutes. Transfer the filling to your partially-baked crust and return to the oven for 20 minutes. Don't allow the crust cool while making the filling, rather, have the filling ready to go as soon as the crust is done baking so it can get right back to the oven.
Once you have removed your squares from the oven, allow them to cool before cutting. Makes 15 squares.