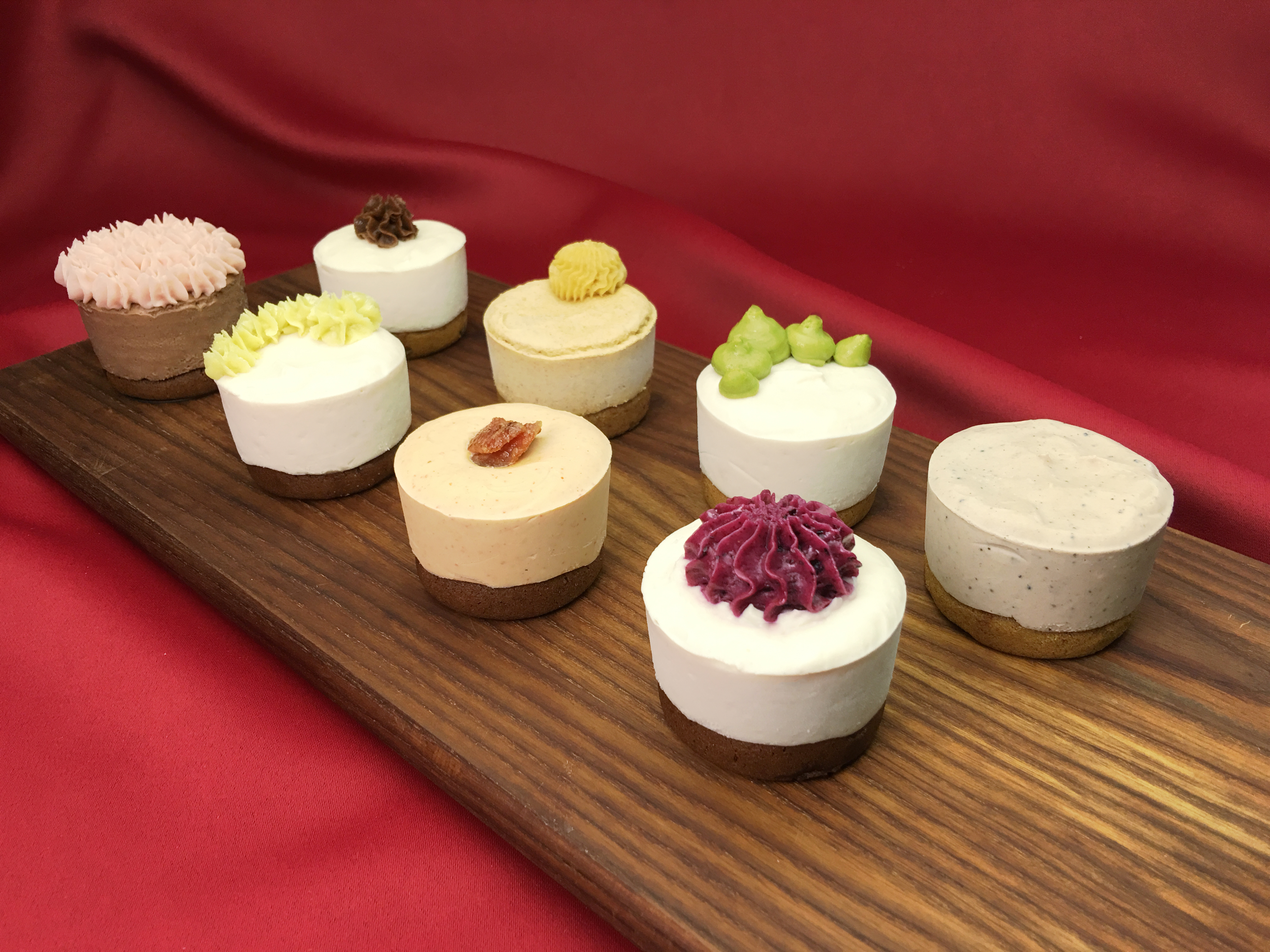 No-Bake Cheesecakes are simply AWESOME. Please refer to this post before making cheesecakes. I've put together all the best information in one place for you.
First, Let's Talk About Cream Cheese Options
When you're dairy free, there aren't a lot of options when it comes to cream cheese. If you're big on homesteading, you can make it yourself. That would be the cleanest option. If you're new to dairy free and have no idea where to being, you're most likely looking to make a purchase. Below are the three leading brands of cream cheese available in most stores that cater to people with food allergies. However, be warned, they each come with strings attached.
Here's my personal bottom line: I'm allergic to all of it so I can't vouch for the taste. I am however a parent that's more than aware of food processing. I'm not a fan of Tofutti because of the ingredients. I'm not a fan of Daiya because of the ingredients. I'm mostly OK with Kite Hill, but the kids didn't love the taste. And that friends is a common problem with allergy free foods. In this case, I had to set aside my own feelings and go with what the kids liked. These were treats, so it's not like they're loading up on cream cheese 8 ounces at a time for days on end. I realize not everyone out there is as ingredient-conscious as I am. I'm in the unfortunate position where I must be hyper-aware at all times. Again, that's just my personal two cents as a parent.
My two cents as The Allergy Chef – I'm forever grateful that there are companies out there willing to invest and help meet the needs of those who need this kind of product. I will continue to support their brands and create recipes around their products because there are millions of people who will benefit.
Allergens: Coconut, Potato, Pea Protein, Corn Derivatives
Ingredients (bold for emphasis):Filtered water, coconut oil, tapioca starch, non-GMO expeller pressed canola and/or non-GMO expeller pressed safflower oil, potato starch, pea protein isolate, sea salt, vegetable glycerin, xanthan gum, lactic acid (for flavor), agave syrup, natural vegan flavors, titanium dioxide (a naturally occurring mineral), vegan enzyme, cultured sugar.
Flavor Comments: The kids didn't mind this one. I did use it combined with the tofutti. We also avoid using this one as there is a coconut allergy in the house.
Texture Comments: This cream cheese seems to have a bit more air in it compared to the other brands. It's not as dense, so I found that you need a tad less liquid when using it as your base, or you'll end up with droopy cheesecakes.
Allergens: Almond, Corn Derivatives
Ingredients: Almond milk (water, almonds), salt, enzyme, vinegar, xanthan gum, locust bean gum, guar gum, cultures.
Flavor Comments: Everyone voted this their least favorite in flavor. They said that it has a natural sour-like taste, and it was ruining the cheesecake. I imagine that for other purposes, this may still be a great cream cheese option. It could also work with select flavors of cheesecakes.
Texture Comments: This cream cheese functioned as I would expect it to. It has a great body and density.
Allergens: Soy, Corn, Cane Sugar
Ingredients (bold for emphasis): Water, Expeller Processed Natural Oil Blend (Soybean, Palm Fruit, and Olive), Maltodextrin, Non-GMO (Soy Protein, Tofu), Non-Dairy Lactic Acid, Blend of Natural Gums (Locust Bean, Guar, Cellulose, Xanthan, and Carrageenan), Organic Sugar, Vegetable Mono and Diglycerides, Salt.
Flavor Comments: No one had anything bad to say about this cream cheese, and they all seem to think they like it the best. If I had to guess, I'd think this cream cheese would have the most neutral flavor when compared to the other options.
Texture Comments: This was a nice and thick cream cheese. No complaints or issues here.
Using Commercially Available Products, These Cannot Be Top 8 Allergy Free
I just want to put this out there for those of you that have to eat top 8 free. All of the cream cheese that you will have access to in stores will contain one allergen or another. The only way to get around this is to make cream cheese at home. Here's a recipe for homemade cream cheese, however, it requires yogurt as the starter. You'll also have to make your own yogurt.
Next, Let's Talk About Your Crust
You can technically make your own cookie dough and bake it in the pan directly, let it cool, then use that as your crust. However, that wouldn't be a No-Bake Cheesecake, now would it? Visit the Enjoy Life Foods Soft Baked Cookie Page to see the cookies we use.
Discovering that these cookies fit the pan like a glove was a moment of pure joy. I kid you not, it's like the makers of the cookies have this pan, and just knew.
It's All About The Pan
A couple of years ago I thought it would be fun to make cheesecake. The problem I ran into was releasing the cheesecakes from the pan itself. That's when I found this awesome little gem: https://www.amazon.com/gp/product/B0006IW02M/ (not an affiliate link)
Here's the funny thing about the story, my first take at cheesecakes was AWFUL. Just plain no. That's the world of free-from cooking and baking though, right? So I put the pan away for a long time. I'd see it here and there and think about it, but moved on. Then about two months ago, I got bit by the "I have to make cheesecakes" bug. Honestly, I don't know what on earth came over me, but I found myself pulling out that pan, and one thing led to another, and the rest is history.
Tips, Tricks, and Ratios
Basic Ratio: 8 ounces cream cheese, Up to 4 TBSP liquid, or use 4 – 5 ounces of yogurt instead. We opt for about 1 TBSP granulated sweetener per 2 ounces of cream cheese, however, you can use less if you prefer.
Never Forget: Salt and Vanilla. As an experiment, I left these out of a very flavorful cheesecake and no one liked it. Added the pinch of salt and splash of vanilla and suddenly everyone was in love. Never underestimate the power of these two ingredients.
Filling the Pan: When filling your cheesecake pan, use a disposable decorator bag. I can't stress this enough. It will produce the cleanest looking cheesecakes in the end.
Setting & Releasing: I found the best way to set the cheesecake is to freeze them. It also made releasing them a breeze. We opted to release the cheesecakes when they were quite frozen (no easy movement when you press on the bottom). This technique produced very clean sides when releasing the cheesecakes. However, you must move fast once you start to prevent the sides from looking less than awesome. Also, the kids like to wear oven mitts when releasing the cheesecakes, as they found that as they pressed up, sometimes the edge of the pan would scratch their fingers.
Serving: These can be served straight out of the cheesecake pan (out of the freezer), however, allow them to sit for a few minutes first to take the cold edge off. Although these can be refrigerated, they will droop a bit if you opt for that. I preferred to serve them all at once and not have leftovers.
If you want cheesecake straight away, simply put your cookies in a bowl top with the filling, and eat it. Everyone enjoyed the fillings as I made them.
As a dip, the filling is awesome. Each time we made cheesecake, there was leftover filling (since I made two flavors at a time). I would put the extra in the fridge, and the kids would then use it as a dip for crackers.