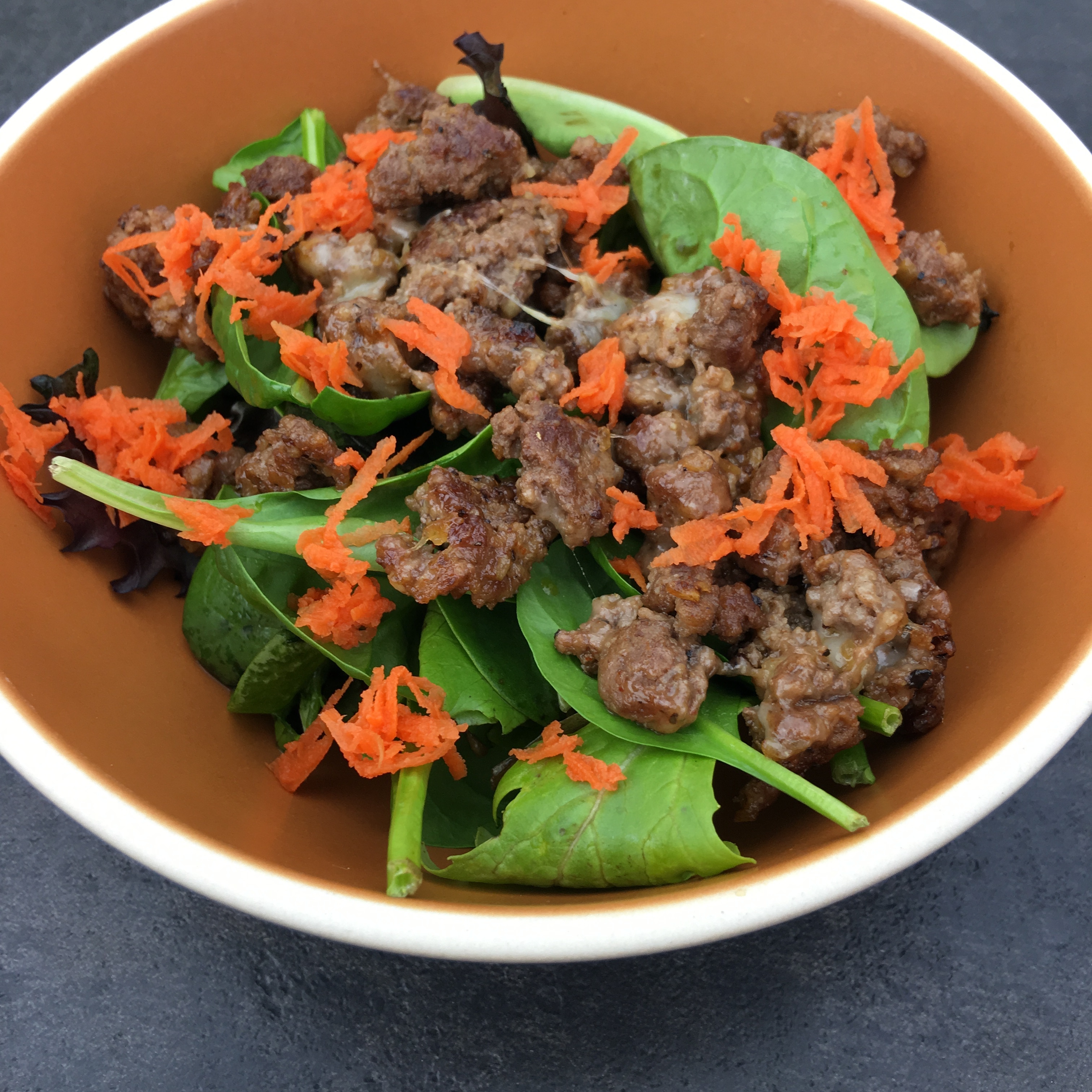 We teamed up with @ibcgourmet on Twitter, to bring you International Salads. Bring from India, @ibcgourmet opted to create a delicious Tandoori Chicken Salad. I personally can't wait to give her recipe a go. Here's the link to her blog post. Here in the United States, I thought of Cheeseburgers. They seem so American, so I present you with an Organic Cheeseburger Salad.
Have you ever been to Red Robin or BJ's? I've only been a few times, maaaannnnnyyyy moons ago, and that's what came to mind when I thought about an American cheeseburger. There's also In-n-Out, and a few other iconic places, most of which I've never been to, and probably won't be able to visit. With all of that in mind, I had thought of so many fancy ways to make a salad, and that's when it hit me: simple. Sometimes we get so caught up in long titles for our dishes we forget to feature the main ingredients. This time, I did just that. This is a very flexible recipe, and you can add additions to your salad, just as you would to your cheeseburger.
Allergy Status: Gluten Free, Wheat Free, Dairy Free Compatible, Egg Free, Soy Free, Nut Free, Peanut Free, Yeast Free, Refined Sugar Free, GAPs, Low Histamine Compatible
For Dairy Free: Use a cheese of choice.
For Low Histamine, avoid matured cheeses.
Ingredients:
4 ounces Organic Grass Fed Beef
1/2 tsp Minced Onion (dried)
almost 1/4 tsp Sea Salt
1/4 tsp Organic Smoked Paprika
several dashes Organic Black Pepper
pinch Organic Garlic Granules
Cheese of Choice
Lettuce of Choice
Not only are the ingredients simple, but so are the directions. Heat a non-stick pan on high heat, and cook your beef. Add the seasonings half way through. When the meat is just about finished cooking, add your cheese. This gets it to melt and become gooey in all the right ways. When using a dairy free cheese, you'll want to add it closer to the half way mark so the cheese has enough time to melt. You'll want to ensure that the meat is cooked completely, as it's not recommended to eat under-cooked ground meats.