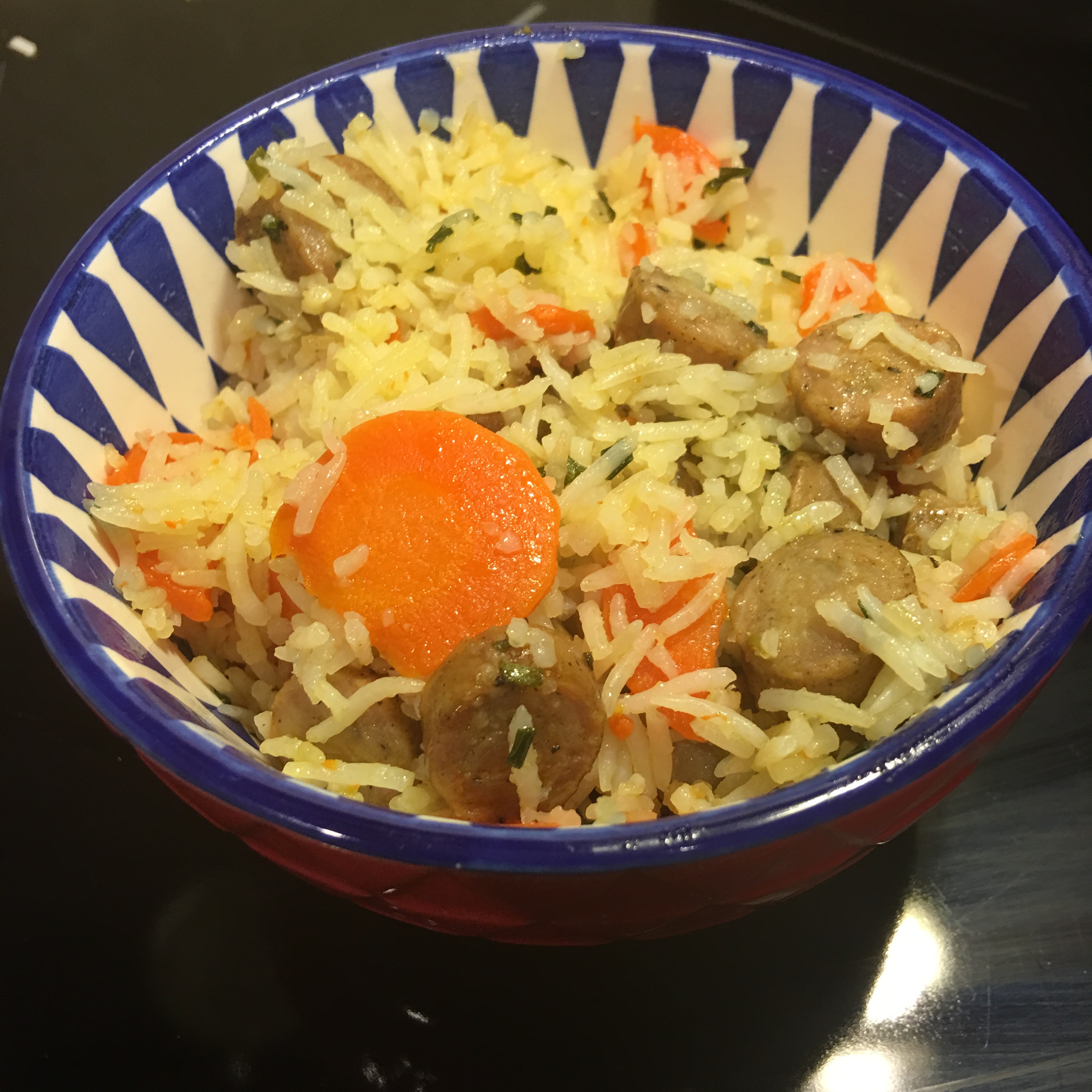 During basketball season, I thought this would be fun to serve to the team, so we volunteered to bring the after game snack, and this was the result. We also sent cupcakes 🙂 When The Papa came home, he told me that another parent asked, "Who catered?" What a lovely compliment! Everyone enjoyed the dish, and really loved the cupcakes. That's a win-win in my book, even though we didn't win the game.
What I really love about this meal is the chicken sausage. Our Costco carries an Organic Maple Chicken Sausage! What's not to love? It's one of the few sausage products I can purchase that everyone can enjoy together. I normally purchase 3 or more at a time. There are 3 smaller packs to the pack, and the kids get to use them whenever they'd like for breakfasts and lunches.
Allergy Status: Gluten Free, Wheat Free, Dairy Free, Egg Free, Soy Free, Nut Free, Peanut Free, Yeast Free, Refined/Cane Sugar Free, Diabetic Friendly
Ingredients:
4 cups Organic Basmati Rice (measured dry)
4 large Organic Carrots, sliced thin
3 packs Organic Maple Chicken Sausage (2 pounds/42 links)
6 TBSP Dairy Free Butter
2 tsp Sea Salt
3 tsp Organic Onion Granules
3 TBSP Organic Dried Chives
good pinch of Organic Black Pepper
Organic Extra Virgin Olive Oil for Cooking (or oil of choice)
Get your rice cooking before preparing anything else. If you don't have a rice cooker, you can make it on the stove-top, but do consider a rice cooker. It can make life a wee bit easier for you, and most big ones have a steamer basket as well, so you can have rice and veggies done at the same time. Back to the recipe. Wash, peel, and slice your carrots. You don't have to peel them, but I like to.
In a very large (and deep) non-stick pan, add a little oil and heat it on medium heat. Add your carrots and cook for 10 – 12 minutes. Next add your sausage, and mix. Finally, add the rice, butter, maple, and seasonings. Continue to mix until everything is well incorporated, and cook for an additional 10 minutes. This allows all of the flavors to come together. Serve and enjoy 🙂