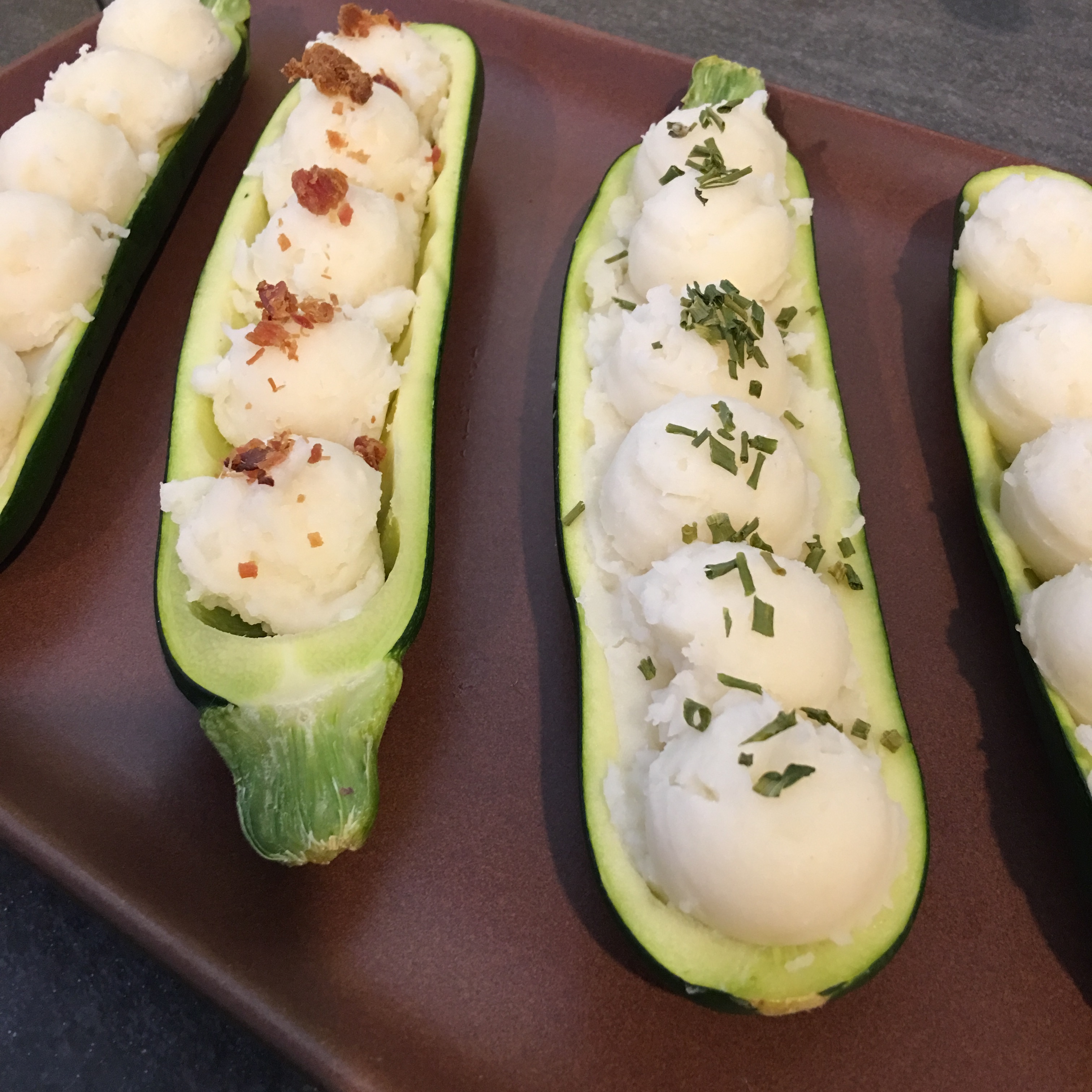 Organic Mashed Potato Zucchini Boats
Have you ever seen a Viking Potato? I hadn't until very recently. It looks similar to a purple potato, but the color of the skin is more muted. When I saw them, I knew purple mashed potatoes we're going to be on the menu, because a Viking Potato is much larger than a regular purple potato. Boy did I have a surprise waiting for me! I get the potatoes washed, and start to peel them, and THEY WEREN'T PURPLE INSIDE!!! I was shocked, then totally disappointed. After I shared my grief with those around me, I kept peeling potatoes because the show, and dinner, must go on. The good news is that the lack of purple didn't make these potatoes any less delicious!
Allergy Status: Gluten Free, Wheat Free, Dairy Free, Egg Free, Soy Free, Nut Free, Peanut Free, Yeast Free, Cane/Refined Sugar Free, Vegan, Paleo Compatible, AIP Compatible
For Paleo & AIP: Use organic mashed sweet potato to fill your boats.
Ingredients:
33 ounces Organic Viking Potatoes, cubed (the don't have to be the Viking variety)  cover with water and boil
Several Organic Zucchini, medium to large in size
Viking Mashed Potato Seasonings
8 TBSP Fat/Butter of choice
4 ounces Organic Milk of Choice (mashed potatoes)
1 tsp Sea Salt
2 tsp Organic Onion Granules
1/2 TBSP Organic Chopped/Minced Garlic
Start by washing, peeling, and cubing your potatoes. I prefer to make the cubes a little on the smaller side so the potatoes will be done faster. However, if you don't feel like cutting too much, larger cubes will be just fine too. Once your potatoes are ready, place them in a pot large enough to comfortably hold them, and the water you're about to add. You want to add enough water to completely cover the potatoes, and an extra half to full one inch. Bring your potatoes to a full boil, and allow them to boil for 3 minutes. Reduce the heat to a simmer (low heat), and cover with a lid. The potatoes are done when they're easy to pierce with a fork. The time will change based on the size of your cubes. I like to check on mine after 15 minutes. If they're not ready, you'll need to continue to simmer and check back every few minutes.
Once the potatoes are done, drain them in a colander, then return them to the pot. Add in all of your seasonings, and mash away. When adding the fat/butter, if you're dealing with one that isn't completely melted, add it to the hot potatoes right away. Place some of the hot potatoes on top of the butter/fat, then cover with the lid to trap the steam. This will melt it rather quickly, so you can get in there and mash.
To prepare your zucchini boats, start by washing them, then cut them in half lengthwise. Depending on the size of your zucchini, use a small cookie dough scooper or 1 Tablespoon measurement spoon to carefully scoop out the insides. Try not to break the skin. It's OK if you have flesh left on the inside. I did this to ensure I didn't accidentally make a hole in the boat, because hey, who wants a hole in their boat??
Brush the hollowed boat with a little olive oil, and bake at 350 for 15 minutes. You can go longer if you'd like. The goal is to soften the zucchini so it's soft when eaten. If you like crunchy raw zucchini, skip the oven all together. I baked the zucchini while the potatoes were simmering, so they would finish at about the same time.
After your zucchini are done, and the potatoes are mashed, use a small cookie dough scooper to fill the boats. I used organic dried chives and Wellshire bacon bits as garnish, just for fun.
That's it! Enjoy your dish, and of course, these pictures.