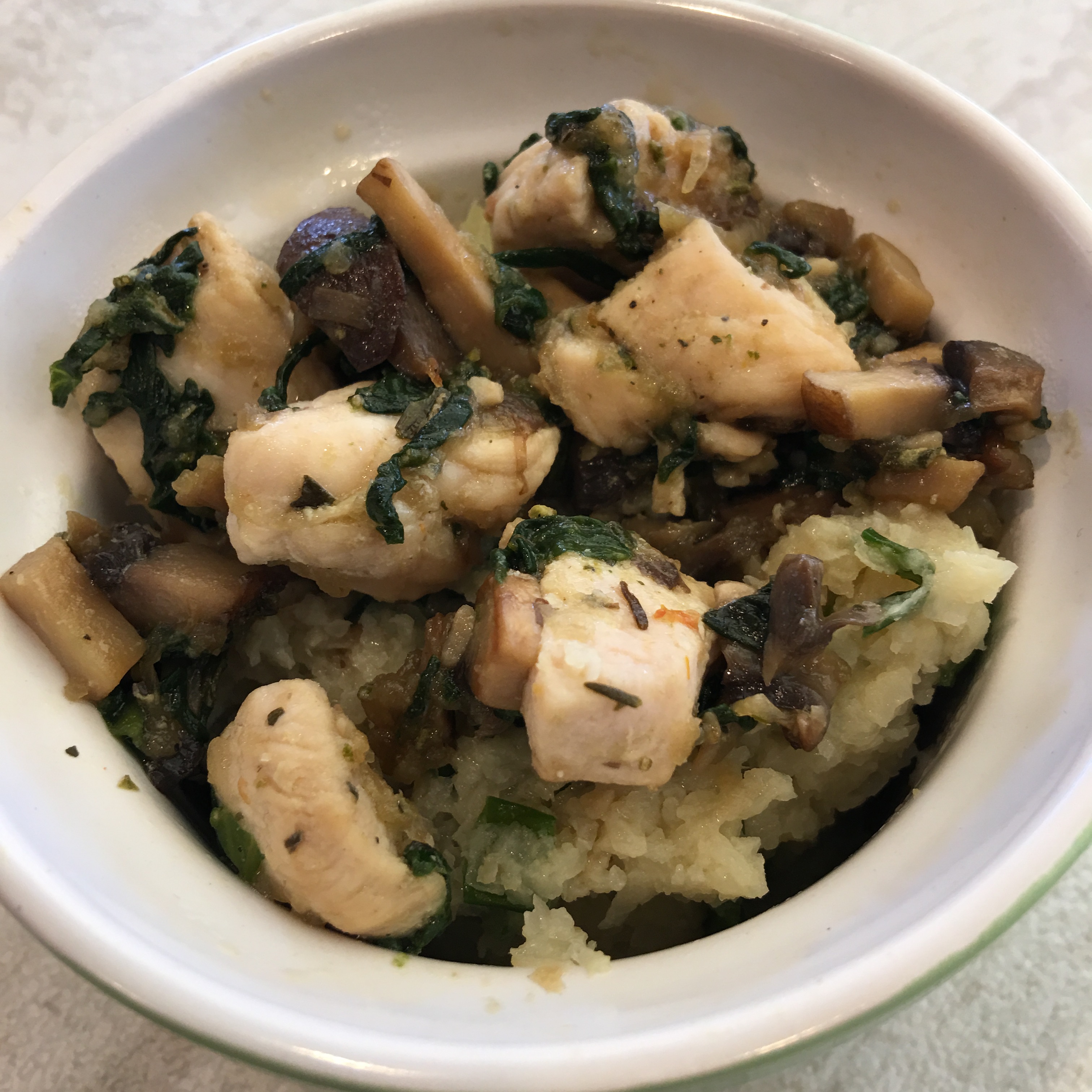 We made a very special dish for someone recently, and The Papa says it turned out well. I will say, I don't think this one is very kid friendly. It's definitely for the grownup, or kids and teens with adult tastes. Additionally, I feel that this is a great springboard for making something awesome. Have some extra Thanksgiving stuffing? You could totally add that in for something extra tasty. Apples would also add a lovely touch.
Allergy Status: Gluten Free, Wheat Free, Dairy Free, Egg Free, Soy Free, Nut Free, Peanut Free, Yeast Free, Cane/Refined Sugar Free, Paleo, GAPs, AIP Compatible, Corn Free Compatible
For AIP: Omit the black pepper, and use a safe season blend.
For Corn Free: Source safe ingredients. I think this one can be done.
Here's the "bad" news. I don't have my exact notes to share with you. But that's not going to stop us, right? Right!
The main ingredients are:
Organic Cauliflower (as the rice)
2 Organic Chicken Breasts
8 ounces Organic Mushrooms
Organic Spinach, chopped
Sea Salt
Organic Black Pepper
Organic Dried Parsley
Braggs Organic Herbs & Spices (or your favorite season blend)
Organic Olive Oil (for cooking cauliflower)
To make this, I started by prepping the ingredients. Cube your chicken, cut your mushrooms into small pieces, and chop the spinach. I like to remove the stem first, then roll several leaves together, and then chop.
I cooked the mushroom and chicken at the same time, so the mushrooms would have a bit more time in the pan. Alternatively, you could precook the mushrooms in butter, or oil/fat of choice and set aside for later. When the chicken was browned on one side, and I was starting to flip it over, I add the spinach and seasonings. Once the chicken is cooked, this portion of the meal is complete.
For the Cauliflower Rice, I washed the cauliflower, then shredded it in a cheese grater. This creates a nice rice texture. I cooked it in olive oil, and added salt and parsley. Simple, but enjoyable.
That's it. I promise, it all came together like that. If I had to do it again, I'd think about some balsamic, or red wine vinegar. Ohu, and maybe some green onion, or a little garlic. See how fun this can be? What would you add? I'd love to hear your ideas!