This is the final installment of our Fall Feature series with @Dana_Aversa on Instagram. Each week, we have taken a different approach to the same recipe idea, and we have reached the Baked Item recipe. Before I launch into the recipe, I want to thank all of you that have been following this series. It's been a lot of fun finding new ways to celebrate fall!
So, I'm going to start with a question: Do you remember those fig cookies growing up? The ones with the fig-jam on the inside? I hated those as a child… Although these are called Pumpkin Fig Cookies, they don't contain any fig. However, the texture is SO cool. It's like a soft baked cookie on the outside, and a fig cookie filling on the inside. The Papa wanted me to make another batch just so he could eat them again. It was a rather funny incident. I walked into the room, and asked him what he thought about the cookie. He said, "It's great. Where did you buy it?" I thought he was joking. He was serious. He said because I cut into the perfect square, and it was beyond delicious, he figured I must have purchased it somewhere. So, there you have it, this is seriously an enjoyable cookie.
Allergy Status: Gluten Free, Dairy Free, Egg Free, Soy Free, Wheat Free, Nut Free, Peanut Free, Corn Free, Yeast Free, Paleo, AIP, Vegan, GAPs Compatible
For GAPs: Use a blend of almond and coconut flour.
Ingredients:
15 ounces Organic Pumpkin
9 TBSP Organic Maple Butter
2 1/4 tsp Raw Organic Ground Vanilla
9 TBSP Organic Raisins
1/2 tsp Organic Ground Nutmeg (Omit for AIP)
1 3/4 tsp Organic Ground Cinnamon
1/4 tsp + a pinch Sea Salt
1 tsp Baking Soda
2.5 cup Organic Tiger Nut Flour
Combine everything except for the flour together in a mixing bowl. Once everything is well incorporated, add in your tigernut flour, and mix again. Line a medium tray with parchment paper, and spread your dough all over. It won't move much in the oven, nor will it rise much. So, make sure your cookie is the size and shape you would like it to be. Bake at 325 for 24 – 28 minutes. If the raisins start to swell, it's a little overdone. Get it out of the oven as quickly as possible. After your cookie cools, cut into squares for serving. That's it! You're done. This was a simple recipe to start with. I truly hope this series will help you fall in love this fall.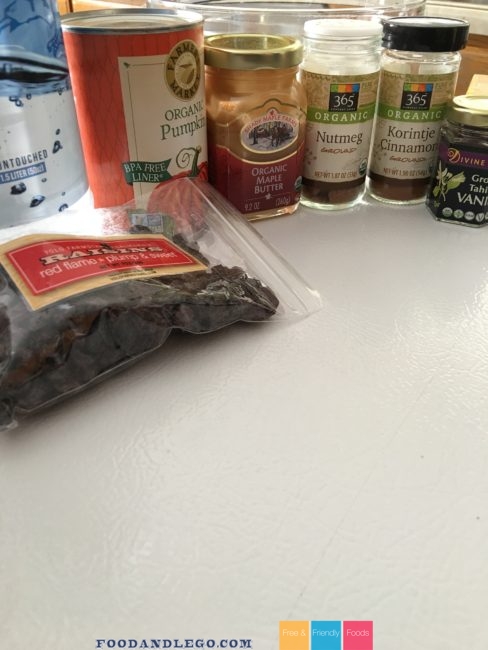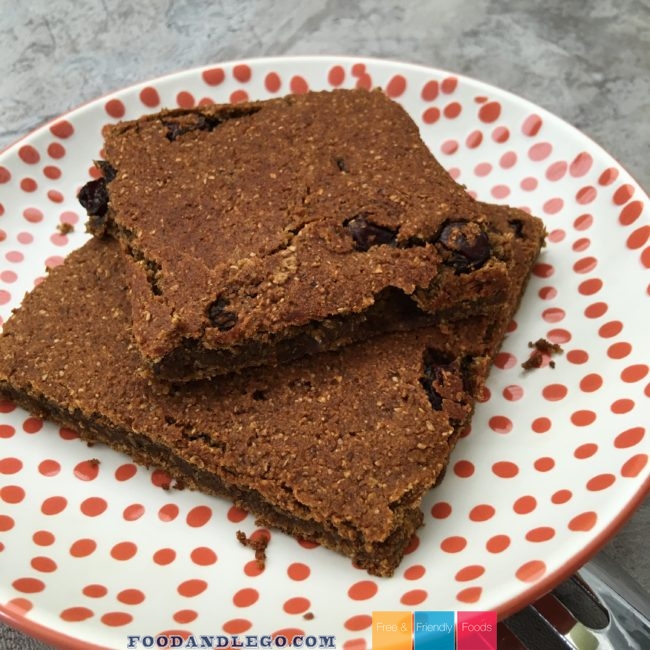 Our Corn Free Cookbook (also Gluten Free and Top 8 Allergy Free) Is packed with recipes and resources to help you thrive when living with a corn allergy, and/or multiple food allergies. Kathlena, The Allergy Chef, is a severe corn allergic, giving us the unique ability to write a book that's accurate. No corn derivatives, no xanthan gum, and all the details you need to enjoy life as a corn allergic.