It's not very often that I get to share something that I make for me. This is one of those times. I wasn't able to eat it much, but let me tell you, it was such a nice thing to try. If you haven't heard of Inna Jam, go check them out. It's SOOOO delicious. They source some of their fruit from a safe area for me, so it's worth trying, even if the test fails.
To give you an idea of how delicious this was, when it came out of the oven, I ate it… nearly piping hot. It was just sooo goooodd. I couldn't stop myself. So I proceeded to make a couple more for the following days. Truthfully, I liked the filling more than the crust, and the crust standalone wasn't that awesome. Overall, it was worth it. Well worth it. The filling really helps mask the parts of the crust I wasn't in love with.
Allergy Status: Gluten Free, Wheat Free, Dairy Free, Egg Free, Soy Free, Nut Free, Peanut Free, Corn Free, Yeast Free, Vegan, Low Histamine
Ingredients:
1 cup Otto's Cassava Flour
1/4 cup Organic Gemini Tigernut Flour
2 tsp Baking Powder (Hain)
1/4 tsp Xanthan Gum (Authentic Foods, it's cabbage derived)
1/2 tsp Celtic Sea Salt
4 tsp Organic Maple Butter
3 ounces Organic Raw Chia Seed Oil
4 ounces Water
Organic Jam & Organic Fruit of choosing (I used Inna Peach Jam, Inna Nectarine Jam, and Organic Blackberries)
Start by mixing your dough. I did this in a large bowl with a fork. Lightly mix your dry ingredients before adding your wet ingredients. When you add the water, do so slowly, especially if you're using an electric mixer. I've found that when mixing by hand, I use a bit more liquid than if I had done with something electric.
Press your dough into a glass baking dish, and bake for 10 minutes at 350. Fill with jam and fruit, and bake for an additional 20 minutes. Enjoy! Try not to burn your tongue like I did 🙂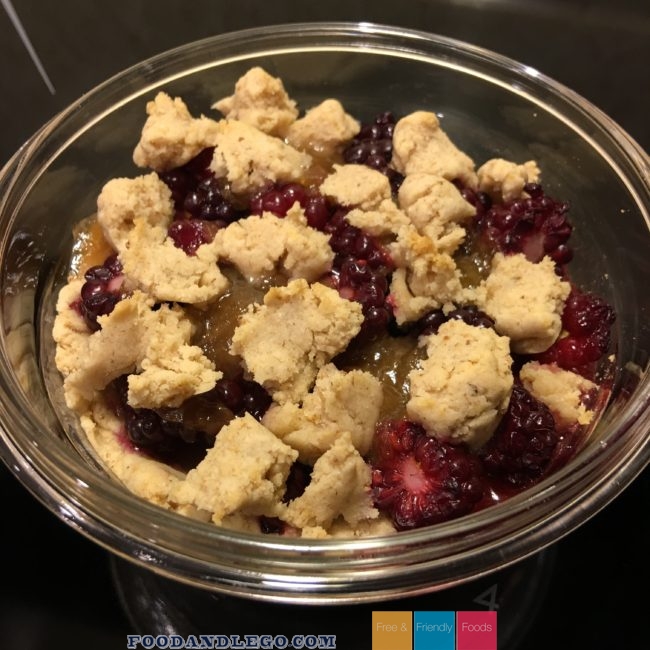 Our Corn Free Cookbook (also Gluten Free and Top 8 Allergy Free) Is packed with recipes and resources to help you thrive when living with a corn allergy, and/or multiple food allergies. Kathlena, The Allergy Chef, is a severe corn allergic, giving us the unique ability to write a book that's accurate. No corn derivatives, no xanthan gum, and all the details you need to enjoy life as a corn allergic.