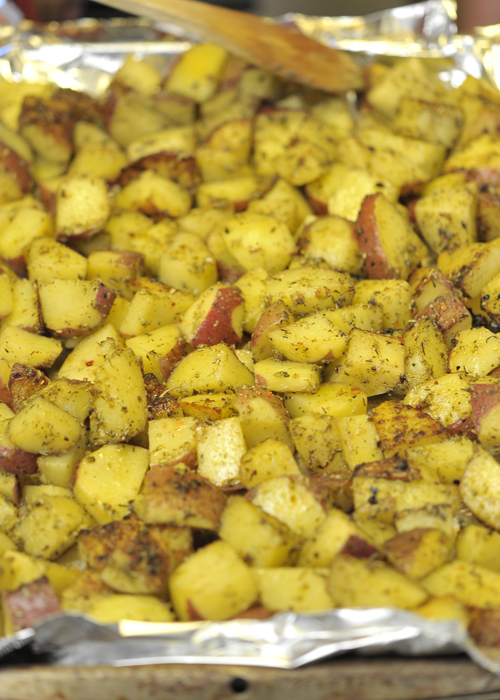 I have a feeling that potatoes, like pizza, are simply loved by most children, no matter what the country of origin. Our kids love all things potatoes, which has given me the freedom to introduce different flavor profiles to them, including curry and turmeric. This rendition of our quartered potatoes is by far one of their favorite.
You can mix these in a bag, similar to a shake and bake style, or you can season in the pan directly. I tried it both ways, and in all honesty, I didn't see a huge difference in the two batches.
Allergy Status: Wheat/Gluten Free, Dairy Free, Egg Free, Soy Free, Nut Free, Peanut Free, Yeast Free, Corn Free, Cane/Refined Sugar Free, Sesame Free, Legume Free, Low Histamine Compatible, Vegan
For Low Histamine: Use a safe savory seasoning blend.
Ingredients:
4 – 5 pounds Organic Red Potatoes, divided into 2 – 3 batches
Seasonings Per Batch:
3 TBSP Organic Extra Virgin Olive Oil
1 tsp Sea Salt
1 tsp Organic Onion Powder
2 tsp Organic Bragg Herbs & Spices (or your favorite savory season blend)
1/2 tsp Organic Italian Seasoning
pinch of Organic Garlic Powder
pinch of Organic Black Pepper
Related post: Allergy Friendly Cheesy Potatoes
Before you get started, preheat your oven to 425.
Directions:
First you'll want to peel off any bad spots from the potatoes. Next, cut them into small cubes. The larger the cut, the longer it will take them to cook. I cut mine into about 1 inch cubes (maybe 1.5 inch)
Heat the 3 Tablespoons of oil on medium-high heat. Once the oil is shimmering (shiny looking) it's ready to be used. For about 4 pounds of potatoes, I did 2 batches on the stove top.
If you choose to use the "shake and saute" style, you'll want to add all of the ingredients into a large freezer baggie (including the oil) and shake until it's well mixed. Alternatively, you can heat the oil, add the potatoes, and add the seasoning directly to the potatoes and mix it around on the stove top.
Once the potatoes are in the skillet and seasoned, continue to push them around, but refrain from flipping them over. If you let them cook for 5 – 7 minutes, they brown very nicely on one side. Once they've browned, flip them over a bit, as best you can and let the other side cook for 1 – 2 minutes. You don't want to over do it.
Place the potatoes on a baking sheet that's lined with foil. If you're cooking both batches at the same time in separate skillets (which is what I did) then they should be done within a minute or so of each other. It's OK to pile all of the potatoes onto one baking sheet. Using your spoon, push things around until they're as flat as possible.
Bake these in the oven for 19 minutes. When they come out of the oven, they should be easy to poke with a fork, and soft to eat (like a baked french fry). I suggest you lightly spritz them with olive oil and a bit of salt, toss them one last time, and they're ready to be served!
These are soooooooo good. I'm not going to lie. The kids pigged out when I made these, and there wasn't a single potato left at the end of the night. I do hope you enjoy these as much as they did.