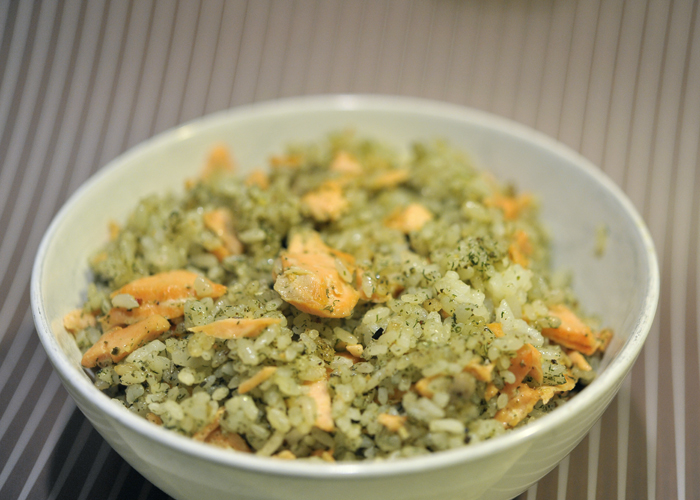 This meal comes together quickly, within about 10 – 12 minutes, making it a pretty quick lunch to make. I also like to serve this with steamed carrots. If you want to add a vegetable, start steaming it about 10 minutes before you start cooking the salmon and rice.
Allergy Status: Gluten/Wheat Free, Dairy Free, Egg Free, Soy Free, Nut Free, Peanut Free, Cane/Refined Sugar Free, Diabetic Friendly, Low Histamine, Corn Free Compatible, Paleo Compatible, AIP Compatible, GAPs Compatible, SCD Compatible
For Paleo, GAPs, AIP, SCD: Use Cauliflower Rice
For Corn Free: Source Safe Ingredients
Ingredients:
4 ounces Wild Salmon (use fresh caught if low histamine)
2 Tablespoons Organic Oil
Sea Salt (to taste)
Organic Braggs Sea Kelp Sprinkle (make sure the ingredients are safe for you)
Organic Dill
Raw Organic Honey (optional)
Organic Cooked Rice (or cauliflower rice)
Directions:
Heat 2 Tablespoons of oil in a wok (or pan) on medium heat.
Place the salmon in the oil, skin side down. Season the top side of the salmon to taste, and after about 1 minute, flip the salmon over. The skin should peel right off with tongs. Now, season the salmon again. Wait a few minutes as the salmon cooks. Add the desired amount of rice to the wok, and season once more, but focus on the rice.
As the salmon cooks, flip it over again. After several minutes, break the salmon up into chunks, you can use the tongs, or a spoon. As you break up the salmon, begin to mix the rice into it. If you like honey, drizzle honey over the entire mix, and continue to mix the food. Simmer the mix on low for several minutes, then place into bowl.
When it comes to seasoning this dish, experiment with what you like. Salmon and rice is very forgiving. A little note about wild vs. farmed fish: we only use wild fish in our home because of allergens and personal sentiment.
Enjoy!