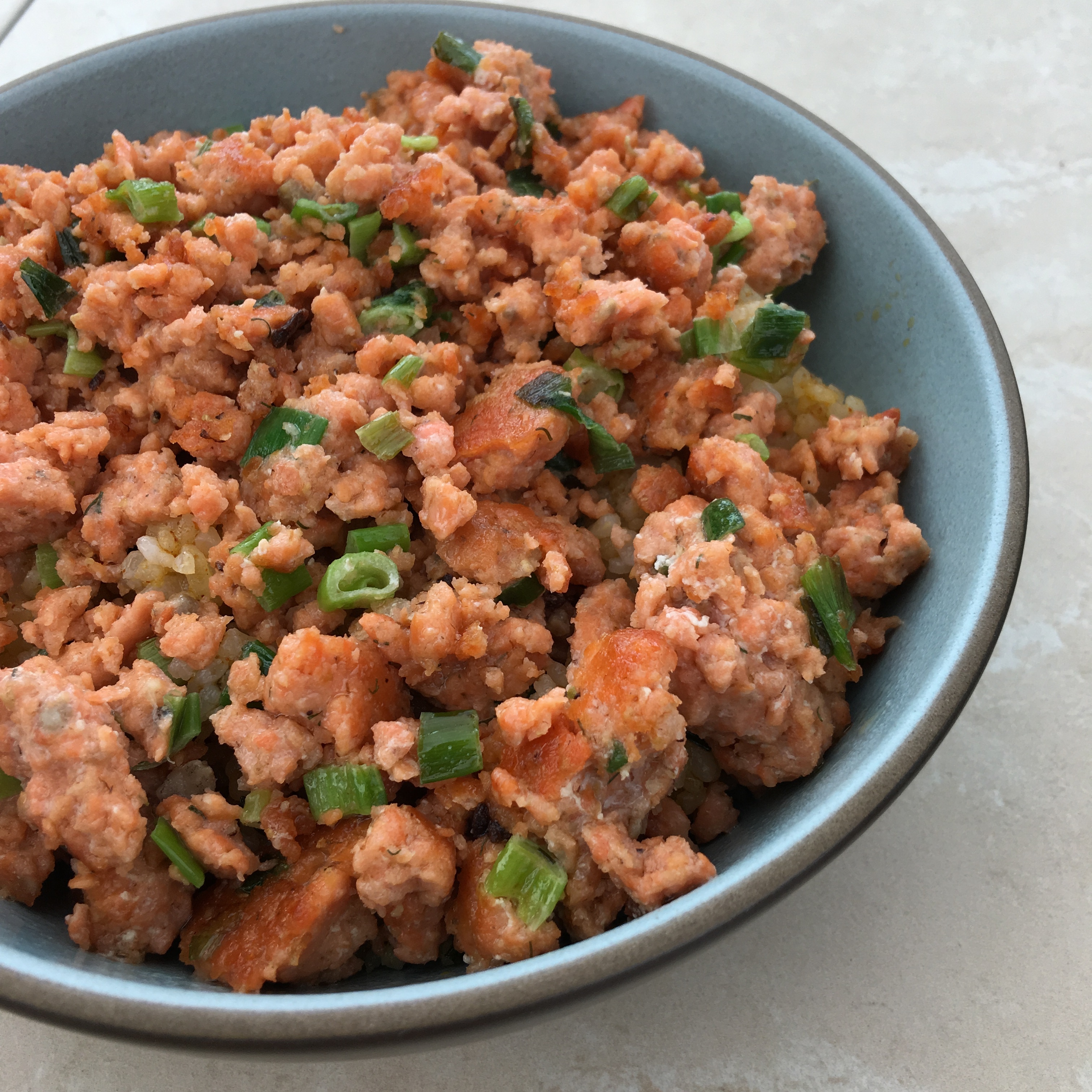 We have a splatter guard that we like to call the Captain America Shield. We didn't think to use it. In hind sight, this whole situation was funny because Kid Two was helping me, and we were so excited about the dish we were working on. Once we had everything just right, we got ready to cook. We put the first patty in the oil, and instant fireworks! Bits of maple had ventured off into the oil, causing splatter all over the place. I quickly realized there was no way we'd be able to shape all of the patties and get them into the oil safely, at least, not the way we designed it. So we switched to a ground salmon dish. I don't think there was really a lesson to be learned, rather, a really funny story to share. We couldn't stop laughing at the whole thing after.
Allergy Status: Gluten Free, Wheat Free, Dairy Free, Egg Free, Soy Free, Nut Free, Peanut Free, Yeast Free, Refined/Cane Sugar Free, Paleo, GAPs, Diabetic Friendly, AIP Compatible, Low Histamine Compatible
For AIP: Omit the optional seasonings, and review the Braggs Sea Kelp Seasoning. It contains non-AIP items. Create your own safe blend for use with fish meals.
For Low Histamine: Review the Braggs Sea Kelp Seasoning. It contains some high histamine and histamine liberating items. Create your own safe blend for use with fish meals.
For Whole 30: Use Organic Date Sugar
Ingredients:
1 pound Wild Salmon, ground (fresh for low histamine)
1 bunch Organic Green Onions
2-3 TBSP Organic Maple Sugar
Sea Salt (to taste)
Braggs Organic Sea Kelp Seasoning (to taste)
Oil of choice for cooking
Optional: Organic Smoked Paprika, Organic Black Pepper
First, remove any skin that may be on the fish, and debone if necessary. Next, cut the fish into pieces that will fit into your grinder, and grind the salmon. We have a Kitchenaid attachment that grinds meat, which is helpful when living with food allergies. Next, wash and cut your onions. Add them to your salmon, along with your maple sugar and seasonings.
To avoid the mistakes we made, you can either pre-shape your salmon into cake sizes, or, go with cooking it like ground meat. Either way produces a delicious result, however, the patty style has a nice crispy exterior. You'll want to cook your salmon in a non-stick pan on medium heat. Hopefully this has given you some ideas on something fantastic you can make at home.