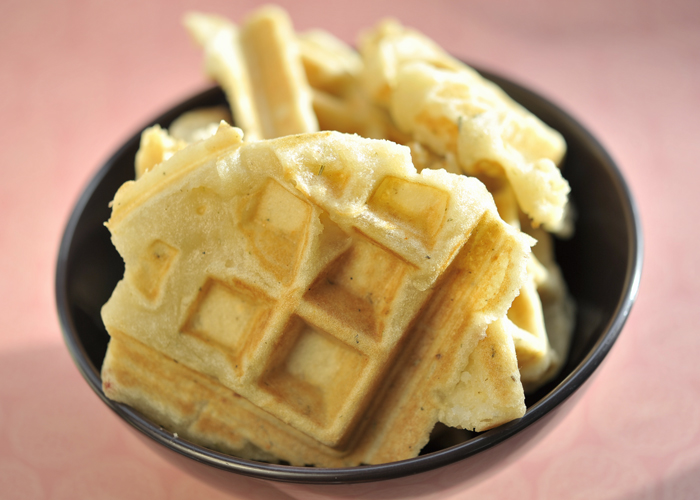 Remember the Waffle Bread recipe I posted a while back? As promised, I experimented a bit and have an additional version to share with you!
If you're living with food allergies, I can't encourage you enough to get brave and experiment in your kitchen. If you're new to cooking or baking, experiment on recipes that you have mastered. For example, take a basic pancake recipe, and experiment with adding cinnamon and nutmeg. Small changes can make BIG differences, and this recipe is an example of that.
Allergy Status: Wheat/Gluten Free, Dairy Free, Egg Free, Soy Free, Nut Free, Peanut Free, Yeast Free, Corn Free, Cane/Refined Sugar Free, Sesame Free, Legume Free, Nightshade Free Compatible, Low Histamine Compatible, Vegan Compatible
For Nightshade Free & Low Histamine: Use a custom savory blend instead of the Bragg season blend.
For Vegan: Use organic maple syrup instead of honey.
Ingredients:
2 cups All Purpose Flour
2 tsp Guar Gum
1 tsp Celtic Sea Salt
1 tsp Organic Dried Minced Onion
1 1/2 tsp Organic Bragg Herbs & Spices
1/4 tsp Organic Garlic Powder
1 tsp "Dry Egg" Mix (or 1 small egg)
1 TBSP Organic Granulated Sweetener (Cane, Date, Maple)
2 TBSP Organic Honey
2 Tablespoons Organic Extra Virgin Olive Oil
1 3/4 cups Water
Directions:
Mix all of the dry ingredients and seasonings together, then add all of the wet ingredients. I use a paddle attachment on the stand mixer. When your batter comes together, it will look like a thin frosting.
Cook the batter in your waffle maker (I use setting 4/6) for about 8 minutes. I find that the waffle maker doesn't beep when I cook these, so I check on it after 8 minutes. Usually, the outer edge is a bit softer, but that's OK.
I was able to make 4 waffles with this batter. The kids were fighting over the last couple of pieces. I think it's safe to say they like it.