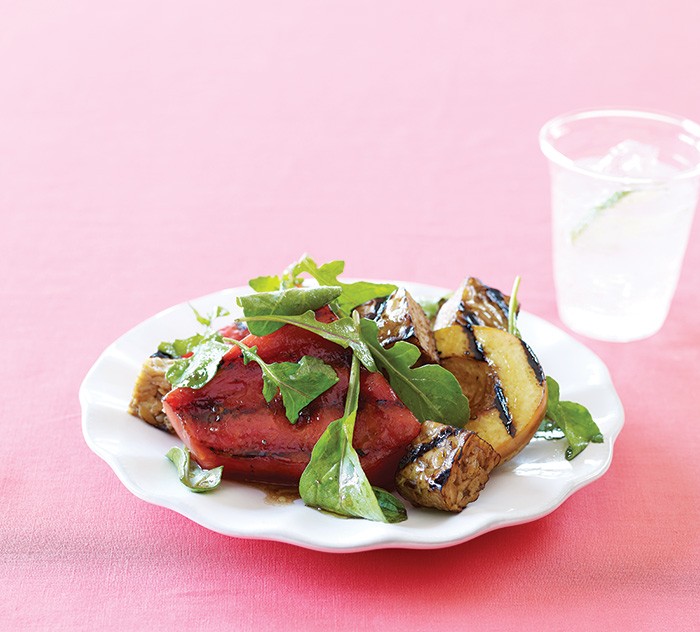 Get ready for a late summer treat! Today we have a special guest, Karin Lazarus from Delicious Living. She's sharing a tasty recipe that you can enjoy, in what I call late summer. Even though it's officially fall, in our neck of the woods, we'll enjoy the summer feel for a few more weeks.
This vegan dish boasts fresh summer fruits, watermelon and apricots, as well as meat-like pieces of flavorful tempeh served over spicy arugula. Vegans and meat-eaters alike will love this flavorful dish.
Allergy Status: Gluten Free, Dairy Free, Egg Free, Nut Free, Peanut Free, Cane/Refined Sugar Free, Yeast Free, Coconut Free, Legume Free, Sesame Free, Nightshade Free, Diabetic Friendly, Vegan
Ingredient tips: A ripe watermelon should sound hollow when tapped and have a dull (rather than shiny) exterior. If you purchase pre-cut watermelon, look closely at the flesh; it should be firm, unblemished, and not overly grainy. If it has lots of white seeds along with the normal brown-black seeds, then it was picked from the vine too early. Select deep yellow-orange apricots that are firm and plump.
Serving tip: Accompany with cracked wheat and couscous pilaf plus steamed sugar snap peas.
Ingredients:
1/2 cup plus 3 teaspoons extra-virgin olive oil, divided
1/4 cup balsamic vinegar
1 pound tempeh, cut into 1-inch cubes
4 firm, ripe apricots, pitted and halved
8 slices seedless watermelon, cut into thick wedges
2 cups baby arugula leaves
Directions:
Preheat grill to medium heat. Whisk 1/2 cup oil, vinegar, 1/4 teaspoon salt, and pepper in a medium bowl. Add tempeh cubes; marinate 15 minutes, tossing occasionally.
While tempeh marinates, brush apricot halves and watermelon slices with 3 teaspoons olive oil. Grill apricots for 1 minute on each side. Transfer to a plate and set aside. Grill watermelon slices for 2 minutes per side, until slightly caramelized. Sprinkle with remaining sea salt and set on plate with apricots.
Remove tempeh cubes from marinade (reserve liquid) and grill on skewers or in a grill basket until slightly charred.
To serve, place 2 slices grilled watermelon on each plate. Top each slice with ¼ cup arugula, tempeh, and 2 apricot halves. Drizzle with reserved marinade to taste, and serve immediately.
PER SERVING: 563 cal, 45% fat cal, 31g fat, 5g sat fat, 0mg chol, 25g protein, 59g carb, 3g fiber, 520mg sodium