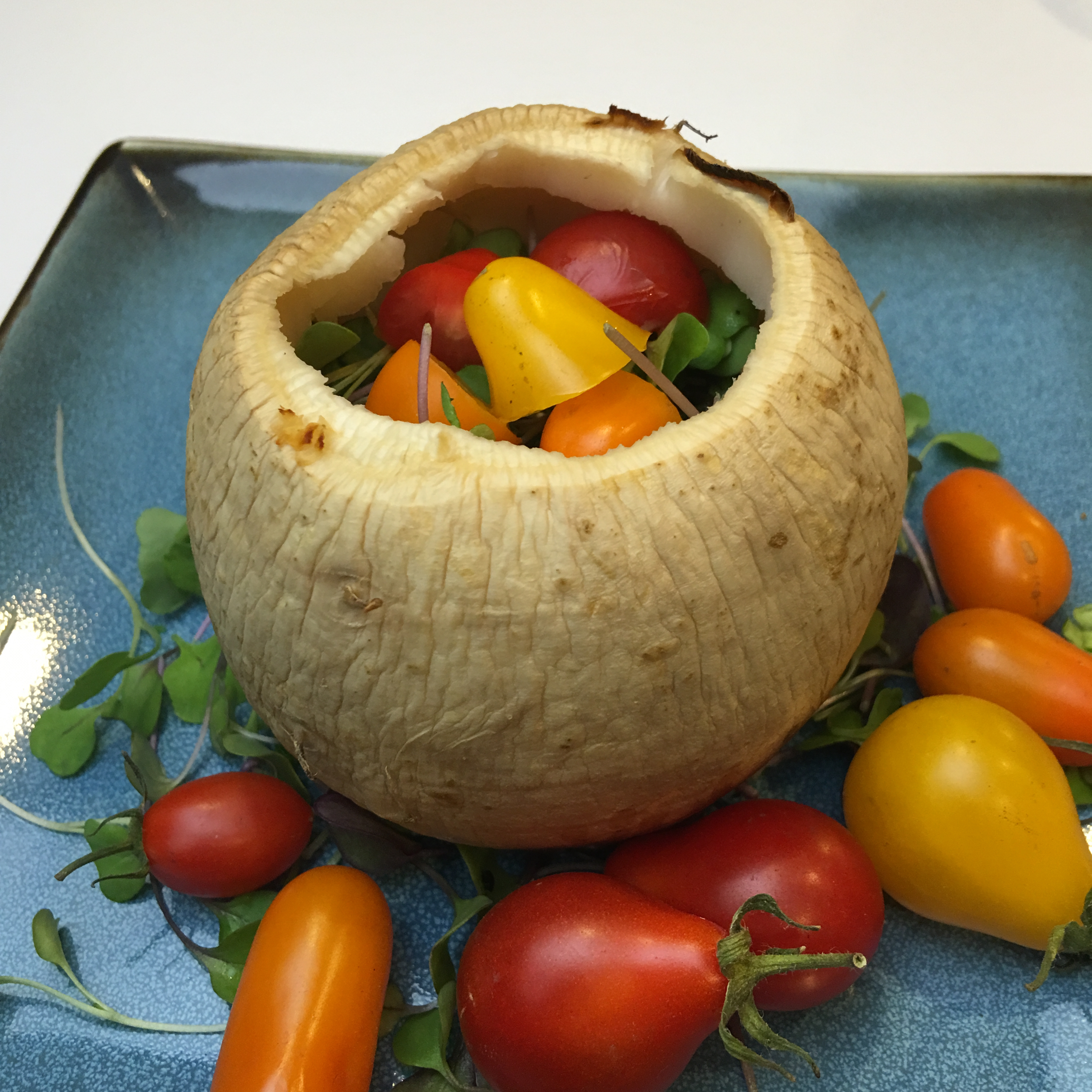 Just because it's stuffed veg week doesn't mean everything has to have a long and complicated title, right? Even us foodies at heart have to take a break sometimes 🙂 Although this is a very simple idea, it takes real planning. If you use a large turnip, which I would suggest, you have to bake it before you can hollow it out. It's simply too hard to accomplish when it's raw, unless you have access to some really cool commercial kitchen heavy duty tools. Or maybe a sawz-all.
Allergy Status: Wheat/Gluten Free, Dairy Free, Egg Free, Soy Free, Nut Free, Peanut Free, Yeast Free, Corn Free, Cane/Refined Sugar Free, Sesame Free, Legume Free, Nightshade Free, Low Histamine, Diabetic Friendly, Paleo, GAPs, AIP, Vegan
*For AIP, Low Histamine, and Nightshade Free, be sure to skip tomatoes in your salad.
Ingredients:
Large Organic Turnips
Salad Greens and/or Micro Greens
Salad Toppings of Choice
Directions:
When thinking about how you'd like to eat the final product, be sure you shop for salad ingredients (and dressing) that you'll enjoy. If you're serving this at a small dinner party (which would look fabulous), be sure to have extra toppings available for your guests. I've put together a very simple salad, something that I would personally enjoy. You'll also notice there's no dressing in our picture because Kid Two and I don't eat salad dressing.
The instructions for this are quite simple. Wash your turnip, and cut the top off. Cut a little bit of the bottom off so it has a flat surface to keep itself stable. Bake on a tray lined with parchment at 400 for up to 60 minutes. The goal is to have the turnip soft enough to work with. Allow it to cool, then hollow it out. I used a cookie dough scooper to get the job done. Fill it with your choice ingredients and enjoy.
On to the photos! Honestly, I thought these turned out fabulous, and I'm totally planning on serving salad like this at a dinner party.