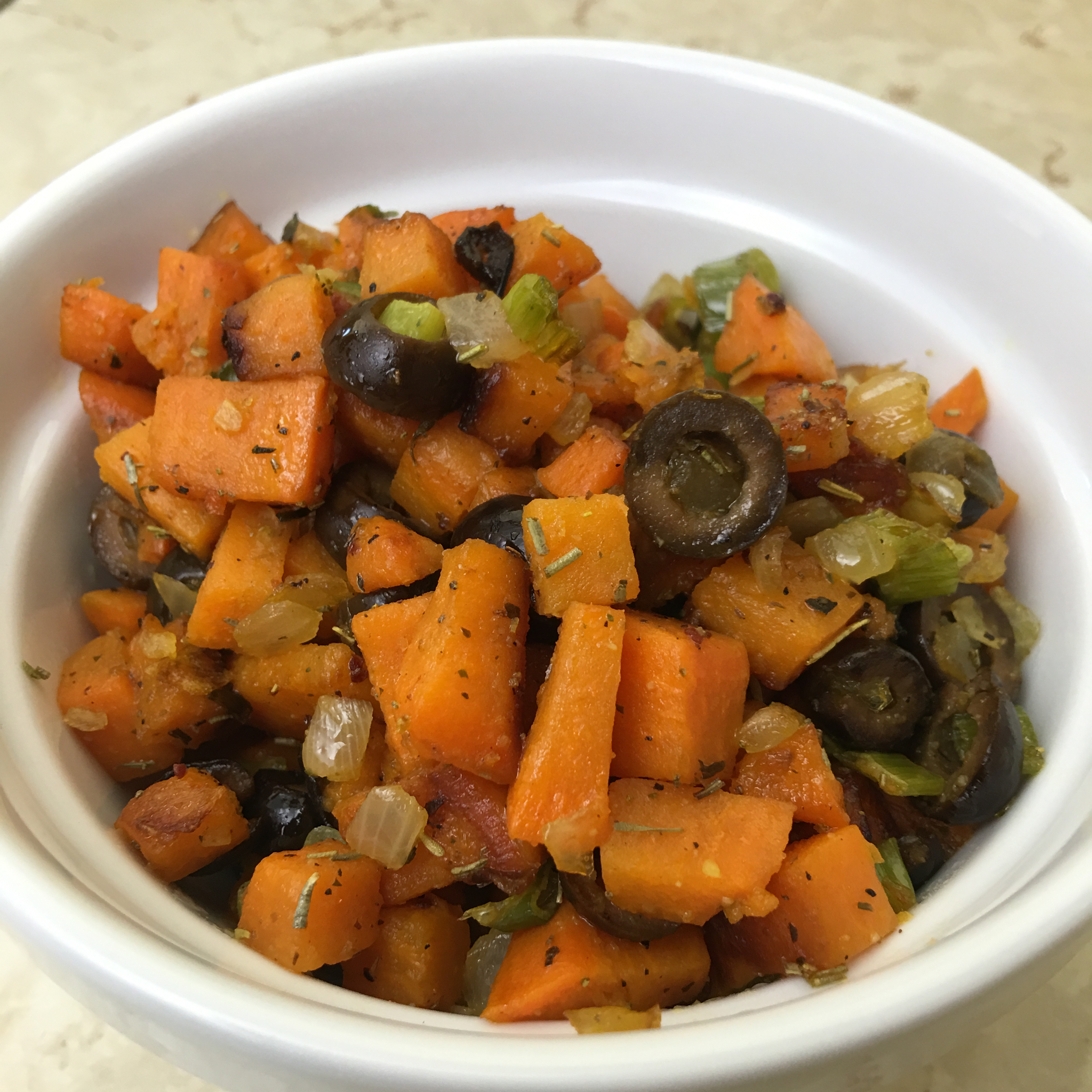 Do you remember Stuffed Veg Week? Well, I've learned along the way that there are certain veg that aren't easy to stuff, unless you bake them first. Sweet Potato is one of those vegetables. Rather than break my wrist or throw out my back trying to hollow it out, I decided to go a different route. The final result was something the kids really enjoyed, and I hope you do too.
You may be wondering where the olives came from, as this is not your everyday combination. Those of you who know me well know that I'm always thinking up new combinations, pushing boundaries, and asking what happens when… I asked and this recipe answered 🙂
Allergy Status: Wheat/Gluten Free, Dairy Free, Egg Free, Soy Free, Nut Free, Peanut Free, Yeast Free, Cane/Refined Sugar Free, Sesame Free, Legume Free, Low Histamine, Diabetic Friendly, Paleo, Vegan, Corn Free Compatible, Nightshade Free Compatible, AIP Compatible
For Corn Free: Source safe ingredients, especially the olives. You may need to use fresh olives, or homemade preserved olives.
For AIP: Use a homemade season blend, as Bragg contains nightshades, and fresh/homemade olives.
For Nightshade Free: Use an alternative savory season blend as Bragg contains nightshades.
Ingredients:
2 large Organic Sweet Potatoes, peeled and cut into small cubes
6 TBSP Organic Extra Virgin Olive Oil
12 TBSP Organic White Onion, Diced
1 bunch Organic Green Onion, chopped
1 small can (2.25 ounces) Sliced Black Olives (drained)
1 tsp Sea Salt
2 tsp Bragg Organic Herbs & Spices
Pinch of Organic Black Pepper (optional)
Directions:
Heat a large non-stick pan on medium-high heat (400) and add 3 TBSP of your olive oil. Add in your sweet potato cubes and diced onions. Allow them to cook, mixing occasionally. After 10 minutes, add in your green onion, olives, the other 3 TBSP of olive oil, and mix well. After 5 minutes, add in your seasonings, and mix again. At this point, you want to keep a close eye and mix regularly to prevent burning. In all, cook the mix for 24 – 26 minutes, or until the potatoes are cooked completely and easy to eat.
This is a fantastic side dish, but can also be part of a main as well. Picture time!