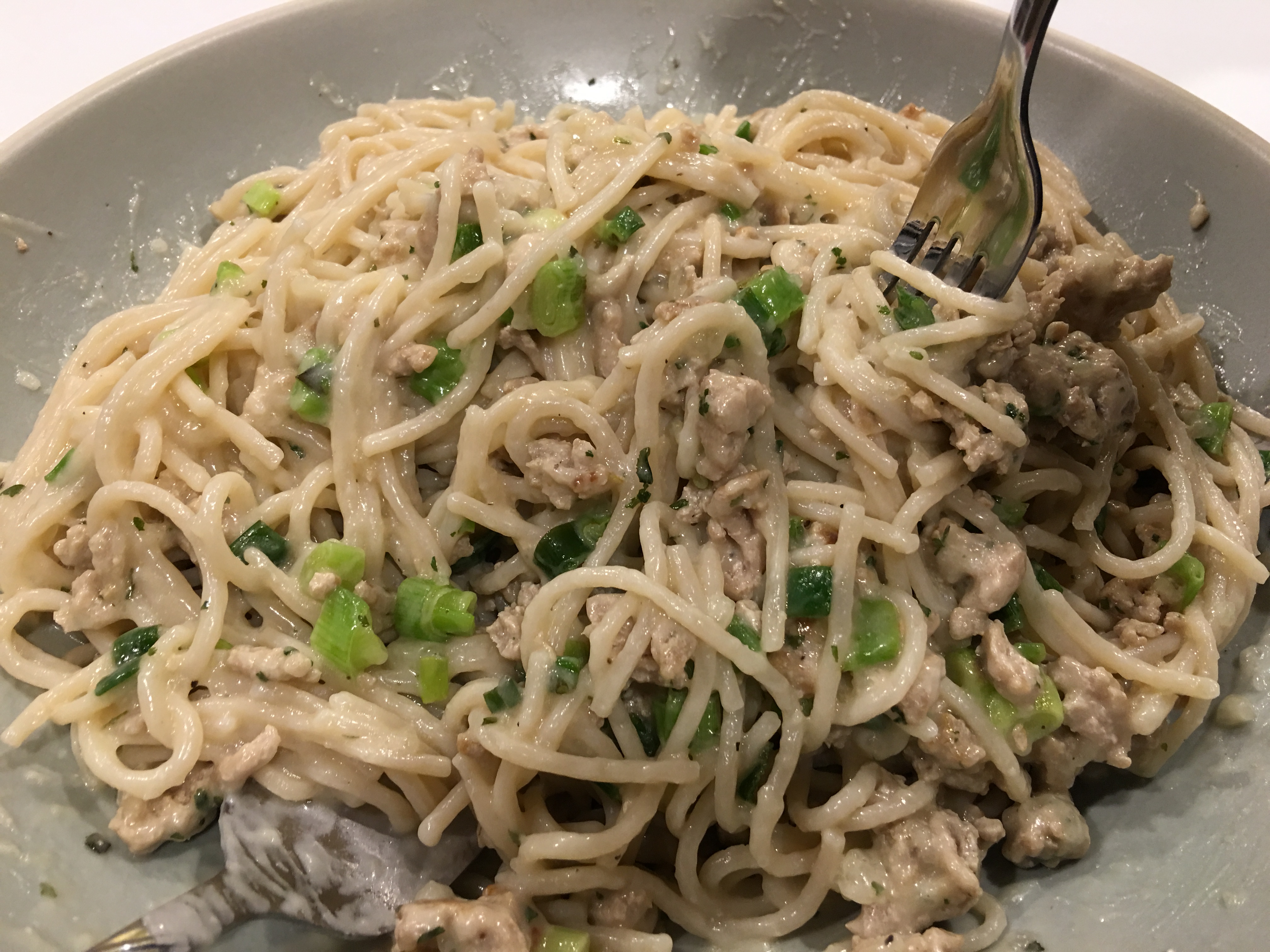 Last week we started The Weekly Challenge. Anyone can email us, contact us through our website & blog, or via social media to give us a challenge. You let us know what random ingredients you have, and we'll help you make a delicious meal. There are a few websites that I've seen that do this, and I thought it would be really fun to have one that thinks about people with food allergies. Be sure to let us know if you have any when you submit your ingredients.
Our very first challenge comes to us from James, via email.
Ingredients: Brown Rice Noodles, 1 pound of Ground Turkey, Green Onions
Allergies: Wheat, Eggs
Our Creation: Creamy Turkey Noodles
Allergy Status: Wheat/Gluten Free, Dairy Free, Egg Free, Yeast Free, Cane/Refined Sugar Free, Sesame Free, Legume Free, Nut Free Compatible, Soy Free Compatible, Vegan Compatible
On to the recipe and pictures! Substitutions and notes are listed at the end of the post.
For the Cream Sauce:
1 stick (8 TBSP) Dairy Free Butter (we used Earth Balance Vegan Buttery Sticks)
2 cups Organic Milk of choice
3 TBSP Potato Starch
1 tsp Sea Salt
several dashes Organic Black Pepper
In a pot, on medium heat, add in your stick of butter and milk. Once the butter has melted, use a whisk to combine the butter and milk. Add your salt and pepper, and mix again. Here's where the fun starts. Add in your potato starch, 1 TBSP at a time. Don't dump it in, or it will cause large clumps to form. Instead, tap it into the pot, while whisking. This is important. Once you start to add the starch, you have to whisk until the process is complete. It will get nice and thick by the end. I personally like to add the starch in one small area, and whisk very fast in that spot, then make sure it's all incorporated. This particular sauce, I thought, came together more like a gravy. If you want it thinner, only use 2 TBSP of potato starch.
For the green onion:
Wash and chop your green onions into small pieces. Heat a medium non-stick on medium-high heat. Add 1 – 2 TBSP Organic Extra Virgin Olive Oil (or oil of choice). Add the green onions, and sauté. I chose to stop mixing towards the end and let the onions sit and cook so they could brown a bit, then removed from the heat. The whole process took less than 4 minutes.
For the Meat:
1 pound Organic Ground Turkey
1/2 tsp Organic Garlic Granules
1.5 tsp Organic Onion Granules
1 tsp Organic dried Parsley
3/4 tsp Sea Salt
Large Pinch of Organic Ground Pepper
On high heat, cook the meat in a medium non-stick pan (I reused the green onion pan). No oil/butter is required. Break the meat into small bite sized pieces as it cooks. When the meat is half way done cooking, add all of the seasonings. Continue to break the meat up, and mix all of the seasonings in well.
For the Noodles:
The standard Tinkyada Brown Rice Spaghetti Noodles pack is 12 ounces. I opted to use more since I knew how hungry everyone was. In all, we used closer to 15 ounces, maybe even 16. I did follow the instructions on the package to boil the noodles for 15 minutes. We did check at 10, 12, and 14 minutes. Each time, they did need to be in a bit longer. I also added 2 tsp of sea salt to the water before adding the noodles. The Papa is convinced that this makes a difference in the taste. I personally can't comment on this.
For the combination:
After you drain the pasta in a colander, place it in a large bowl (to make mixing easier). I did not rinse the noodles. Add the onions, meat, and sauce, and mix it all up. I used two large serving forks to get the job done, and it worked very well.
Serves 4-6
Feedback, Tips, & Substitutions:
Kid Two suggests that the meat could use a little more salt. However, he didn't want to add more salt to final dish because he felt the salt was right among the mix, but if he had a bite that was particularly meaty, he would have liked a hint more of salt.
For Dairy: If you don't have a dairy allergy, you could opt to use heavy cream in place of the almond milk. If you have a nut allergy, other milks will work just fine. Soy milk is thick, so you may not need as much starch, and the opposite is true of rice milk. It's thin, so you would need the same amount of starch, perhaps a little more.
Soy Free: Use a safe butter, such as Earth Balance Soy Free Sticks, or Earth Balance Vegan Spread. The spread is thinner than the vegan buttery sticks, so you may need a little extra starch, but not much.
Wheat, Rice, & Potato: Any spaghetti noodle will work with this recipe, so use what you can have. If you can't have rice, there are a lot of other gluten free options, including millet and buckwheat noodles. If you can't have potato, use tapioca or arrowroot as the starch for the sauce.
Vegan: Omit the ground turkey. A meat replacement would be good if you have a safe brand you use, something with an Italian flavor profile. If you don't use meat substitutes, but can have nuts, consider finely chopping/crushing Brazil and almond nuts. It will add a little texture to the dish.