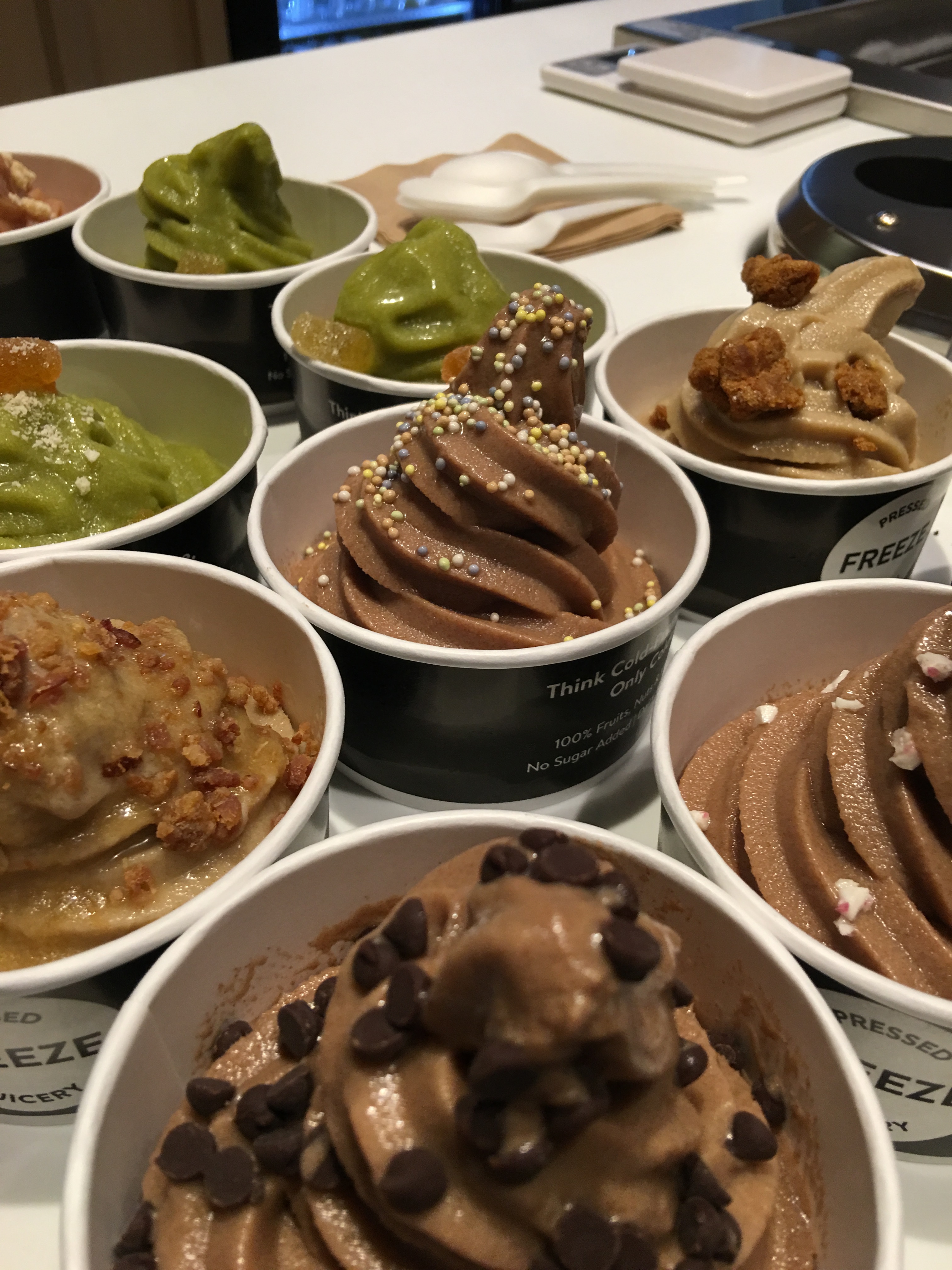 Have a dairy allergy? GO TO PRESSED JUICERY
Vegan? GO TO PRESSED JUICERY
On a clean or Paleo style diet? GO TO PRESSED JUICERY
Allergy Status: Gluten Free, Wheat Free, Dairy Free, Egg Free, Soy Free, Peanut Free, Yeast Free, Refined/Can Sugar Free, Vegan, Paleo, GAPs, Diabetic Friendly, Possibly Corn Free, Low Histamine, SCD Friendly, AIP Friendly, Nut Free Compatible
Before I lunch into the review, first, full disclosure. We were not paid or offered anything in exchange to visit PJ and write the review.
If you have a severe nut allergy, please call them first to make sure you're comfortable with their handling of allergens. Some flavors do contain nuts. If you are corn free, again, call and make sure you're happy with the sourcing of ingredients. On the surface, it should be safe, but those of us with a corn allergy know what that's like. For those of you on a special diet such as SCD or AIP, be sure to get the flavor that's right for you. For AIP people, coconut is one of the toppings available at the sore. On to the review!
So, are you familiar with Krysten's Kitchen? Well, she's awesome. If you don't know her, go check her out. In my opinion, she's what we need in the food allergy world. She's constantly find new products and reviewing them. Here's a link to Krysten's Blog, and Her Instagram Account. She's the reason we learned about these. I've gotten items from PJ in the past, but since it didn't work for me, I had moved on. However, we visit about once a year as the kids LOVE their nut milks. So, imagine me, looking at Krysten's story on Instagram and NOO WAAAY!
You see, Kid Two was born severely allergic to dairy. He's never had soft serve ice cream at a store before. The ice cream machine that we have has done wonders for him, as has So Delicious, but this…. this was like magic and rainbows, and all sorts of happiness. After seeing Krysten's post, I went right over to the PJ site to figure out what this was. It's called a Freeze, but not every location has one. So, on their location page, I saw there was a store in SF that had one. Of course, I called first, and sure enough, it was the real deal. So, I rounded everyone up, late at night, and we headed over. We decided to bring our own toppings because I wanted Kid Two to have a full experience. Funny thing is, they have toppings there too.
I started by asking a lot of questions, just to be sure duper sure that it would be safe. PJ doesn't have dairy in their store from the get go, but I had to be sure that nothing was added. Here's what you need to know: they take the contents of their juice formulas, and instead of bottling it, they put it in the freeze machine. Once I was happy with everything, we got to ordering. I asked for 3 containers of three of the flavors, but the lady misheard me, and we ended up with 3 of each of the four flavors. Oh well. I didn't think the kids would want the green one, but they had to try it anyway.
The toppings we took with us: Enjoy Life Chocolate Chips, Kinnikinnick Cookies, Wellshire Bacon Bits, Enjoy Life Soft Baked Gingerbread Cookies, Let's Do Organic Sprinkles, and Surf Sweets Organic Vegan Gummy Bears.
I did ask if we could pull the lever, and nope. The employee puts it all together, but the two ladies there were super nice. They didn't mind that we were taking pictures and decorating our ice creams. Once it was all done, we took everything back to the car. It was a little late, and this was a small store without seating. Here's what the kids had to say about each of the flavors:
Chocolate
This was the hit of the party. Everyone agreed that this was the best.
Vanilla
The bacon bits made this just as good as the chocolate. They thought this one lacked flavor a little bit.
Fruits
Not their favorite, but not the worst thing they've ever had either. The toppings made it better.
Greens
Only Kid Three liked this one, and I think that's because he had to. He had small samples of the other flavors, but he knew that if he wanted a full freeze to himself, it had to be the greens. This had to do with sugar. The nut milk based freezes have dates added, and the fruit is naturally higher in sugar. He was already on edge, so greens was in everyone's best interest. It seemed to really grow on him, but I think the fact that he got one top himself made it "delicious" in his opinion.
Now, although the kids gave these great reviews, The Papa wasn't buying it. Once he had tried them, he said, "And you spent hoe much on these?" Yeah, sometimes the value of "Kid Two has never had this before" gets lost in the receipt. After he expressed that, everyone commented that the ice cream that we make at home is way better.
So, would we do it again? YUP. If I had Kid Two out and about and wanted to do something special, I'd buy one, and even try out the toppings they have in the store. However, knowing that they like what we make at home much better, and knowing that it's much more affordable, I'll stick to making ice cream at home for the kids. Either way though, I still think this is amazing because for people with food allergies, this is a first to be celebrated.
Be sure to look at pressedjuicery.com for locations that have a freeze, and go there. ASAP. In fact, look at this yummy pictures, then go.