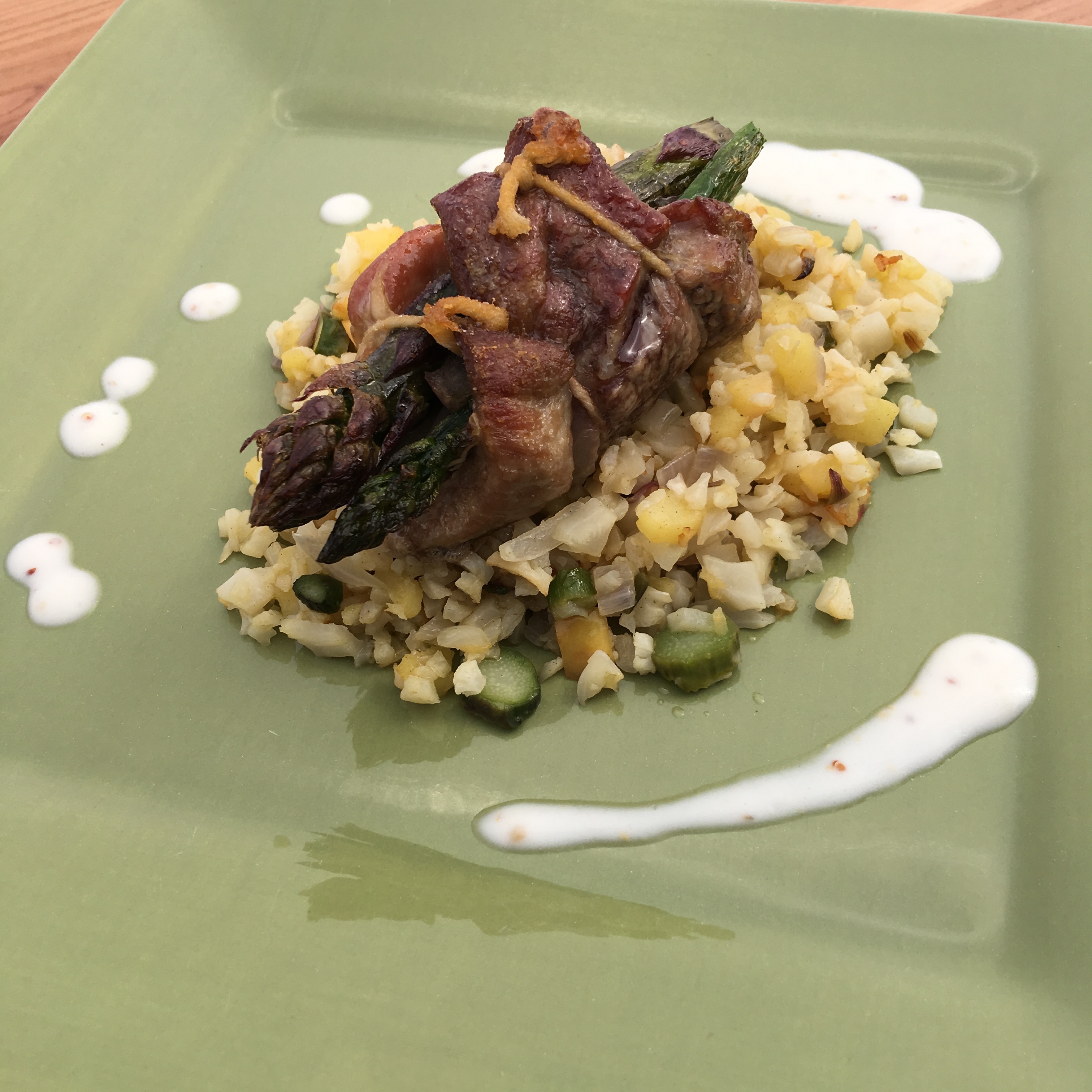 We teamed up with Bentology to bring you this recipe (and another that will be posted soon). They have a really great lunch product you may enjoy. The premise is that it helps with portion control. Their bento-style lunch box comes with 5 containers, each with an image of what should go inside, such as vegetables. It's a great visual reminder for adults who want to eat healthy. I personally like simply because it's bento-style. Be sure to check out our Instagram account, @theallergychef, for a giveaway of their product.
Allergy Status: Gluten/Wheat Free, Dairy Free, Egg Free, Soy Free, Nut Free, Peanut Free, Yeast Free, Cane/Refined Sugar Free, Paleo, Diabetic, AIP, GAPs, SCD Compatible, Corn Free Compatible, Low Histamine
For SCD: Drizzle organic honey or organic date sugar instead of organic maple sugar
For Corn Free: Source safe ingredients. You will need to investigate any packaged condiments, or make your own.
My original vision for this recipe saw the grain free rice mix stuffed into apple cups and served on the side. However, since I was using frozen cauliflower rice, I wanted to cook it on the stove top. Thinking I was clever, I moved forward with the apple cups. They came out beautiful! Then, they collapsed under their own weight, as there was nothing to produce structure. Perhaps if they had been stuffed they wouldn't have fallen in on themselves. Nonetheless, it was a blessing in disguise. I ended up plating the meal differently, and that's when the idea for an "aoili" came to me. So, either way, it's an enjoyable meal, and don't worry, the apple cups were loved and eaten by all.
Apple Cup Ingredients:
4 medium Organic Apples, made into cups
1 tsp Organic Maple Sugar in each
To make apple cups, start by cutting off the top of the apple. Then, using a melon baller, carefully scoop out the middle. Leave some apple border. Use your finger to rub maple sugar on the inside of the cups. Place your apple cups on a baking tray lined with parchment paper, and bake at 400 for 20 minutes.
Ours didn't come out very well in terms of structure, and I believe this is because they were baked without a filling. However, everyone said they were delicious, even thought they had collapsed. It was like a cross between an apple cup and amazing apple sauce.
Veggie Stuffed Pork Ingredients:
3 pieces Thin Sliced Pork
6 spears Organic Green Asparagus, cut in half
3 spears Organic Purple Asparagus, cut in half
1 Organic Scallion, sliced
You will also need twine for wrapping
Prepare your asparagus and scallions, and set aside. Measure out two pieces of twine for each piece of pork. Lay the pork over your twine (see photo below), and place the asparagus (half with top) and scallion on top. Roll the pork and tie a knot with the twine to hold everything in place.
Add olive oil (enough to cook in) to a medium to large non-stick pan, and heat on high. Add your stuffed pork and brown on both sides. Finally, transfer the pork to a baking tray lined with parchment and bake at 400 for 15 minutes.
Grain Free Rice Ingredients:
The rice is a mix of the ingredients used above. On the asparagus, you'll be using the bottom halves that aren't with the pork. For the apples, it's what was pulled out if you opted to make apple cups.
2 TBSP Organic Extra Virgin Olive Oil
8 ounces Organic Apples, chopped
1 bag Cascadian Farms Organic Cauliflower Rice (found in the freezer section)
Organic Asparagus (to taste), sliced
6 dashes Organic Sage
3/4 tsp Sea Salt
Organic Black Pepper, optional, to taste (omit for AIP)
While your pork is in the oven, heat your non-stick pan and add the oil. You can reuse the pork pan for extra flavor. If you do this, there's a good chance there's oil left over from the browning, and you won't need to add more oil. Once the oil is hot, add the frozen cauliflower, apples, and asparagus. After about 8 minutes, add your seasonings, and continue to cook for another 7 to 8 minutes, or until done.
Aioli Ingredients:
This is what I thought was a fun play on aioli. There are several ways to go about this, in terms of allergies. We used an egg and soy free mayo in ours. It has an aquafaba base, which is essentially chickpea/legume water, which isn't compatible with paleo, AIP, and GAPs. If you're following those diets, there are mayo products available to you. However, if you're following those diets and have an egg allergy, you will have to skip the aioli.
Sir Kensington's Aquafaba Mayo
Primal Plate Honey Mustard Dressing
Scoop your mayo into a small prep bowl, then pour a little dressing on top, and mix well with a fork. That's it! The amount of dressing used will be determined by how much may you started with, AND how thick your mayo is. Allergy free mayo and traditional mayo simply aren't the same. So, with this sauce, you'll need to go a bit at a time until the desired consistency is reached. I wanted something that I could drizzle on the plate to make it look fancy-schmancy 🙂
Enjoy these pictures, and happy cooking!