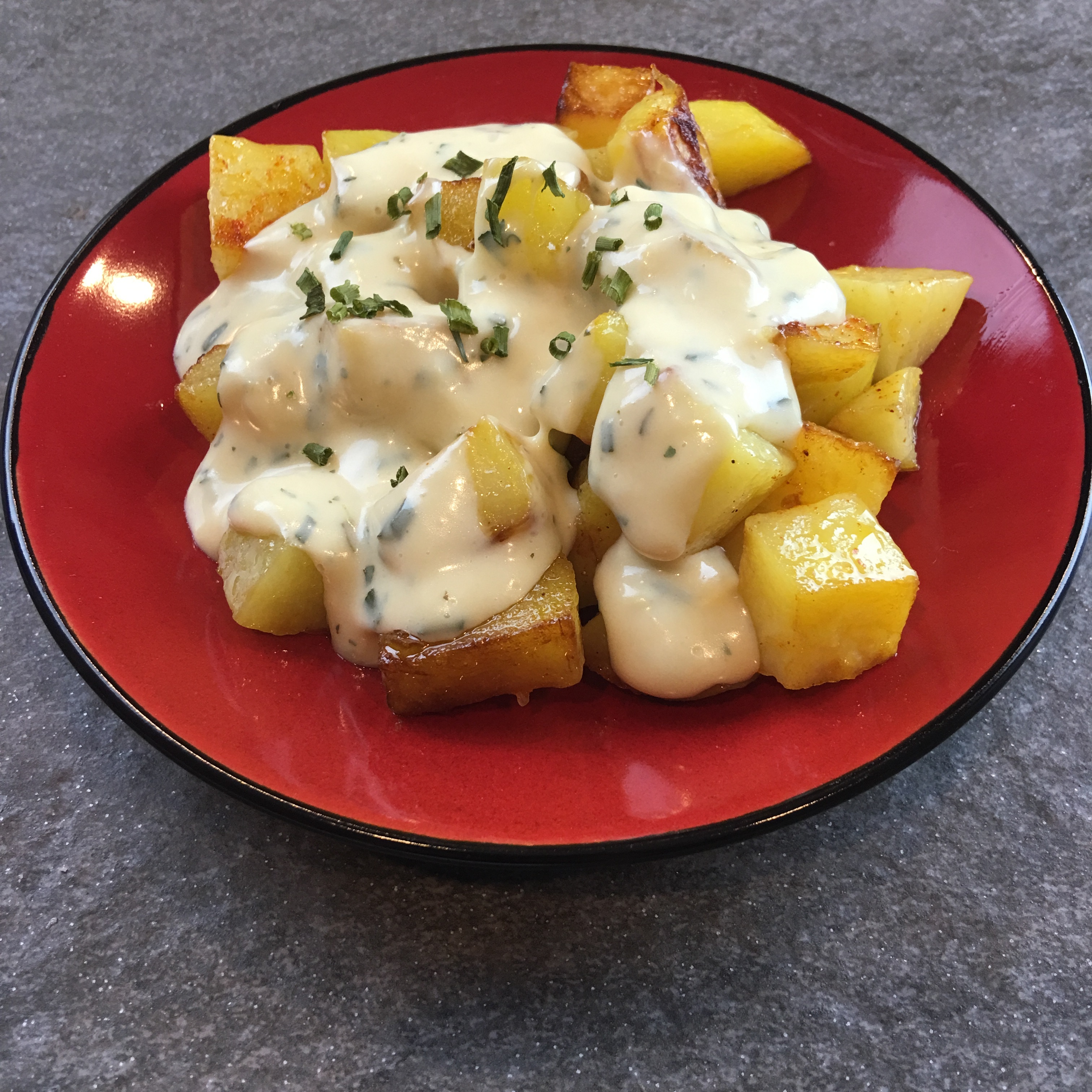 Allergy Free, Dairy Free, Vegan Cheesy Potatoes
I have no idea where the inspiration for this dish came from, but the kids were more than happy that it came. This dish pairs two of their favorite things in the world: my pan seared & baked potatoes with cheese. Kid Three is a cheese-o-holic. If he could eat a pound of cheese  day, he probably would… I'm not even kidding right now. Kid Two likes his cheese as well, but have you seen the price of dairy free cheese lately? I have to ration that stuff out. Interestingly, he prefers the yellow Daiya cheese to the white, yet, really didn't mind this fancy sauce one bit.
Allergy Status: Gluten Free, Wheat Free, Dairy Free, Egg Free, Soy Free, Nut Free, Peanut Free, Cane/Refined Sugar Free, Vegan, Diabetic Friendly
Ingredients:
62 ounces Organic Gold Potatoes, cubed
3 TBSP Organic Extra Virgin Olive Oil
1 tsp Sea Salt, additional salt as necessary
1/4 + 1/8 tsp Organic Smoked Paprika
Cheese Sauce:
8 ounces Daiya White Shredded Cheese
4 ounces Organic Milk of Choice
1/4 tsp Sea Salt
1 tsp Organic Dried Parsley
1 TBSP Organic Dried Chives
1 tsp Organic Garlic Granules
Start by washing and cubing your potatoes. You don't need to peel them, unless there's a bad spot. Heat a very large non-stick pan on medium high heat (7/10) and heat your oil. Once heated, add your potatoes and 1 teaspoon of salt. Cook the potatoes for 12 – 12 minutes, stirring as necessary to prevent burning. You have to balance this because you do want them to brown.
Transfer the potatoes to a baking tray, and bake for 18 minutes at 425.
To make the cheese sauce, add all of the ingredients to a sauce pan, and heat on medium (5/10). As the cheese melts, whisk to incorporate the seasonings. In the photos below, you can see the consistency of the cheese sauce. Ours came together in under ten minutes.
When the potatoes come out of the oven, salt to taste. Serve and top with cheese sauce. If you can have dairy, use a cheese of your choosing. You could also swap in Follow Your Heart Parmesan Cheese (dairy free). Enjoy!