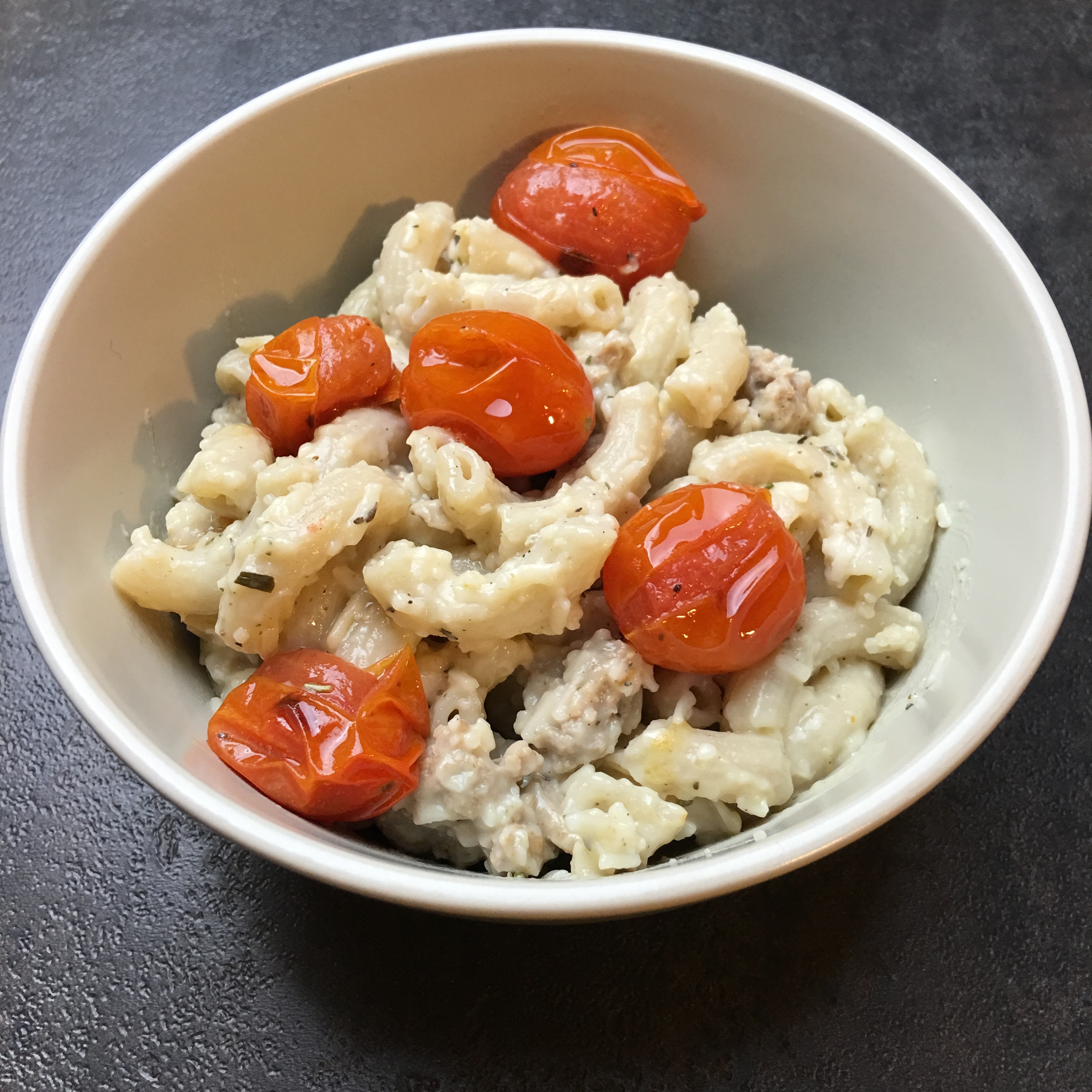 Do you remember the time we made tomatoes and white fish? Originally, I had planned to blister those tomatoes, but in the end, opted for something else. This time, I wouldn't be deterred. It was our first time trying this technique, and it was SO cool! I used grape tomatoes, and once I felt they were just right, Kid Two tried one and said it was super sweet. How cool is that? Although he's the only one that loves straight tomatoes, no one complained when eating them. I'm sure the Parmesan helped with that.
Allergy Status: Gluten Free, Wheat Free, Dairy Free, Egg Free, Soy Free, Nut Free, Peanut Free, Yeast Free, Refined/Cane Sugar Free, Corn Free Compatible, Diabetic Friendly
Ingredients:
Sea Salt (to taste)
Organic Black Pepper (to taste)
Braggs Organic Herbs & Spices (to taste)
6 ounces Organic Milk of Choice (we used Oat)
8 – 10 ounces Organic Brown Rice Pasta, cooked (measured dry)
4 ounces Follow Your Heart Dairy Free Parmesan Cheese (full container)
Cooked seasoned ground turkey
1/2 pound Organic Red Grape Tomatoes
1/2 stick Dairy Free Butter (4 TBSP)
Start by heating a medium non-stick pan on medium heat. Wash and pay dry your tomatoes, and add them to the pan. Allow them to cook for five minutes, and push them around a bit. Add the butter, and continue to cook until you're happy with the blistering. I felt that as the skins changed in texture, and some of the moisture was lost, it was time to turn the heat off.
For the pasta, once it's been cooked and drained, return it to the pot. Add all of the seasonings, meat, milk, and cheese. Turn the heat on medium and stir together until the cheese has melted, and all of the flavors are evenly distributed. Top the pasta with your tomatoes and enjoy.