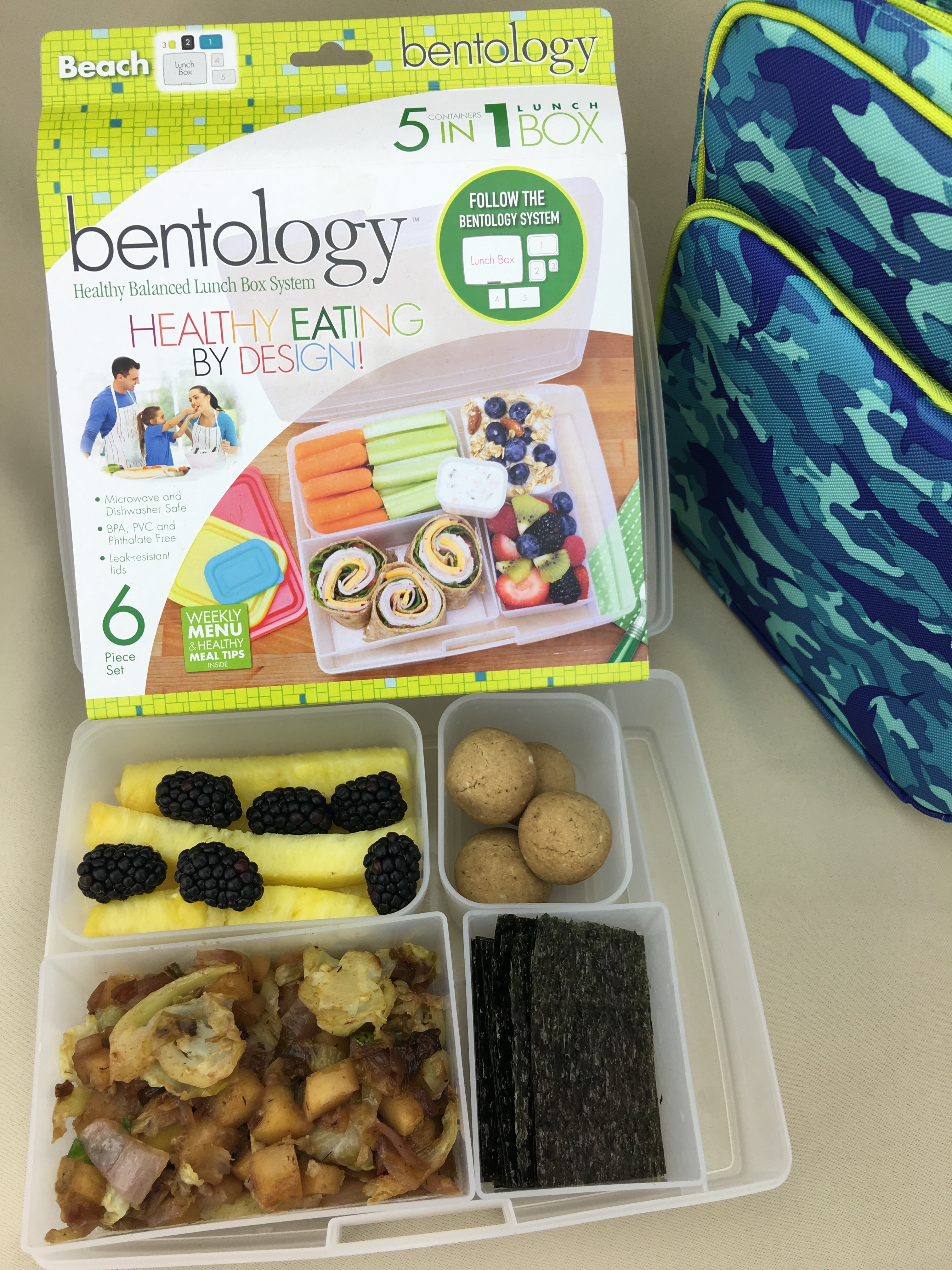 As you may know, we teamed up with Bentology to bring you a delicious stuffed pork recipe. Well, there's this one as well, as we didn't want our vegan readers to be left out. As I mentioned before, I really like that this is a bento-style product. In addition to making this recipe for our vegan eaters, I thought it would be great since they work hard to encourage people to eat healthy. For those of you that are brussels sprouts avoiders, I can personally guarantee that The Papa was happy with this meal. Focus on the word happy. He hates brussels sprouts.
To make this partnership even better, Bentology has given us one of their lunch boxes and tote to give away. To take part in the giveaway, head over to our Instagam account, @TheAllergyChef, and follow the instructions. Good luck!
Allergy Status: Gluten Free, Wheat Free, Grain Free, Dairy Free, Egg Free, Soy Free, Nut Free, Peanut Free, Yeast Free, Corn Free, Diabetic, Vegan, Paleo Compatible, GAPs Compatible, AIP Compatible, SCD Compatible
For Paleo, GAPs, AIP, & SCD: Use an allowed sauce, such as KC Naturals AIP Sauce or a homemade sauce you enjoy.
Ingredients:
3 TBSP Organic Extra Virgin Olive Oil
3.75 ounces Organic Purple Onion, diced
5.5 ounces Brussels Sprouts, shredded
2 medium Organic Fuji Apples, cubed
1 tsp Sea Salt
4 – 5 TBSP Hilary's Organic Beet Vinaigrette
Start by washing and cubing your apples. For this, we used store-bought, pre-shredded, brussels sprouts. You could certainly do this step at home, but I wouldn't suggest using frozen brussels sprouts. Heat a large non-stick pan on medium-high heat and add your oil. Once hot, add everything but the salt and dressing/sauce. Cook for 12 – 15 minutes, stirring regularly, then add the salt and sauce. Continue to cook for an additional 3 – 5 minutes. That's it! Easy, right?
We served this alongside Organic Pineapple Spears, Organic Blackberries, Organic Sea Weed, and Homemade grain free cookies. These particular cookies were also seed and corn free. A note about the cookies – they are not GAPs and SCD compatible. For AIP, use a safe vanilla extract (ground vanilla (bean) is not AIP legal)
For the Cookies:
230g Otto's Cassava Flour
16 tsp Shady Maple Farms Organic Maple Butter
1/2 tsp + pinch Celtic Sea Slat
1/2 tsp Organic Ground Vanilla
1/4 tsp Baking Soda
4 TBSP Organic Extra Virgin Olive Oil
10 TBSP Summit Spring Water
In a stand mixer, using your paddle attachment, combine all of the ingredients. Make cookie balls between 1 – 1.5 tsp in size (smaller than a small cookie dough scooper). Roll into balls, and place on a baking tray lined with parchment. Bake at 300 for 11 minutes.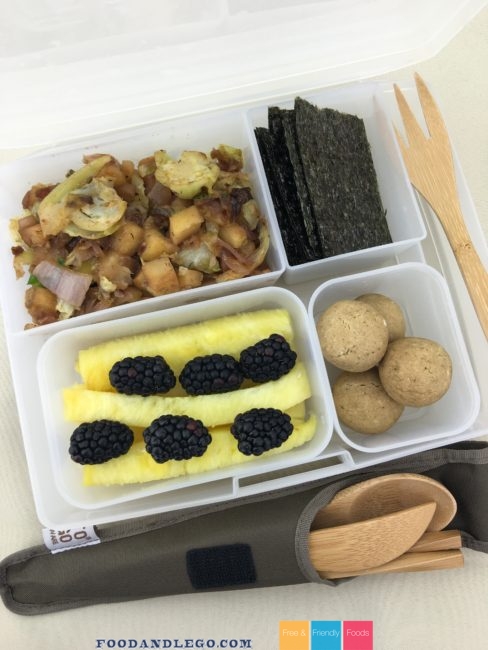 Our Corn Free Cookbook (also Gluten Free and Top 8 Allergy Free) Is packed with recipes and resources to help you thrive when living with a corn allergy, and/or multiple food allergies. Kathlena, The Allergy Chef, is a severe corn allergic, giving us the unique ability to write a book that's accurate. No corn derivatives, no xanthan gum, and all the details you need to enjoy life as a corn allergic.