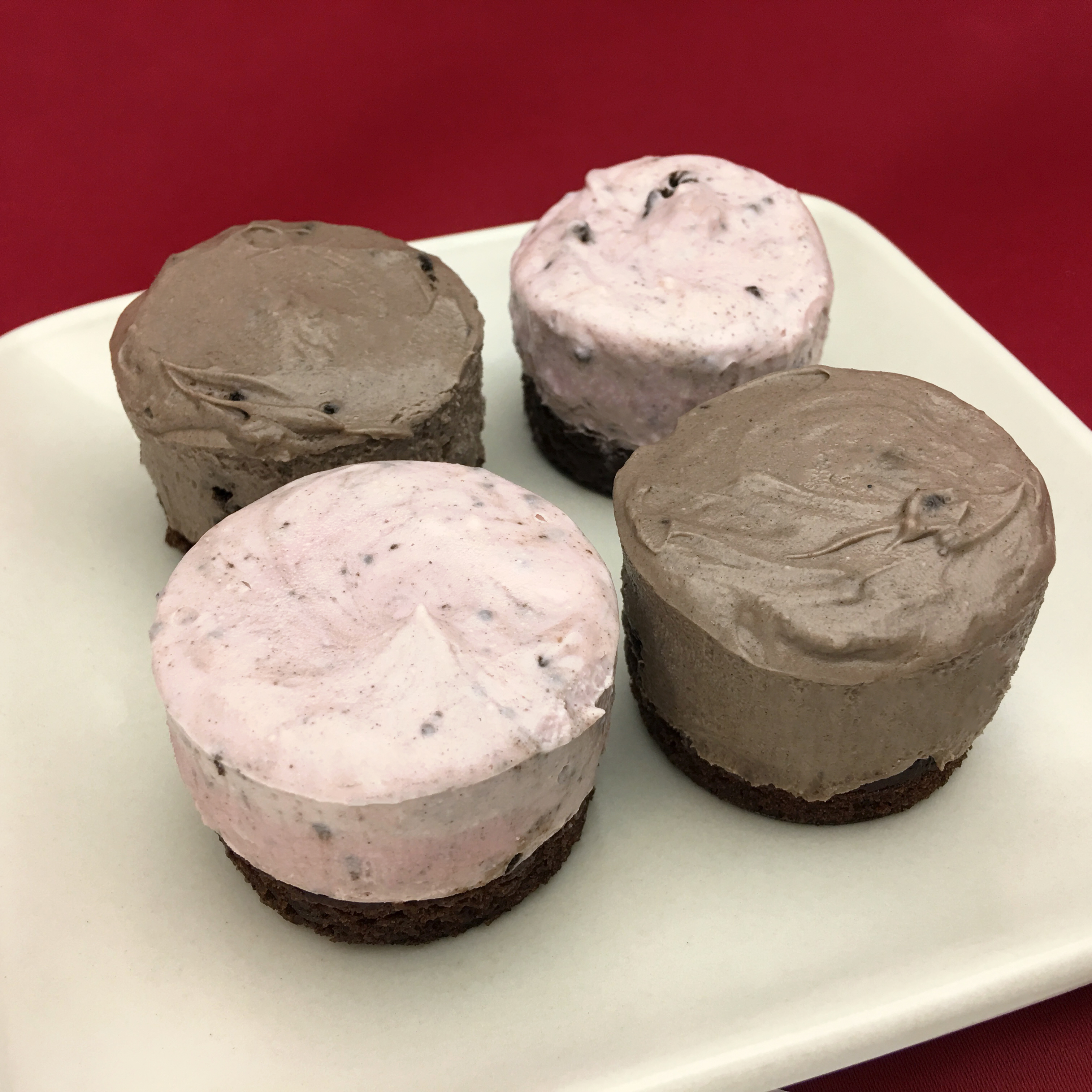 If you asked the kids, they would tell you that I have saved the best for last. That may be true. Cookies 'N Creme is one of their all time favorite flavors, so it's no surprise that they took to this cheesecake so quickly.
If you have a soy allergy along with a wheat allergy, I'm sorry but you won't be able to make this recipe easily. The only allergy friendly creme cookie is made by Kinnikinnick, and it contains soy (and potato). You would need to make your own cookie at home first and then use it along with either Kite Hill or Daiya cream cheese. While it can be done, it's not quick and easy, which is what this No-Bake Cheesecake Series is all about.
Before you jump in, if this is your first rodeo, be sure to read through our No-Bake Cheesecake Basics post. In that post, I go over all you need to know about the different brands of cream cheese, as well as ratios, tips, tricks, and more. You can also see all 13 flavors of our No-Bake Cheesecake Series here.
Allergy Status: Gluten/Wheat Free, Dairy Free, Egg Free, Nut Free, Peanut Free, Yeast Free, Sesame Free, Vegan
Cookies n Creme Filling Ingredients
8 ounces Dairy Free Cream Cheese (Tofutti)
2 TBSP Unsweetened Milk of Choice
5 Kinnikinnick Creme Cookies, crushed
3 Kinnikinnick Creme Cookies, crushed (for folding)
3 TBSP Organic Cane Sugar
1 tsp Organic Vanilla Extract
pinch Pink Salt
Peppermint Creme Filling Ingredients:
8 ounces Dairy Free Cream Cheese (Tofutti)
2 TBSP Unsweetened Milk of Choice (we used Good Karma Flax Milk)
2 tsp Organic Vanilla Extract
4 drops Organic Peppermint Oil
India Tree Natural Red Food Coloring (to your liking)
pinch Pink Salt
4 Kinnikinnick Creme Cookies, crushed
Cookies 'N Creme Directions:
First, press your cookie of choice into the bottom of the pan. Chocolate Chip, and Chocolate Brownie are both good choices. For this cheesecake I used Chocolate Brownie. Next, combine everything but the 3 crushed cookies together in a bowl and mix until smooth. When the mix is done, fold in the three crushed cookies. It's done this way because you'll notice that when you mix the cookies, they essentially dissolve into the mix. The folded-in cookies will add back the crunch and texture of creme cookies. I made these in a bowl with an electric hand mixer. You can also opt to use a stand mixer. I don't recommend mixing by hand because in the end you want a super smooth mix without lumps.
Next, use a disposable decorator/piping bag to add your filling to the cheesecake pan. I've shared all the best tips about this in the Cheesecake Basics post. Finally, put your pan in the freezer and wait for them to set, or enjoy them right away.
Peppermint Creme Directions:
The directions are quite similar. With this cheesecake, you'll combine all but your crushed cookies together in your bowl. When the mix is smooth, gently fold in your crushed cookies. I use the word gently because the more vigorous you are, the more the color will streak (if you opted to add in the color).
There's no garnish on these beauties, but you could experiment with crushed creme cookies or drizzled melted chocolate.